Townsend, Tennessee - Fly Fishing in the Great Smoky Mountains National Park, East Tennessee and Western North Carolina

Welcome to the Fishing Report. It is dark right now. I'm off today. It is 6:30 am. The temperature outside is 47 degrees. Only three homes are located at our end of the gravel private road. So, except for the newspaper delivery at 5:30 am, there is absolutely no traffic on this road.
Little River is flowing at 198 cubic feet per second (cfs). Median flow for this date is 295 cfs. The water temperature is an unseasonably warm 45.3 degrees. The forecast for our area calls for very warm air and rain through the weekend. So far, it seems the rain will be light. I looked at the precipitation charts projected through the weekend. Right now, it appears the rain will continue to be light. Air temperatures will be significantly warmer than normal. We will experience highs in the 60's to over 70 degrees through the weekend. Low temperatures will be in the 50's at night.
This is beginning to look like the first week in February last year. The outcome may be the same if conditions do not change or we get heavy rain. Fishing will be very good. We may see some Spring hatches like we did last year in early February. I don't know for sure because I have never experienced this kind of weather in January to the best of my recollection. Maybe the warm water will not cause a Spring hatch of aquatic insects this early in the year. I just don't know.
Below is a screen shot of the USGS Stream Data collected at the gauge just below the "Y" and barely inside the Park at the Townsend entrance this morning. You can see how the water temperature is climbing and this warm spell has just begun. This will be an interesting chart to watch over the next few days.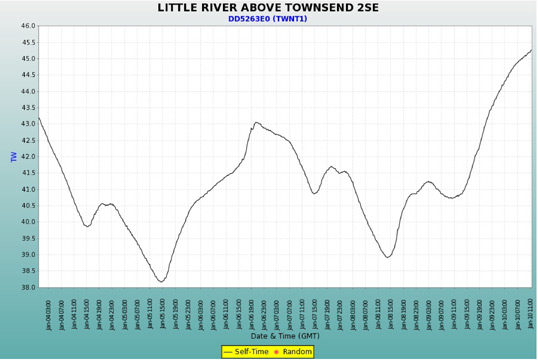 If I were fishing this week, I would go into the Smokies and fish the lower elevation streams. I would be using dark mayfly dries. Those flies could be Quill Gordons, Blue Quills, Adams, Parachute Adams or Blue Wing Olives. Sizes would range from #12 down to #18. At this point this is just a guess on my part, but that is what I would do. If the trout are not taking the dry flies, switch to nymphs. You will probably have better fishing in the afternoons when the water temperature is warmer. One thing is very probable. The trout will be actively feeding on something.
Last year was the warmest recorded in the Contiguous United States since 1895, according to NOAA. You can see the chart below. The red line is 2012. The orange lines are the 5 previous warmest years. The blue lines at the bottom of the chart are the 5 coldest years.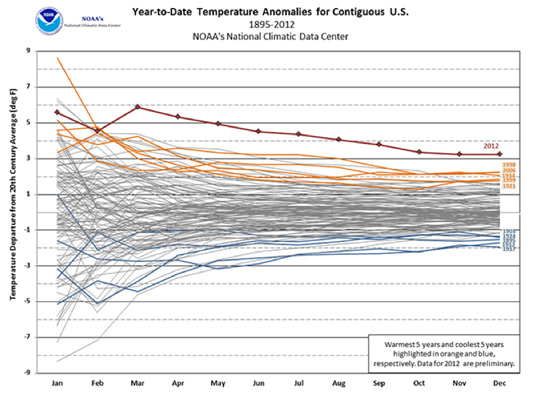 Date
2/1/12
2/2/12
2/3/12
2/5/12
2/6/12
2/7/12

Early Morning Temp
46 Degrees
49 Degrees
46 Degrees
51 Degrees
48 Degrees
46 Degrees

Activity


Small to large Quill Gordon Hatch
Quill Gordon & Blue Quills hatching
Water temp exceeds 50 degrees
Hatches of Quill Gordon, Blue Quill, BWO


We are preparing for the best. Fly orders have been placed and will be here by the weekend. I ordered a case of Gink last Sunday. If I had known what was coming I would have ordered more. Leaders and tippet are on the way.
I can't tell you to book a motel room and drive 6 hours to get here because the fishing is going to be excellent. All I can do is show you the numbers and from that you can make a decision. I don't want anyone to be disappointed. If you live near us, I would be here. Hopefully we will not get enough rain to blow the streams out. That does not seem likely right now and believe me, I have been digging into weather websites for days. Anything can change. This weekend will be mid-January. What we are seeing is very strange.
Have a great day and thank you for being here with us.
Byron Begley
January 10, 2013
Respond to: byron@littleriveroutfitters.com