Townsend, Tennessee
January 14, 2010

Welcome to the Fishing Report from Townsend, Tennessee in the Great Smoky Mountains. The sun is shining and it is warmer than it has been in the mornings lately, if you can somehow call 18 degrees warm. Warmer and wetter weather is on the way. We could use both. Cabin fever is running very high in the United States. I hear it from all over the East and West.
Little River is cold and flowing on the low side. Currently the flow rate is 170 cubic feet per second (cfs). Normal for this date is 282 cfs. It has been a very dry January so far. That will change soon. We have a good chance for rain Saturday and Sunday.
Fishing is slow for most folks. Most of the trout are holding on the bottom of the streams. They don't need much food when the water is this cold. Larger trout are still feeding on minnow imitations or large nymphs but those flies have to be placed just right, in front of their noses so little effort is needed for the trout to capture your offering. And, you have to do this without them seeing you. Like I've said before, a lot of local fly fishermen use spinning rods when the water is this cold. The anglers don't have to wade is one important reason. Falling into a river, when the water is at the freezing point can be a dangerous thing to do.
As we warm up this week and the rain comes we are going to have some snow melting and running into the streams. The snow is gone from the lower elevation mountains, especially those that get a lot of sun during the day. But, there is still over 20" at Mount Leconte and under 4" at Newfound Gap.
Tonight we will start the review process at the planning commission meeting for the new lodge that will be built on Little River in Townsend. This will be a small lodge with about 20 guest rooms. I'm sure, knowing the owners pretty well, that this will be a beautiful addition to our accommodations inventory and it will probably appeal to many of you. Since most of the land along Little River is residential, there are very few places to stay in Townsend with a view of the river from your room. I am really looking forward to tonight.
It is already the middle of January. That means we are about 6 weeks away from seeing our business pick up again. January and February are the slow ones. Actually, January is looking good. Our internet traffic is high and the mail order business seems very good though I have not looked at those numbers since the end of the year. I just see a lot of orders going out on the brown truck. I do look at our cash and accounts payable every week. The difference between the two is substantial right now. That is good.
Lee Whitehead will be tying Saturday between 10:00 am and 2:00 pm. Lee has become our buddy over the last couple of years. He is 16 years old and just got his drivers license. Now that he is more mobile, we'll see more of him. Lee tied at Troutfest last year and will also do the same thing this year. His demonstration will be free, he's a very good fly tyer and angler and a nice guy. So, come on over Saturday morning.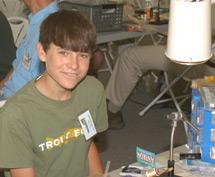 Lee Whitehead
My friend Charles from Nashville sent an e-mail to me yesterday. He is looking for something for me to do and he recommended I take a picture of the river and post it on this report. I don't want to carry one of these SLRs around with me. They need to stay in our studio. But, Paula and I have a Pentax point and shoot. Charles, I got it out last night and started looking at the owners manual. Give me a couple of days and thanks for your suggestion.
Have a great day and thank you for being here with us.
Byron Begley
January 14, 2010
Respond to: byron@littleriveroutfitters.com