Townsend, Tennessee
January 15, 2010

Welcome to the Fishing Report. The sun is shining bright in Townsend, Tennessee. The temperature is 25 degrees, a bit warmer than it has been in the mornings. I can't see any snow from my view here in my office. The highest peaks are still covered with snow but they are too far away from me to be seen clearly. What snow is left will probably melt over the next few days. Great Smoky Mountains National Park is in for a heat wave. We are expecting highs here in the valley near the mid 50's today. It is going to be warm this weekend and starting Saturday night we'll get some rain.
We need some rain. The rivers and small streams are getting low. Little River is currently flowing at the rate of 167 cubic feet per second (cfs). Normal for this date is 283 cfs. The problem is, we have not had any measurable rain this year. Sure, some light snow has fallen but that didn't add up to much. During a normal year we would have already received over 2" of rain during the first two weeks of January. Right now, the airport is reporting .08". Big difference!
The rivers will warm up some today but that might be offset by melting snow. As the water warms and the levels rise, the fishing should improve in the Park. I probably won't be great but it will improve. Nymphs and streamers should work best and you need to get them down to the trout. Use lots of weight. And don't spook them. The water is very clear due to the low temperature.
I saw the plans last night for the new Bed & Breakfast that will be built on Little River next to the swinging bridge where I take the water temperature. Our planning commission meets at City Hall. We sit at a large square table where architects and engineers can spread out their plans for us to see. What I saw last night was beautiful. The B & B will feature 20 very large rooms with gas log fireplaces and a private balcony. Half of the rooms will have a view of Little River. There is a meeting room, exercise room, food preparation room and areas for guests to sit around and view the exquisite grounds. Guests can sit on the back porch and watch Little River flow by.
I like it. One reason I like it is because I know the owners and I know about their service. It will be well managed. It is within walking distance of our store. I like that too. Fly Fishermen will love staying there. They can walk to excellent restaurants or to the grocery store. This lodge is located in what I would call "downtown" if there is such a place in Townsend.
This is one of the nicest buildings to be built here in a long time. It will be a significant asset for our town. Staying there won't be cheap. I heard last night the rooms will go for $190 to $250 per night which includes breakfast. I keep thinking about the non-fishing spouse. It could be a guy or a lady. If the fisherperson takes the car to fish, the one left behind can walk on the bicycle trail, sidewalks or on the back streets to almost all the available shopping areas. They can walk to restaurants. And when they are at the B & B they will be treated to one of the nicest properties we have to offer. This will be a good thing for Townsend. We'll have to wait for a year or more but I intend to keep you posted as this project moves forward.
Lee Whitehead will be tying Saturday between 10:00 am and 2:00 pm. Lee has become our buddy over the last couple of years. He is 16 years old and just got his drivers license. Now that he is more mobile, we'll see more of him. Lee tied at Troutfest last year and will also do the same thing this year. His demonstration will be free, he's a very good fly tyer and angler and a nice guy. So, come on over Saturday morning.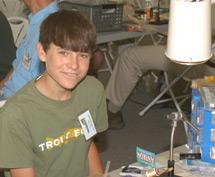 Lee Whitehead
Have a great day and thank you for being here with us.
Byron Begley
January 15, 2010
Respond to: byron@littleriveroutfitters.com