Townsend, Tennessee - Fly Fishing in the Great Smoky Mountains National Park, East Tennessee and Western North Carolina

Welcome to the Fishing Report. It is still raining and the temperature is 43 degrees in Townsend this morning. I left our house at daybreak and drove around town. Everything looks about like it did yesterday. Little River is still flowing strong. It has been rising and falling for days. Now, it is falling.
Visitors to this Fishing Report amounted to 921 over the past 24 hours. That is high. Those counts range between 350 to 600 on most days. I imagine people were concerned about the possibility of a flood in Townsend and checked here for the conditions. Thank you all for being concerned. I think we are doing fairly well considering what has happened here.
Flow in Little River is currently 3,840 cubic feet per second (cfs). The water level on the river gauge is 6.14 feet. Last night around midnight, the river peaked at 7,000 cfs which was 8 feet on the gauge. I would imagine some basements in homes along the river were flooded at that time. You can see the photographs I took of the river yesterday morning below. The river looks about the same right now.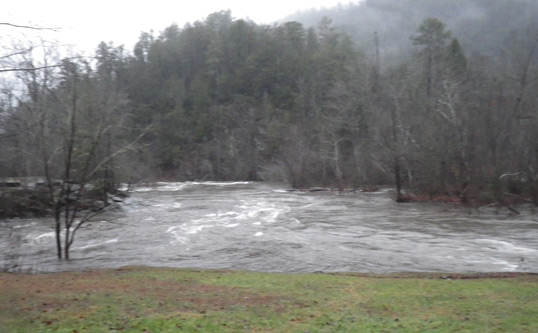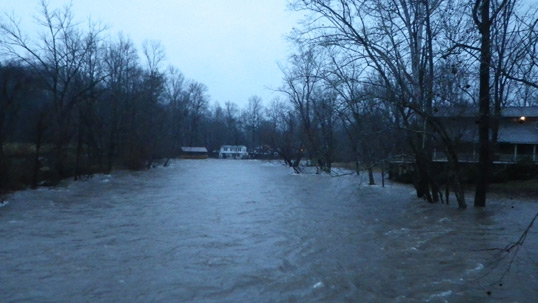 The precipitation is not predicted to end until Friday. The weather websites indicate the rain will be light. We have had over 7" of rain at the shop spanning the past three days, 1.9" during the past 24 hours. Tomorrow afternoon, the rain is predicted to change to sleet then snow. Light snow, an inch or less is expected here. Several inches are expected in the mountains. Temperatures at night will drop into the 20's beginning tomorrow night.
What we have had here during the past week is extreme weather change. Last Saturday the high temperature was 72 degrees, a record. Then the rain came, setting one record during the past three days. Now we look forward to very cold temperatures and snow.
Fishing in the Smoky Mountains is not recommended. The rivers are dangerous. Driving in the Park is not very safe either. A woman died yesterday after driving head on into a Park Service truck on Newfound Gap Road. I would stay out of the Park until later this week.
We have had some landslides in our County. One occurred at Kinzel Springs, a residential development just outside the Townsend City limits. Another one happened on Alcoa Highway. Right now is just not a good time to be driving around.
TVA is flushing water through their impoundment systems to reduce the stored water that has risen quickly in the lakes. Fort Loudoun Dam is discharging 59,000 cubic feet per second right now. They are lowering their lakes as fast as they can to create storage capability should more rain events like we are having now come later.
Let's look ahead at more pleasant things. I am meeting with Buzz Buffington and Steve Thompson this morning. Steve heads Project Healing Waters in this area. This organization holds fly fishing and fly tying classes and fishing outings for people who serve or served in the military and were injured. This organization has done some incredible things for our military folks and I'm anxious to see what Buzz and Steve have on their mind.
Come by here Saturday and watch Mike Bone's fly tying demonstration. Mike is a fly fishing guide and he has been doing that for at least two decades, full time. His demonstration is free. He will be here between 10:00 am and 2:00 pm. Just come on by. He will share his vast knowledge of fly fishing in rivers, mostly tailwaters with you. This will help you with our pent up cabin fever. Fishing opportunities are going to be limited for a while due to high water. Visiting here Saturday will help.
Our fly tying department will be mostly re-stocked this weekend. Orders placed weekend before last have finally arrived. I guess, some of our suppliers took a few days off during the holidays and they were behind due to that. Our inventory was low because of heavy shopping activity during the holidays. Our suppliers normally turn around orders in half the time we experienced recently.
Have a great day and thank you for being here with us.
Byron Begley
January 16, 2013
Respond to: byron@littleriveroutfitters.com