Townsend, Tennessee - Fly Fishing in the Great Smoky Mountains National Park, East Tennessee and Western North Carolina

Welcome to the Fishing Report from the Great Smoky Mountains. It is going to be sunny and much warmer today. Right now, the temperature is 16 degrees in Townsend. The mountains are still white with snow. We have a little left in the valley but most of it is gone.
Little River is flowing higher due to snow melt in the mountains. Flow right now is 276 cubic feet per second (cfs) or 2.05 feet on the gauge. Median flow for this date is 282 cfs. The water temperature at 7:55 am is 32 degrees or lower.
Today's high temperature will be around 47 degrees. The National Weather Service predicts the high tomorrow to be 56 degrees. It is warming in the Smokies. Rain will move into the area Saturday night. Rain, warm temperatures and melting snow will raise the streams some and hopefully not too much.
Fishing is slow in the Smokies right now. We may see some improvement this weekend. I would not travel along distance to be here planning to fly fish in the mountains. Fishing won't improve that much.
You might consider fishing the tailwaters though. The Holston River below Cherokee Dam has been offering anglers good fishing. Josh Pfeiffer of Frontier Anglers sent these photos of some nice rainbows he has been catching there. Trout are taking midges from the surface according to Josh. Nice trout! You can visit his new website by CLICKING HERE. Nice website too! Read his fishing reports and look at the photos.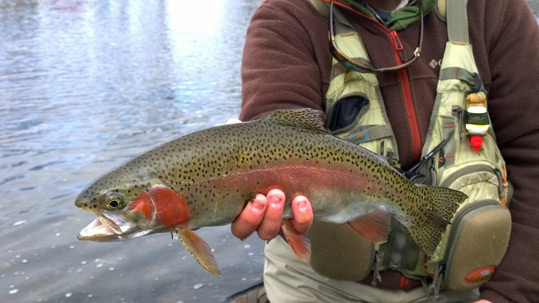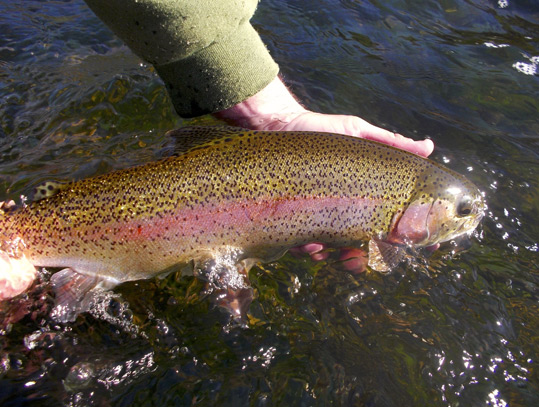 We finally got in some fly tying material shipments yesterday afternoon. Some had been ordered 10 days ago. We usually see them 3 to 5 days after placing an order. Weather has been the problem. We can't go through two weekends in a row without replenishing what sells during the Winter months if business is good. This time, we were forced to do that. We still have two more orders out there somewhere. For now, we'll be in better shape for the weekend. I will re-order Sunday. Most of our materials come from the west coast, Colorado or Arkansas.
We have to wait through a weekend to determine what sold. Since we are a destination/urban store, some fly tyers may only visit every month or maybe a couple of times per year. Often, they buy everything in stock of their favorite stuff. And, we don't know what that will be.
Our largest supplier, Wapsi, is located in Mountain Home, Arkansas. They have had some serious ice storms that have caused delays. This has been a tough winter and we've been lucky here, except for cold temperatures.
We should have a good crowd of anglers with cabin fever in here tomorrow. Our Free Saturday Event will be a good one. Alex Quick and Rocky Cox will be tying for you and discussing their fishing experiences. You can learn a lot from these guys. They are both guides. They will begin the show at 10 am and demonstrate until 2 pm. Everything is free, just show up. You can also register to win a $100 gift card. We will draw the winter at 2:00 pm. Check out our February schedule of Free Saturday Events by CLICKING HERE.
Have a great day and thank you for being here with us. We hope to see you this weekend.
Byron Begley
January 31, 2014