Townsend, Tennessee - Great Smoky Mountains National Park
February 2, 2010

Welcome to the Fishing Report from Townsend, Tennessee. We are fogged in and it is raining. I can't see any of the mountains from here. It's kind of a dreary day. Little River has a slight shade of light tan color this morning. You can still see the bottom in the shallow spots. It has kind of a "snow melt" shade of color. The water temperature is 41 degrees in town which is a little warmer than it was yesterday morning.
The flow in the river is 521 cubic feet per second (cfs). It is up slightly from earlier. Normal for this date is 315 cfs. This would probably be a decent day to fish. The lack of sunshine and a tinge of color can pay off for the angler. If you go try streamers and fish them deep. Some nice big browns have been caught on days like today.
If you go up in the higher elevations of the Park watch for ice. Highway 441 from Gatlinburg to Cherokee is closed. The Foothills Parkway is also closed. Right now Little River Road is open. Upper Tremont road is still closed. It is going to warm up today and there is not much chance there will be further road closings.
Winter continues to hang on. Looking out ten days the story is about the same. Highs will be in the 40's and lows in the 20's to 30's. It is going to be close to normal weather. There is more rain and possibly snow coming our way this weekend.
I'm going to design the Little River Journal today and tomorrow. Our writers submitted some great articles. You should get yours via e-mail on Thursday. If you are not a subscriber you can do so now at the top of this page. It's free.
I just got a call from Kris Maurer. He and his wife were in Townsend this weekend and rescued this beautiful hound. They brought her by the shop and I got to meet her. Like Kris says, she is sweet. He is hoping to find a home for Ginger. Read his story below and look at the picture of this beautiful dog.
My wife and I recently stayed at a cabin in Townsend. Upon our arrival we found a stray. Not just any stray but the sweetest dog I have ever encountered. She was favoring one leg and was pretty skinny. We loaded her up and took her into Maryville to Countryside Vet Clinic. We had her boarded and checked out by the vet, Monica Webb. She ended up having heartworms and we have had the first round of treatment taken care of and she is fully up-to-date on all of her vaccines.

Her name so far has been Ginger and she is a Redtick/Plott/Hound mix. She is the sweetest dog we have ever met and very eager to please. She walks well on a leash and should train easily. The vet said she is around two years old.

What Ginger needs is a good home or farm with plenty of room to run and not have to be crated during the day. She loves to chase squirrels and could be trained to be a good hunting companion.

She has an appointment on March 1st which she needs to be dropped off for between 8 and 9 am. This appointment is for her second round of heart worm treatment and will have to stay over night. The second round of treatment will run $200 and includes the treatment boarding/everything. She is also not spayed which will run $125 and this could be done two weeks prior to her appt on March 1.
I would love to keep this dog, but she needs room to run and we cannot afford to fence in our yard this year and my wife and I work many long days and it kills me to crate her all day. If you think you have a home for Ginger please call my cell at (865) 274-8695. Thanks Kris Maurer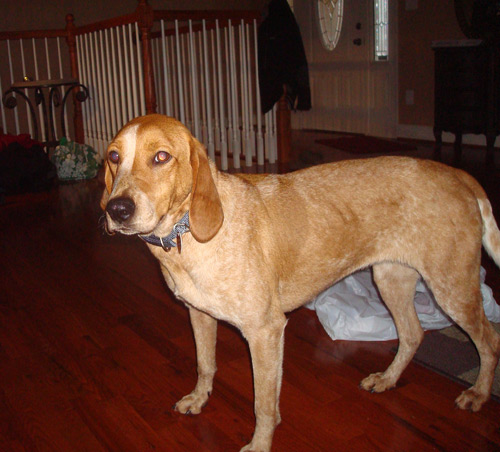 Have a great day and thank you for being here with us.

Byron Begley
February 2, 2010
Respond to: byron@littleriveroutfitters.com