Townsend, Tennessee - Great Smoky Mountains National Park
February 10, 2010

Welcome to the Fishing Report. Have you noticed we have had a very severe winter by recent standards? It is snowing and 22 degrees in Townsend, Tennessee this morning. Again we are in the grip of a winter storm. It's not going to be much of a deal. We might get an inch of snow down here. Up high they will get more snow. The wind will blow between 25 to 30 miles per hour with gusts to 40 mph.
Doug McFalls, the guy who lives at Mount Leconte all winter is staying in his cabin today. There is already 10" of snow on the ground and more to come. Imagine what the wind will be like up there. See his site HERE.
Little River was beautiful. The light dusting of snow on the ground and trees with a clear river running through was nice. It will probably be nicer later on until the wind begins to pick up.
The flow is currently 564 cubic feet per second (cfs). Normal for this date is 295 cfs. The water temperature is 39 degrees.
This would probably be a good day to fish with large nymphs and streamers. It is overcast and the trout are more comfortable in this situation. However, the water is cold so the fish will be lethargic. You will have to get your flies down deep and right in front of their nose. There is a lot of current so wading should be limited to safe areas. Don't take any chances. The water is cold, the air is cold and if you fell in and got stuck on the other side of the river you would not last very long. On top of that, the wind that the Weather Service is talking about will send branches and maybe trees falling to the ground. I think I'll stay here and work today.
Some of Great Smoky Mountains National Park's roads are closed due to snow and ice. Highway 441 between Gatlinburg and Cherokee is closed. Little River Road is closed. Both sections of the Foothills Parkway are closed. Other roads are closed so check with the Park Service before planning your trip. More roads could close later.
I start my work day, every day at one of the swinging bridges to take the water temperature for this report. I'm usually there at 8:30 am. Due to the urging of Charles, my buddy from Nashville I finally brought in our point and shoot camera. This is a good little camera but I'm used to Nikon digital SLR's and this one is a different brand. It is waterproof and does a fair job but I forgot how to use the thing. I have a manual in my briefcase to read again when I get a chance.
Today I brought the camera to work because I thought it would be a good time to try it out. I couldn't get the flash to turn off so some of the snow flakes looked like light bulbs. It was 22 degrees and the snow was falling so I didn't spend a lot of time pushing buttons. I did walk (slide) out on the swinging bridge to take a picture and wondered what it would be like to fall in the river from up there. It was not a pleasant thought.
Whoever came up with the name "swinging bridge" was a pretty close. I must say that when you walk out on this bridge it does swing but it also makes noises, creaking noises. I would best describe this structure as a "swinging creaking bridge".
Anyway, below are two of the photos I took. Notice the sign on the bridge reads "Pedestrians Only". I'll tell you why. I ignored the sign and tried to ride my bicycle over that thing one time and almost ended up in the river. Now, I walk across with my bike.
Have a great day and thank you for being here with us.
Byron Begley
February 10, 2010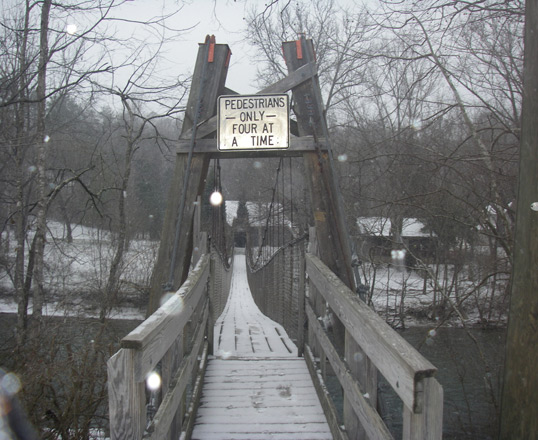 The Swinging Bridge. The sign means what it says.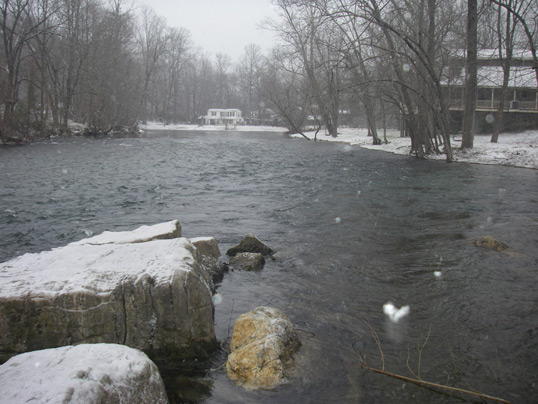 Little River looking upstream at river level from below the swinging bridge.
Respond to: byron@littleriveroutfitters.com