Townsend, Tennessee - Great Smoky Mountains National Park
February 11, 2010

Welcome to the Fishing Report from Townsend, Tennessee. It is cold this morning, 27 degrees. The clouds are moving out and we will see sunshine again for now. We are expecting snow this weekend but probably not much. Townsend is quiet as you can see from one of the photos at the bottom of this page. We will probably see an increase of tourist traffic this weekend due to Valentines day. I can see the mountains this morning. They are covered with snow. We got a light dusting in the valley last night.
If you go fishing today don't fall in. The streams are dropping but they are still above normal. The gauge at the "Y" is reading 2.71 feet or 495 cubic feet per second. Try big nymphs and streamers fished deep and slow. Give your streamers some action. The water is very clear so try to stay hidden and don't spook the trout.
I'm tired of winter. Everyone is tired of winter. Anglers are complaining about the high water and cold temperatures. Anglers are complaining about the TVA generation schedules. This has not been a great winter for fishing in the East United States. There are plenty of exceptions but overall angler participation has been low. Fishing license sales are not good. Most people who buy licenses in the winter are visitors.
Tourism this winter has been very slow. Some of the problem is weather. Also, people are not traveling as much. I'm one of them. I didn't leave the State of Tennessee last year and have no plans to do so this year except for two weekends in Kentucky, three hours away. Why should I? I live in a place that has some of the best fishing and hunting I could find anywhere. I go to Kentucky on hunting trips and visit with my buddies. Some of us have been friends over 50 years. Some of my good friends from here go to Kentucky too on the same hunts.
Here we have multiple choices of blue ribbon tailwaters. Most are managed for trophy trout fishing. We have Great Smoky Mountains National Park with 800 miles of fishable trout streams. They are wild trout too, rainbow, brook and browns. We have some incredible lakes here. Many are 30 minutes to an hour away. The Cherokee National Forest and Tellico offer some great stocked and wild trout fishing. Heck, people have been catching 16" to 20" trout right here in the middle of town two blocks from our store. So, why leave?
For those same reasons, people from other areas come here. That provides jobs and economic impact to east Tennessee. People rent cabins, eat in restaurants, stay in motels and camp in campgrounds. Those who visit Townsend are for the most part, outdoors people, nature lovers, mountain fans and anglers. I fit well in that category and that's why I moved here.
Throw in a lot of friendly people who live here and you've got the perfect place. Look at the photo below showing the rush hour traffic this morning. That's what it looks like here at 8:30 am on a weekday in the winter. Maybe I'm not so tired of winter after all.
Have a great day and thank you for being here with us.
Byron Begley
February 11, 2010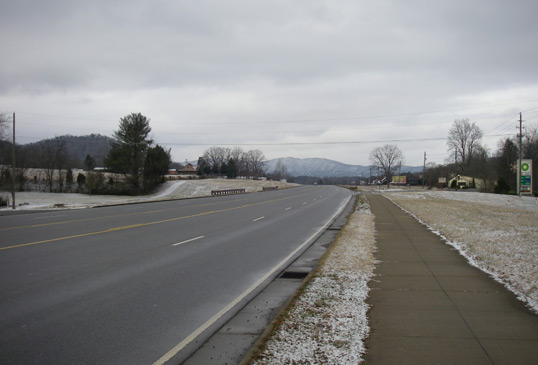 Rush hour traffic in Townsend, Tennessee 02/11/10. I have to fight this every day. If you look closely you will see a car at the bend in the road.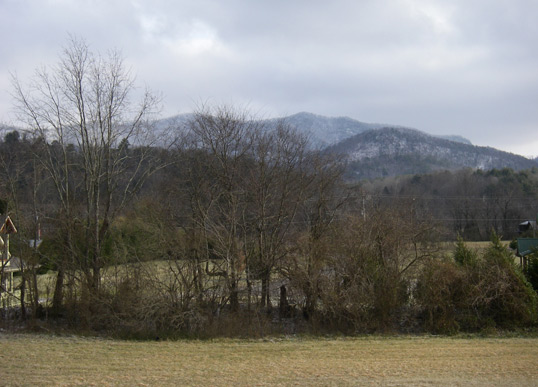 Part of the view from my office today.
Respond to: byron@littleriveroutfitters.com