Townsend, Tennessee - Great Smoky Mountains National Park
February 12, 2010

Welcome to the Fishing Report. It is clear and 29 degrees in Townsend, Tennessee this morning. The snow in the valley is gone for now but more is expected today, Sunday and Monday. Saturday will be a pretty day and 38 degrees according to the experts. You can see from the photo near the bottom of the page there is still snow in the mountains. This is Rich Mountain. This is the one we see from our house. On the other side of Rich Mountain is Cades Cove. I stopped this morning at the cemetery on the way to work and snapped the picture.
Little River is flowing higher than normal. Today the flow is 435 cubic feet per second (cfs). Normal for this date is 269 cfs. The water temperature is 37 degrees in town. I walked out on the swinging bridge and took the photo below of Little River looking downstream.
If you go fishing I would still use big nymphs fished deep or streamers. The trout are not moving around much, the cold water slows down their metabolism. They don't need much food to survive during these cold times. But, they do need to eat and an easy big meal that doesn't require a lot of effort on their part might work. The temperature today is not going to be very angler friendly. The high is supposed to be 34 degrees with snow. But, if you need to get out, and most of us do, give it a try. Don't fall in.
We had a planning commission meeting last night. Our town is small and working on a low budget so we do not have a professional planner on staff. Many towns in Tennessee are in the same situation. So what do we do? This is complicated stuff. We pay the State to provide us with a planner who is shared with other towns. Ours is Nikki. She is young and smart and has a degree in urban planning (I think).
As usual we approved last months minutes. Then we got back to work on the bed & breakfast that will be built on Little River. The owners were there with the architect. We asked for some details to be added to the site plan and pretty much said we would approve the plan at the next meeting. I told the owners we could call a special meeting if they were in a hurry to get approval. They said next month would be fine.
Then we went through some ordinances that are being re-written. One addresses a problem we have with someone who would like to build a home or live in a business zone. More people are moving back to cities by re-developing abandoned or former business areas and living there. Apartments are built in old downtown buildings. There is a new urbanization movement that makes a lot of sense. For one thing it is anti-urban sprawl.
One of our problems is, a business that is located next to a residential zone has to conform to more strict setback rules than a business that is located next to a business. So, if someone builds a house next to a commercial parcel, new problems are created for the owner of the commercial business. I think, if someone decides to live in a business district they should have to put up with the things that you see in a business district.
Next we worked on our new sign ordinances. One thing most of us don't want to see here are signs with movement. We don't want flashing signs like you see in other towns close to the Smokies. Most people here agree on that. But there was one exception to that in our proposed ordinance. That exception would be a sign that flashes the time and temperature. I asked, "What's that is all about?" One lady in the audience said it was important to people to be able to see the time and temperature on a building sign. I thought she was with the press but evidently not.
Now, I drive a 9 year old Chevy truck. I can glance at my dashboard and find out what time it is. I can look at my rear view mirror and see the outside temperature. I could probably unplug my iPod, tune in to a local radio station and hear those numbers over and over. And for safety's sake, why not glance at your dash board instead of rubber necking to see a sign from your moving vehicle.
I contend that businesses don't spend thousands of dollars for a computerized flashing sign to display the time and temperature just to make people aware of those two numbers. I think those signs are meant to draw attention to their business. Maybe I'm wrong. I'm sure I'll catch some flack over this one.
My truck had it's 114 thousand mile event yesterday. We celebrated by filling up with gas. I don't have to drive much and since we don't run to Florida to tarpon fish often, like we used to I drive a lot less. I decided to find out how much I drive per day now. We live probably 3 miles from work. I hardly ever go to Maryville. A long trip for me is the 30 minute drive to the lake. I pulled an invoice from my truck maintenance file that was my official 100,000 mile tune-up and service. The work was done in September 2008. The truck had 102,234 miles on it at the time. I did the math and found that I average driving 23.2 miles per day. I thought it would be less than that. That's 705 miles per month or 8,470 per year. That seems high. This winter I have been filling the tank once a month. Maybe I'm actually driving less now. If not, I need to walk more and drive less.

Come by the shop tomorrow at 10:00 am. Buzz Buffington and David Perry will be presenting a Free Fly Tying Demonstration. These guys are great. Buzz fishes more than anyone I know and David is a guide on the Caney Fork and Elk Rivers. They will be tying between 10:00 and 2:00 pm. Just come one by.
Have a great day and thank you for being here with us.
Byron Begley
February 12, 2010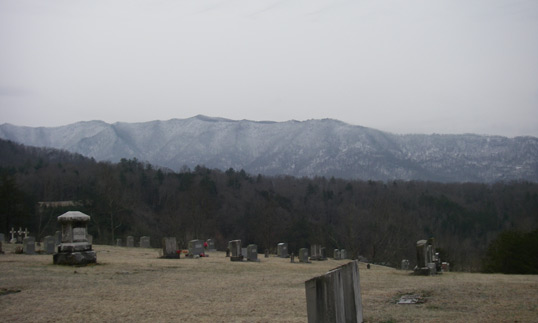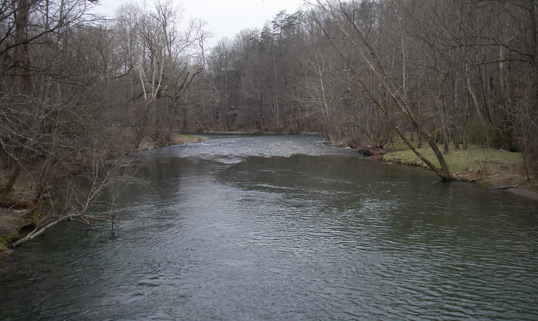 Respond to: byron@littleriveroutfitters.com