Townsend, Tennessee - Great Smoky Mountains National Park
February 13, 2010

Welcome to the Fishing Report. The sun is beginning to show itself. Thank goodness. Everything in our valley and on the mountains surrounding us is covered with snow. It is spectacular. This is about as beautiful as it gets in Townsend, Tennessee. Little River is flowing through this white landscape is a sharp contrast to her surroundings. It was 19 degrees when I stopped at the swinging, creaking bridge to take the water temperature. The water was 36 degrees.
To my surprise I ran into a fisherman. He said he had not caught anything yet but he did well yesterday. He has been catching some nice rainbow trout. I asked him if he tried places I know to be good. He had not. I showed him where to go places that were new to him but know to be good holding spots for the stocked trout in town.
When I got to work the parking lot had about 12 cars holding on to the pavement as best they could. Our lot is like an ice rink. Chuck was spreading ice melt but we ran out. He rounded up some more at various stores and we both spread more. I think we are OK now.
Buzz Buffington and David Perry will be tying today. They start at 10:00 am and will demonstrate until 2:00 pm. It's free. Just come on by.
Great Smoky Mountains National Park is basically closed due to snow and ice. 441, Little River Road, Laurel Creek Road, Foothills Parkway and many others are closed.
If you go fishing today around here, try Little River in Townsend. These stockers have been fairly active and that's about your only choice right now. Some roads may open later today.
Below are some photos I took this morning.
Have a great day and thank you for being here with us.
Byron Begley
February 13, 2010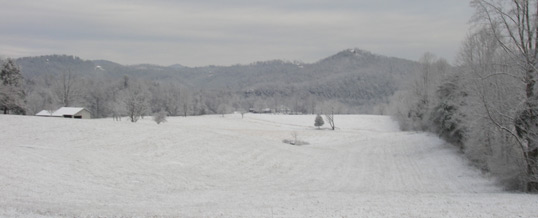 This is a farm I drive by every day on my way to work and coming home. The road from our house in Dry Valley was a solid sheet of ice. I could barely walk from my truck to get this photo. I kept my truck in low gear and four wheel drive which limited my speed to around 10 miles per hour from here down to highway 321. It was slick!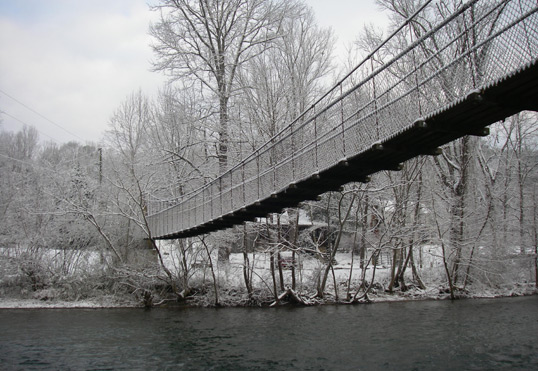 The Swinging Creaking Bridge. This is where I take the water temperature every morning.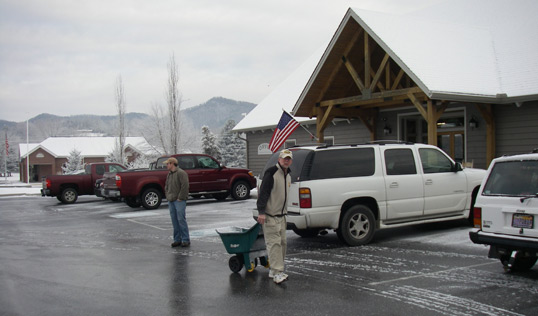 Joe McGroom (Left) observing our ice covered parking lot. Chuck Kline (Right) is spreading ice melt.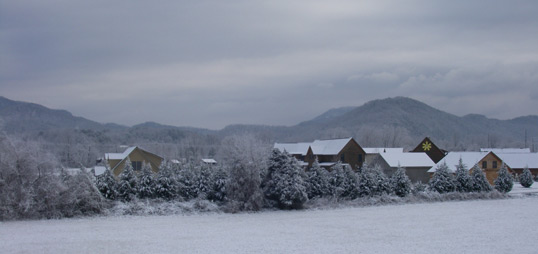 This is the view from my office right behind my computer monitor this morning. Sometimes, today being one of them, it's hard to work with this kind of distraction. I try.


Respond to: byron@littleriveroutfitters.com