Townsend, Tennessee - Great Smoky Mountains National Park
February 19, 2010

Welcome to the Fishing Report from Townsend, Tennessee. I heard something when I stepped out of our house that I have not heard in a while. I heard birds chirping. Then as I drove to work I was bothered by something I've seen very little of lately. That was the glare from the sun in my eyes. I came in here and looked at the weather forecast for the weekend. The high tomorrow will be around 53 degrees and we can expect a high of 58 on Sunday.
Are aquatic things going to start happening? We will see the water temperature move upwards this weekend. That's good. From now and for a while keep a close eye on the water temperature. I take it in town every day. Today it is 38 degrees, 2 ticks higher than yesterday. When the temperature reaches 50 degrees here in town you can expect it to be near 50 in the low elevation streams. That's when things start happening. Sure, trout become more active at 48 degrees. But 50 is the magic number for feeding activity and bug activity to begin. You may see some Quill Gordons hatching at 48 degrees or below but once the water reaches and exceeds 50, the action begins. Smallmouth bass also become more active when the water temperature reaches 50 degrees.
The water is not low but it seems that way based on the historical data. Our flow gauge has been tracking data in Townsend for 44 years. Here is a shot of today's reading with data since February 12th. You can see an almost live version of this by clicking on Stream Info to the left on this page.
The Triangles are the median daily statistics based on the 44 years. The blue line indicates the flow rate in cubic feet per second. As you can see below, historically we have seen a sharp increase in flow on February 17th. Then it starts dropping down. We will be getting rain on Monday so the flow should increase. Snow will be melting too, adding to increased flow.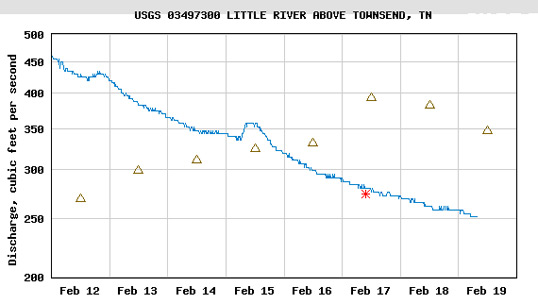 It is going to be cool next week. Winter is barely hanging on here. But in the States to our south fishing is improving. Sarah Weeks and I called a lot of stores yesterday on behalf of Troutfest. We have identified 94 stores in 7 states that sell fly fishing tackle. Like last year, we are asking them to display our small posters and take home cards advertising Troutfest. We did this last year and more than doubled our attendance at Troutfest. You can click on the Troutfest ad below and go to the Troutfest website.
I grabbed the sheet with Alabama and Georgia on it. Some of the fly shop owners I talked to said business is picking up. They are going to see more Spring-like weather this weekend just like we are and people are going fishing. Birmingham is especially busy because of a huge bass tournament being held in that area. Gary Merriman who owns the Fishhawk in Atlanta said his business was really good yesterday. Things are starting to happen further south and we are not far behind, I hope. Due to the Park being closed and tailwaters churning water, our business has been way down in February.

So folks, hang on. It won't be long. This weekend will be beautiful so get out and fish somewhere.

Come by the shop tomorrow and watch Bill Boyd Sr. and Bill Boyd Jr. tie flies. They are demonstrating for you and it's FREE. Just come on by and watch. They will begin at 10:00 am and tie until 2:00 pm. These guys are good and they are innovative.

We are also having an Intermediate Fly Tying Class tomorrow. It is full so we're happy about that.
Have a great day and thank you for being here with us.
Byron Begley
February 19, 2010
Respond to: byron@littleriveroutfitters.com