Townsend, Tennessee - Great Smoky Mountains National Park
Welcome to the Fishing Report. It is gray and overcast here in Townsend this morning. We received a little rain overnight. The weather forecast is calling for 100% chance tonight. If that forecast is true then it will clear out and leave us with a beautiful, clear and warm Saturday before it starts raining again at the beginning of the week. We need some rain. We are down over 3 inches from normal.
Fishing in the streams of Great Smoky Mountains National Park is really starting to pick up. We have gotten reports of people seeing SOME Quill Gordons and small Blue Quills but nobody has seen any large hatches. It has mostly been sporadic bugs. Water levels on Little River are a bit lower than normal for this time of year but they look great and are at a perfectly fishable level. The streams are clear even with the rain from last night.
Nymph patterns are still producing the most trout. BH Pheasant Tails in #12-#16, BH Prince in #10-#16, Copper John #14-#16, Tellico Nymph #10-#16 have all been doing well. Don't be afraid to fish an even larger nymph also.
Anglers are starting to catch trout on dries also. Mostly these people are using the dry as an indicator and fishing a nymph dropper. More of the trout are taking the nymphs but a few still long for the days of sipping flies off the surface. Dry fly patterns to have this time of year.... Quill Gordon #10-#14, Blue Quill #16-#18, dark colored Elk Hair Caddis #14-#18, Parachute Adams #12-#18, BWO #16-#18.
Wet flies (not nymphs) can be excellent this time of year. Quill Gordon Wet fly patterns are very effective during the Quill Gordon hatch.
Guides Josh and Tyler of Frontier Anglers fished Little River yesterday and had a good day. As you can see by the photo below....Tyler had a better day. They were out scouting in preparation for Spring trips and found this monster lurking about. After about 2 hours Tyler got it to eat and landed it. Congrats Tyler.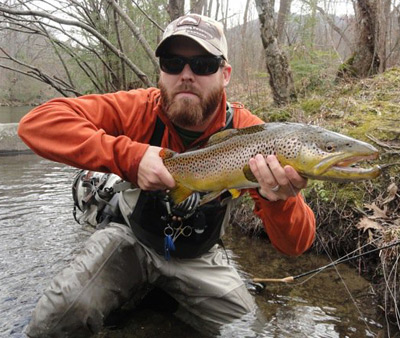 Especially if you have never fished the Smokies spending a day with one of the local guides can be a huge jump start to catching trout in the Smokies.
Well this is already late in being posted so I better close it up. Byron is off today getting "Paula's" boat checked out in preparation for some Spring fishing. He'll be back tomorrow. Saturday we have Tim Doyle coming in to do a FREE Fly Tying Demo from 10am till 2pm. If you have met Tim you know...but this is one not to miss. He is a great fly tyer and an even bigger character. Stop by!
GREAT SMOKY MOUNTAINS FISHERIES PUBLIC MEETING TO BE HELD IN TOWNSEND.
Park Service fisheries management is holding a public meeting in Townsend on Thursday March 3rd at 7:00 pm. The meeting will be held at City Hall in the Old Townsend School Auditorium. CLICK HERE FOR A PDF WITH MORE INFORMATION.

Have a great day and Thank you for being here with us.
Daniel Drake
February 24, 2011
Respond to: Byron@LittleRiverOutfitters.com






FLY TYING CLASSES
Our fly tying classes will be offered in January and February 2011. To sign up just call the shop at 877-448-3474. You can read more on our website in the Schools Section. The fly tying class schedule follows:

Saturday January 8 – Beginner Fly Tying
Saturday January 15 – Intermediate Fly Tying
Saturday January 22 – Advanced Fly Tying
Saturday February 5 – Beginner Fly Tying
Saturday February 19 – Intermediate Fly Tying
Saturday February 26 – Advanced Fly Tying
FLY FISHING CLASSES
Our fly fishing classes will be offered from March to October 2011. To sign up just call the shop at 877-448-3474. You can read more on our website in the Schools Section. The fly fishing class schedule follows:

Saturday March 26 – Beginner Day One
Saturday April 9 – Beginner Day One
Saturday April 30 – Beginner Day One
Sunday May 1 – Beginner Onstream Day Two
Saturday May 7 – Beginner Day One
Saturday May 21 – Beginner Day One
Sunday May 22 – Beginner Onstream Day Two
Saturday June 11 – Beginner Day One
Saturday June 25 – Beginner Day One
Sunday June 26 – Beginner Onstream Day Two
Saturday July 9 – Beginner Day One
Saturday July 23 – Beginner Day One
Sunday July 24 – Beginner Onstream Day Two
Saturday September 10 – Beginner Day One
Saturday September 24 – Beginner Day One
Sunday September 25 – Beginner Onstream Day Two
Saturday October 8 – Beginner Day One
Saturday October 22 – Beginner Day One
Sunday October 23 – Beginner Onstream Day Two
Respond to: byron@littleriveroutfitters.com