Townsend, Tennessee - Great Smoky Mountains National Park
February 25, 2010

Welcome to the Fishing report. Snow is falling, birds are perching, cows are standing, mountains are hidden and the grocery store is full of people. This is not going to be a big snow. The mountains might get a few inches. We had about 1 inch on the ground at our house this morning when I left. But, it is cold, 24 degrees when I came to work and the water temperature dropped to 38 degrees overnight.
This is a picture I took from my office window a few minutes ago. The larger mountains are not visible. Below that is a tree behind the shop. It is loaded with crows doing nothing. Yesterday crows were walking around the shop in the grass eating something. Now they are just waiting out the storm. The cows in the field across the road are standing there, all facing the same direction.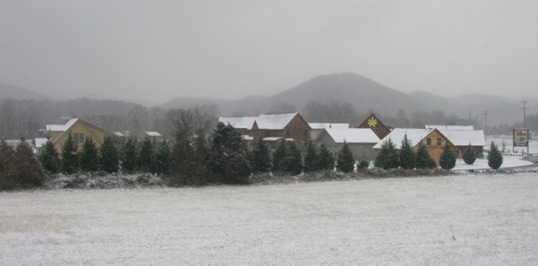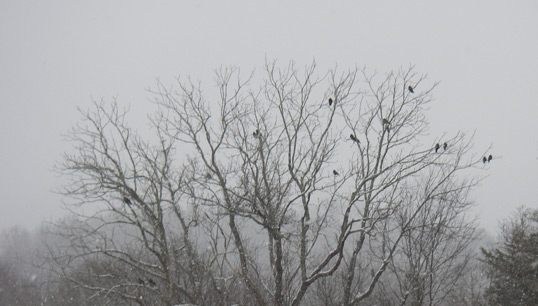 Almost all roads in the Park are closed due to snow and ice. 441 from Gatlinburg to Cherokee is closed of course. Little River Road from Sugarlands to Townsend is closed. Laurel Creek Road to Cades Cove is closed. I don't think they mentioned Foothills Parkway but surely it is closed. I think Tremont Road is open. Check on that one yourself, maybe they mentioned it and maybe I missed it. If you plan to fish today or tomorrow call 865-436-1200 which is the information line at Park Headquarters. You will be directed to the road closing recording using buttons on your phone.
We have a chance for snow through tomorrow night. Saturday and Sunday look good. We'll have highs in the mid 40's with a chance for rain on Saturday. It will drop into the 20's every night and maybe lower than that tonight. So, Spring has not arrived yet. Next week looks better for fishing.
If you are looking for something to do Saturday we have just the thing. Our Free Fly Tying Demonstration will feature Ray Ball and Tim Ivey. Ray lives here. He is an unbelievable fisherman and hunter in the true Southern Appalachian way. He grew up next to the Park and fished the streams his way all his life. Tim is a professional fly tyer and demonstrator from Georgia. He is on the Whiting Farms Pro Team and he is amazing to watch. This will be our last Free Fly Tying Demo Saturday until Fall.
We are also holding an Advanced Fly Tying Class Saturday. If you want to sign up give us a call.
Click on the image below to learn about Troutfest and start making plans to be here. In addition to Lefty Kreh, Joe Humphreys and Bob Clouser, Stan Bogdan and Jim Casada will be here.
That's about it for today. Have a great one and thank you for being here with us.
Byron Begley
February 25, 2010
Respond to: byron@littleriveroutfitters.com