Townsend, Tennessee - Fly Fishing in the Great Smoky Mountains National Park, East Tennessee and Western North Carolina

Welcome to the Fishing Report from the Great Smoky Mountains. It is sunny and 17 degrees at 7:50 am this morning. Winter is back for a couple of days.
Little River is flowing at 352 cubic feet per second (cfs) or 2.24 feet on the gauge. Median flow for this date is 311 cfs. The water temperature was 38 degrees earlier.
I don't think fishing is going to be good today or tomorrow. The water is too cold. This weekend will be better.
I was off yesterday tying Florida flies. I clicked on the weather websites a few times. Weather.com thinks the high Sunday will be 71 degrees in Townsend. The National Weather Service says 63 degrees. That is quite a difference. I can't wait to see who is right.
No doubt about it, this will be a warmer weekend. March is always full of surprises for fly fishermen in the Smokies. It will most likely be very warm some days and cold at other times. That affects the fishing and the insect activity. Overall, fishing in March is usually pretty good.
Look at the water temperatures in March last year on the USGS chart below. They ranged from around 35 degrees to 55 degrees. At 55 degrees, fishing will be very good, maybe excellent. At 40 or below, fishing is usually slow.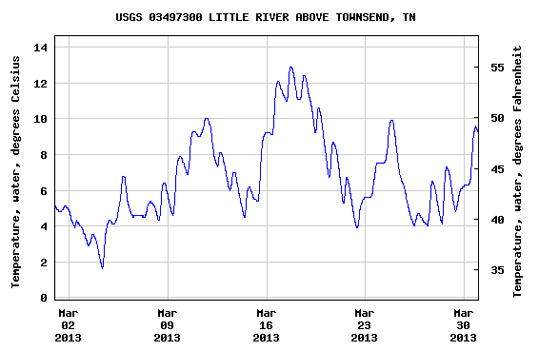 We also want normal water flows. Flows vary greatly in the Spring. Last year, throughout the Spring, we were hammered by heavy rain and it usually occurred on weekends when most people fish. Look at the USGS chart below depicting flows in March 2013. The gold pyramids indicate median flow for each day. Rainfall amounts last year got worse instead of better. It is a year we will never forget in this business. High water plagued the Eastern United States. The fly fishing business was slow in the East.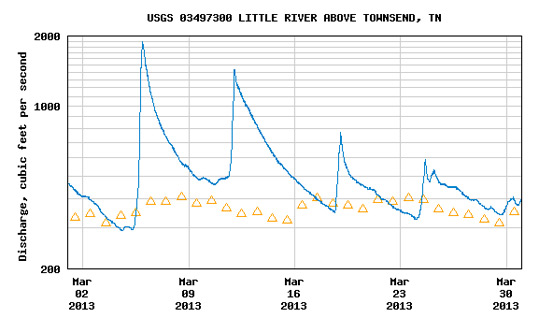 As a fly fishing business, we are hoping for warm weather and moderate stream flows. By March, the cash is depleted or close to it. We expect that of course. After nearly 20 years of doing this, we kind of know these things. We lose a lot of money during the Winter. Don't worry, we have reserves.
Nevertheless, we are bringing in our Spring products to sell. Boxes are arriving daily. I didn't look downstairs when I came in this morning to see what arrived yesterday when I was off. Orvis' first shipments came early this week. I bet Fishpond arrived. Chota, Sage, Rio and Umpqua flies may have arrived. We are getting ready for Fly Fishing Spring.
I share your chronic case of "cabin fever". My only partial cure right now is tying flies. I don't get many days off and when I do, the weather seems to be terrible. Yesterday, I figured out how to tie articulated baitfish flies that resemble "porgy" bodied fish. I started out tying some that depict a pinfish, a super pattern to use in the Gulf of Mexico. Then, I decided they look like shad, an excellent baitfish pattern to use in the Southeast for smallmouth bass, trout and other gamefish. And then, I noticed they resemble small edible bluegill and redbrest sunfish, another great fly for warmwater gamefish. So, I'll tie a bunch of these and color them different ways depending on where I'll be fishing. I may do the coloring as needed. These flies are all white right now. I used one fairly long shank, tied the tail and some body fur on it. Then, I attached that segment to the hook. After trimming, it looks like a "porgy" type baitfish.
Stay warm today and think about this coming weekend.
Have a great day and thank you for being here with us.
Byron Begley
February 27, 2014