Townsend, Tennessee - Fly Fishing in the Great Smoky Mountains National Park, East Tennessee and Western North Carolina

Welcome to the Fishing Report. It is 35 degrees and snowing in Townsend. The National Weather Service is predicting less than ½" of snow today and the same again tonight. The high temperature today should be in the low 40's. The snow won't stick.
Little River is still flowing above normal. Right now the flow is 450 cubic feet per second (cfs). Median flow for this date is 335 cfs. At 7:58 am, the water temperature was 40.6 degrees.
It is going to be cold through the weekend with low temperatures dipping into the mid 20's. The Eastern United States will feel the same chill. The first week of March is going to offer us winter conditions. Relief is in sight, later next week. We'll be back into the 60's during the day and 40's at night next weekend.
Before then, plan on using nymphs in the Smoky Mountains. The water is going to be cold for a week. Fishing will be slow. Get your nymphs down. The trout are going to be lethargic for a few days.
Next weekend should be totally different. We'll see the water warm up again. It won't happen quickly but fishing will certainly improve. Beyond that, fishing will most likely be excellent soon. Great dry fly action in the Smokies is not far off. It's a matter of days unless we get another winter blast like we are getting now.
Between 11 am and 4 pm today, TVA says they will not be generating at Cherokee Dam. Check their website before you go. They might change their mind. TVA has been turning Norris Dam off but they are doing it at night. I'm not getting out there at night. Douglas will be churning today, all day.
This isn't my favorite way to start March. I'm sitting here writing this fishing report watching the snow fall. To add insult to injury, the snow is collecting on our boat. I'm ready to head to the lakes for some smallmouth bass fishing. I think it will be a while.
Spring orders are coming in from our manufacturers. We got two yesterday. More are on their way. We pushed our Spring orders back a week or two because of the predicted weather. Now, it's time to stock the store. Customers will be coming in here in good numbers in a week.
We are also shipping a lot of orders out to customers. People are even buying flies already. I've got an emergency order into Rainy's for Stealth Bombers. Those flies are selling well right now. Maybe customers know there were times last year when those flies were hard to get. Rainy's ran out. We ran out. I don't think we'll run out this year.
Look at this crawfish Josh Pfeiffer saw at Elkmont. Josh owns Frontier Anglers, a guide service located here. He specializes in float trips for trout and smallmouth bass on the tailwaters and wade fishing in the Smokies. You can visit his website by CLICKING HERE. He sent the photo to me. I've seen a lot of crawfish. When I was a kid, we seined them from the creek on the farm and ate the critters. I'll never forget the first time my mother dumped a batch of live crawfish into boiling water for Sammy and I to eat.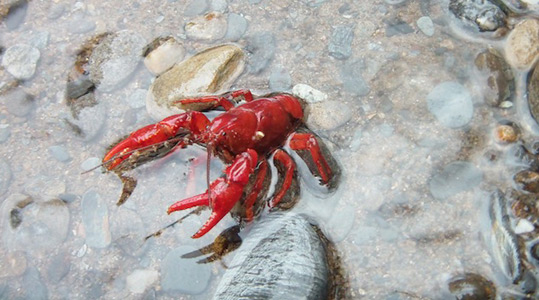 I sent this photo to Bart Carter at Tennessee Wildlife Resources Agency. Bart is our Regional Director of Fisheries. One of his co-workers, Carl Williams is a crawfish expert. I think Carl told me one time there are 400 different species of crawfish in Tennessee. Bart thinks this is a red burrowing crayfish (cambarus carolinus). He is going to show the picture to Carl and see what he thinks. That is one pretty crawfish.
It is still snowing and it is opening time.
Have a great day and thank you for being here with us.
Byron Begley
March 1, 2013
Respond to: byron@littleriveroutfitters.com