Townsend, Tennessee - Great Smoky Mountains National Park
Welcome to the Fishing Report. It is foggy in Townsend this morning. I can't see one mountain from the office. Traffic was fairly heavy too. I had to wait for two cars before turning onto the main road through our town. Jake Peppers stopped to talk to me at the swinging bridge. He is a retired fly fishing guide who lives on the river. He can't wade anymore. I lamented that I am having trouble with that too. I do better out of a boat. The water temperature was 45 degrees.
Little River has dropped a few inches since yesterday morning. It looks good. Flow today is 729 cubic feet per second compared to median flow for this date of 344 cfs. Wading will be difficult in most places. Be careful. Ethan stopped by yesterday for a while. He was taking a break from fishing. He had caught two nice browns. I think he said one of them was 16" or 18" but I may be mistaken. I saw pictures of both. They were very nice trout. After a few minutes he drove back into the park to fish.
If you go, use nymphs or streamers. There have been no reports of major hatches. There have been some bugs hatching and one guy told me this weekend he saw a fairly good amount of blue quills on the water. The water is not quite warm enough yet. It gets warm enough during the day but the temperature is dipping during the night. After tonight it will get warmer. Surface action should improve. We do have rain in the forecast this weekend. Depending on who you believe, there is a 30% chance to 60% chance for rain on Saturday.
Vendor checks for Troutfest are coming in. Jack and I need to make a deposit and get a new spreadsheet going for those who have paid. If you want to be a vendor go to the Troutfest website and read all about it. You will see that the vendor spaces are sold out. That is not necessarily true. You can send me an e-mail stating what kind of booth you would like to have and I'll put you on the waiting list. I bet we can fulfill your needs. We are holding last year's vendor spaces for those folks but some may not return. Jack has contacted them and I don't know how many have decided not to come back. Right now I have three vendors on the waiting list. All the others have been placed.
Late yesterday, Neil Smith held the voting for the cover art for the Troutfest Journal. We had six entries. The judges took this very seriously. They are in the photo below. Closest to the camera is Steve Moore, chief of fisheries at Great Smoky Mountains National Park. Many of you know the guy in the blue shirt. His name is Bill Landry. He's the star of the "Heartland Series" TV show. And, in the white shirt is Brent Golden. Brent owns Hart Graphics in Knoxville. They do the printing for Troutfest and for our company. Brent has a degree in graphic arts. The judging was held in our classroom at the shop. All three of these guys are also fly fishermen.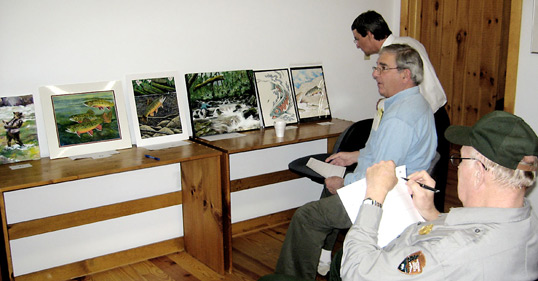 The painting that is third from the left won. They were all great. The painting second from the right came in second and it was close. They used a point system to decide. The judges did not know the names of the artists. We will auction off the winner at the banquet along with the first Troutfest Journal that comes off the printing press. We are printing 2,000 journals. We may put the cover on the front of a t-shirt and sell them at Troutfest. Neil is in charge of the Troutfest Journal and he has done an excellent job. We are actually going to make a profit on the Journal the first year. Next year it will be easier to sell ads because we'll have a complete journal to show prospective advertisers. Neil will complete the design in the next week or so and it will go to press.
Sarah Weeks and I will begin shipping the marketing materials for Troutfest tomorrow. The posters and cards will go to about 95 stores in 9 states. Each store owner or manager has been or will be personally contacted by Joe Rentz and Sarah.
Sheila and Bill Bolinger are handling the banquet ticket sales for Troutfest. According to Sheila, sales are much better this year at this time than they were last year. That's good to hear. You can order yours online at www.troutfest.org or call here toll free 877-448-3474. Your tickets will be mailed to you. One of our Little River Chapter credit card machines is at Bill and Sheila's house where they process the charges. Even though you are ordering from our shop, your charges will be deposited in the TU bank account.
I'm going to the Great Smoky Mountains National Park fisheries public meeting in Townsend tomorrow night. I know a lot of other people who will be there too. It will be held at the old Townsend School, which is used now for our city hall. I've had to stand up in front of fairly large groups of people in that auditorium for city hall public meetings. I had to do that three times in three months recently. The acoustics are not great. But it seats around 200 people or more and that school is a beautiful building with many memories stored in the minds of a lot of people who grew up here.
The Townsend School is owned by the County School system and there is some speculation about it's future. If I have anything to do about it the school will always be here. The problem is the cost to bring it up to code during a renovation. I've got a feeling, if someone ever mentioned tearing it down there would be an uproar around here. Even though I never attended the Townsend School I would be on their side. The newer Townsend Elementary school is one of the best. I remember when President George W. Bush visited the school about 10 years ago. We had secret service guys hanging around for days before that event.
GREAT SMOKY MOUNTAINS FISHERIES PUBLIC MEETING TO BE HELD IN TOWNSEND.
Park Service fisheries management is holding a public meeting in Townsend on Thursday March 3rd at 7:00 pm. The meeting will be held at City Hall in the Old Townsend School Auditorium. CLICK HERE FOR A PDF WITH MORE INFORMATION.

Have a great day and Thank you for being here with us.
Byron Begley
March 2, 2011
Respond to: Byron@LittleRiverOutfitters.com




FLY FISHING CLASSES
Our fly fishing classes will be offered from March to October 2011. To sign up just call the shop at 877-448-3474. You can read more on our website in the Schools Section. The fly fishing class schedule follows:

Saturday March 26 – Beginner Day One
Saturday April 9 – Beginner Day One
Saturday April 30 – Beginner Day One
Sunday May 1 – Beginner Onstream Day Two
Saturday May 7 – Beginner Day One
Saturday May 21 – Beginner Day One
Sunday May 22 – Beginner Onstream Day Two
Saturday June 11 – Beginner Day One
Saturday June 25 – Beginner Day One
Sunday June 26 – Beginner Onstream Day Two
Saturday July 9 – Beginner Day One
Saturday July 23 – Beginner Day One
Sunday July 24 – Beginner Onstream Day Two
Saturday September 10 – Beginner Day One
Saturday September 24 – Beginner Day One
Sunday September 25 – Beginner Onstream Day Two
Saturday October 8 – Beginner Day One
Saturday October 22 – Beginner Day One
Sunday October 23 – Beginner Onstream Day Two
Respond to: byron@littleriveroutfitters.com