Townsend, Tennessee - Fly Fishing in the Great Smoky Mountains National Park, East Tennessee and Western North Carolina

Welcome to the Fishing Report. Light rain is falling and the temperature was 40 degrees at 7:55 am. Scattered fog is obscuring pieces of the mountains from my view. I can see the roof of Gracehill Bed and Breakfast. The roof is solid white, indicating snow is still on the ground and rooftops at 3,000 feet. It is a nice morning.
Little River looks fine right now. The water is clear. Flow is 295 cubic feet per second (cfs). Median flow for this date is 347 cfs. The flow chart does not indicate any rise in depth though we have had .20 inches of rain at the shop during the past 24 hours. The water temperature is still cold, 39.5 degrees but it has warmed some since yesterday.
Fishing wasn't bad yesterday like I thought it would be. The sun came out and the streams became active. Josh and Buzz fished at Abrams Creek. They encountered a Blue Wing Olive hatch and took advantage of that, catching a few trout. Then, we heard back from Pete and Dan. They were fishing on Little River near Metcalf Bottoms. They found the same thing, Blue Wing Olives hatching. They caught some trout too. All of these guys are good anglers and seized the moment effectively. So, if you go fishing today, watch for a Blue Wing Olive hatch. If that happens tie on a dry fly and have at it.
Josh Pfeiffer of Frontier Anglers Guide Service had a good day on the Clinch River Saturday. He was floating the river in his drift boat. I got an e-mail from him yesterday.
"We floated the Clinch yesterday on 1 generator and threw streamers pretty much all day. The fishing wasn't bad, the fish were feisty and really healthy. There were fish occasionally rising and near the dam there were a lot of fish eating midges. I talked with a few fisherman and everyone said the fishing was pretty good. Here is a picture of one of the fish we caught, one of the prettiest browns I've ever seen and with big shoulders. I thought you would want to know how the tailwaters were doing." Thanks Josh for the update. You can visit his website by CLICKING HERE.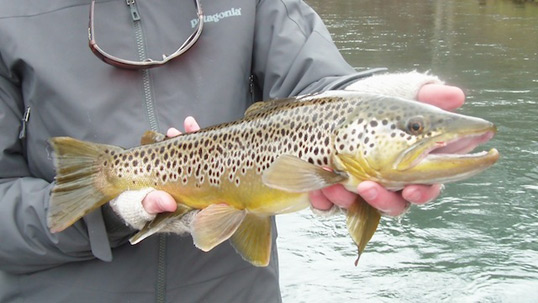 Fishing in the Smokies is going to improve this weekend. We are going to have high temperatures in the 60's and lows in the 40's or near 40 Saturday night. The water will warm and the aquatic inhabitants will become more active. You should see some hatches of Blue Wing Olives, Quill Gordons and Blue Quills unless that water temperature does not cooperate. I think it will. Next week will be even better. If the long term forecast holds true, we'll have a warm week and warm water. Maybe, Angler's Spring is upon us. Get ready.
Unless we get some heavy rain, I expect to see some favorable generation schedules on the tailwaters nearby. TVA is turning the water off about every day or night on the Clinch River. Hopefully this weekend it will happen during the day. Generation at Cherokee Dam should be shut down at 1 pm today until 6 pm. Maybe they will have the water turned off there this weekend. Check the TVA generation schedules by clicking on the links to the left before you go.
Smallmouth bass anglers may see some action in the lowland rivers and tailwaters over the next few days. Shortly, we may see some water temperatures reach that 50 degree mark in the lakes too. Get out your Black Wooly Buggers and 8 pound leaders.
The days are getting longer and we will be adjusting our clocks and watches this weekend. This is an exciting time to be in East Tennessee and States nearby. Finally our time has come.
There is going to be one little setback this week. It is probably going to snow and turn cold tonight. We'll probably get some snow tomorrow. Thursday should be the turning point. On that day the skies will be clear and it will be warm for several days. Nights will continue to be cold until Saturday. So, it is not obvious when the fishing will really turn on in the Smoky Mountains. I do know fishing will be better this weekend and next week. It is about time.
Have a great day and thank you for being here with us.
Byron Begley
March 5, 2013
Respond to: byron@littleriveroutfitters.com