Townsend, Tennessee - Fly Fishing in the Great Smoky Mountains National Park, East Tennessee and Western North Carolina

Welcome to the Fishing Report from the Great Smoky Mountains. It is raining and 48 degrees in Townsend this morning. The rain just started at 7:45 am. It is a light rain at this point. Predictions indicate we may get 1" or more today.
Little River is flowing at 195 cubic feet per second (cfs) or 1.81 feet on the gauge. Median flow for this date is 374 cfs. The water temperature at 8:05 am is 48 degrees.
Fishing was fairly slow Friday. The water didn't warm up much. Yesterday, fishing was much better. The water temperature at the "Y" peaked at over 50 degrees. Anglers reported hatches of quill gordons and blue quills. Trout were taking dry flies. It was a beautiful day, 66 degrees and some sun.
Today may be different or it could offer even better fishing. The high today should be 52 degrees. The rain will be warm in the lower elevations. If we get an inch or more, the water will rise. If you go today it's a crap shoot. Fishing could also be slow. You will probably be fishing in the rain all day.
I would go though I doubt if I would stay out there all day. I love fishing in the rain but not for hours. It gets old to me fairly quickly. However, some of my best fly fishing days have been had when its raining, or even snowing.
I certainly prefer cloudy days over sunny days.
If you go, have some quill gordon and blue quill dry flies just in case. Also, a collection of nymphs are essential this time of year. The trout may take the dries or the nymphs or both.
We really needed this rain. Rainfall this year is down about an inch and a half from normal. The water levels have been good for fishing but a little low for fishing on sunny days with no leaves on the trees. Fishing should be good all week and maybe excellent next weekend unless the weather forecast changes. High temperatures next weekend should be in the mid 60's and maybe over 70 Friday. "Game On".
It will be April in two weeks. Remember April last year? The Spring of 2013 was a tough one for us anglers, all over East Tennessee and the Southeast United States. The temperatures were great. The water flows were awful. To make matters worse, most big rain events happened on weekends when most people fish. Look at the flow chart below for Little River in April. We had flows of 700 cfs to 1500 cfs five times that month. We had a couple of those in May too. We had 6 in June.

Note: The small gold pyramids on the chart below indicate median flow based on 49 years of data. The Red * is the date the USGS calibrated their equipment at the flow station on Little River.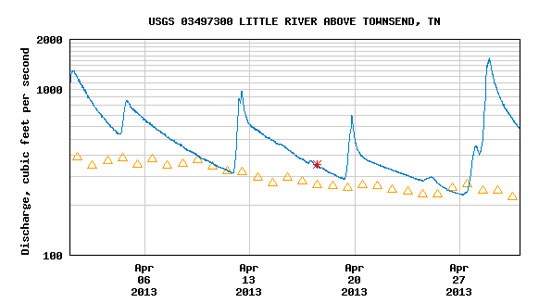 Fly shops, guides and anglers were distraught. The rain made it nearly impossible to fish in the tailwaters. They were blowing water continuously or almost. The freestone streams in the mountains were high often and like I said, it was usually on weekends.
We were pushing pre-season orders out and put on hold. Business was slow. But finally, conditions improved and actually, we had some of the best fishing during the Summer we had seen in a long time.
The high water did a number on the brown and brook trout spawn, and probably the rainbows too. 2013 was a year I'll never forget. This year is starting out more normal. Let's hope that continues.
I had a hard time trying to figure out the smallmouth bass spawn in the lakes last year. All anglers said, everything is running late.
Marina owners had a tough year. The weekends were so awful, people didn't use their boats that had been docked all Winter just waiting for Spring. The boating and fishing business was not good in the Southeast last Spring due to the amount of rain we had.
We share a sport that is totally dependent on weather, good or bad. Actually, it doesn't look so bad out there right now, considering.
We will be open until 5:00 pm today. We're open every Sunday. Come on by if you can.
Have a great day and thank you for being here with us.
Byron Begley
March 16, 2014