Townsend, Tennessee - Fly Fishing in the Great Smoky Mountains National Park, East Tennessee and Western North Carolina

Welcome to the Fishing Report. It is sunny and 25 degrees in Townsend this morning. It's Winter again! We have a chance for snow tomorrow. What's going on here?
Little River is flowing at 2.56 feet or 430 cubic feet per second (cfs). Median flow for this date is 376 cfs. The water temperature is a chilly 42.5 degrees.
I was off yesterday so I didn't hear any fishing reports from anglers. Fishing conditions right now would indicate "slow". If you go, fish nymphs and get them deep. This cold water will cause the trout to be sluggish. You may see some hatches. There could be Blue Wing Olive, Quill Gordon or Blue Quill adults on the water. I don't think that is likely. Blue Wing Olives would be more likely.
If you do go fishing in the Smokies today be aware that the water is a little high and it is very cold. Be careful.
It is going to warm up Saturday. The high temperature should be around 55 degrees. We expect rain on Saturday and Sunday.
This Spring has been the exact opposite of last year. Hatches and dry fly fishing came early, the second week in February. Good fishing continued through March from the best of my recollection. This year, cold water temperatures have effected the fly fishing dynamic in the Great Smoky Mountains in a negative way. It's only a matter of time before fishing gets really good. Warm water, active aquatic insects and active trout will thrill anglers every day. It just has not happened yet, at least not here.
Fishing will improve this weekend if you don't mind the rain. I would not make a long trip here to fish this weekend. You may be disappointed. The tailwaters might be fishable and if they are, fishing should be fine.
Our beginner fly fishing classes in April and the months after are filling fast. If you are interested in learning this sport or you know someone who is, give us a call to book a day or two. You can learn more about our beginner fly fishing classes by CLICKING HERE.
Temple Fork Outfitters has a new line of fishing bags and luggage. We got some pieces in this week. They look good and the quality appears to be comparable to other brands we sell. However, the prices are lower, quite a bit lower.
I began the process of photographing the new TFO luggage Tuesday. The example below is the "Carry All" bag in the medium size. You can see this bag has a hard waterproof bottom, an attached rain cover that is concealed in a zippered pocket and lots of other pockets for your gear. What do you think it costs? $129? Nope. $99? No. This bag retails for $79. There is a larger gear bag and a rod and reel case. There are other pieces we have not received yet including a roller duffel. These items will be for sale online in a day or so. You can call to order now. I hope to finish the photography today.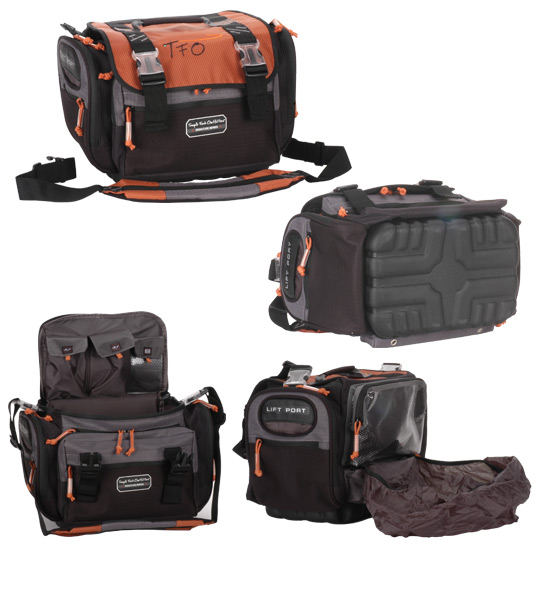 Have a great day and thank you for being here with us.
Byron Begley
March 21, 2013
Respond to: byron@littleriveroutfitters.com