Townsend, Tennessee - Fly Fishing in the Great Smoky Mountains National Park, East Tennessee and Western North Carolina

Welcome to the Fishing Report from the Great Smoky Mountains. The sun is shining and the temperature is 26 degrees at 8 am. We have a heavy frost this morning.
The Spring-like weather is over for now. We will have a couple of cold nights and possibly snow tomorrow night. Then, it will warm again by the weekend. Expect temperatures around 70 degrees on Saturday and Sunday.
Little River is flowing at 234 cubic feet per second (cfs) or 1.93 feet on the flow gauge. Median flow for this date is 395 cfs. The water temperature has dropped to 44 degrees this morning.
Fly fishing in the Smokies has been very good. Dry fly anglers are having a ball. I expect the fishing to slow for a few days, until the weekend. You will be able to catch trout. They will be more sluggish and inactive due to the colder water temperatures.
I think nymphs will work best but dry flies are not out of the question. You may see aquatic insects hatching too. If I were going I would expect a slowdown for a few days with lower expectations than last week.
April is one week away. April brings flowering trees and leaves sprouting. April brings redbud trees in their full color. April can be one of the best fishing months of the year or second only to May. I'm looking forward to April. I hope to be fishing every week from then until next Winter. My day off this week is Wednesday. Paula and I were hoping to go fishing at one of the lakes. It is going to be a little chilly for lake fishing, at least for me.
In October I was walking through the shop and ran into a man and his son. We struck up a conversation. His son, 11-year old Tradd, was getting interested in fly tying. I spent some time showing Tradd all the materials in the store and describing as best I could, what they are all used for. He paid attention. Before they left, I gave Tradd a very comprehensive book on fly tying. One of my friends gave it to me and I already had the book. So Tradd got the second one. Glenn, who works here gave him an Orvis fly rod.
Soon after, I got some flies in the mail that Tradd had tied. They were unbelievable. The proportions and the quality of these flies were not what you would expect from a beginner. Everyone in the store was amazed when I showed them these flies.
So, through e-mail conversations with Rusty, his dad, we arranged for Tradd to demonstrate at our store this past Winter. He did and did well. He ties standing up and his moves at the vise are perfectly deliberate and accurate. He makes fly tying look a lot easier than it is.
Word got around. This 11 year old kid from South Carolina was invited to tie at fly fishing shows in the Southeast, including Asheville and Winston Salem, North Carolina. More people found him to be a "natural" at fly tying. He was a featured fly tyer at the opening of a Cabelas store.
Last week Tradd was tying at the Sowbug Roundup in Mountain Home, Arkansas. This is a huge fly tying event. The local newspaper, The Baxter Bulletin, called him the "11-year-old fly tyer, a wonder at the 17th annual Sowbug Roundup". You should read the article and watch the video interview with Tradd. CLICK HERE.
While there, Tradd met another youngster, a little older than Tradd and they went fishing. Tradd caught the two brown trout shown below. Tradd is the smaller of the two. They also caught several other trout. The photos below are of Tradd's two largest brown trout.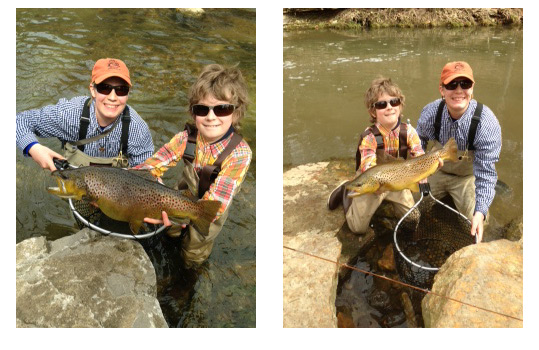 Think about it. This boy has been fly tying and fly fishing only 6 months. He is eleven years old. I started fly fishing and fly tying when I was eleven. It took me 15 years to catch a brown like that and I still can't tie flies as well as Tradd. I've been tying for over 50 years.
This is all unbelievable. I'm just happy that I was able to be a small part of this story that is unfolding. Watching that interview and looking at these pictures makes me smile every time.
Have a great day and thank you for being here with us.
Byron Begley
March 24, 2014