Townsend, Tennessee - Fly Fishing in the Great Smoky Mountains National Park, East Tennessee and Western North Carolina

Welcome to the Fishing Report. It is overcast, snowing and 32 degrees in Townsend this morning. The light snow has been sticking to trees and the ground but the roads in the valley are fine. The high temperature today should be 41 degrees.
Little River is flowing well at 500 cubic feet per second (cfs). Median flow for this date is 356 cfs. The water temperature is 45.5 degrees at 8:00 am.
Fishing was fair this weekend. I did not talk to any returning anglers yesterday. Saturday, the fishing was best late in the day. Bugs are hatching and that should continue. However, cold temperatures are headed our way. We'll see low temperatures near or below the freezing mark until Friday. Then, it is going to really warm up. We'll have to deal with snow in the mountains through tomorrow night.
If you go fishing in the Smoky Mountains today be aware that roads may be closing. I am just now getting a peek at the higher ridges. They are white.
Anything could be happening today on the Smokies streams. Hatches will include Quill Gordon, Blue Quill and Blue Wing Olive. I don't know if trout will be rising to these adults. During this weather transition it is hard to tell. Trout were taking bugs off the surface late Saturday. I think they probably were yesterday. As the water temperatures drop over the next couple of days I would expect the fish to become sluggish. If that happens, fish with nymphs. I would probably use a Pheasant Tail to start with.
The 10 day forecast indicates a substantial warming trend beginning this weekend. We'll have highs around 60 degrees and higher. Lows will be in the 40's. Fishing should be excellent after Easter. April is an awesome month to fish here and from all indications, it will start that way this year.
Smallmouth bass fishing in the rivers will turn on again next week. Get ready with some Wooly Buggers, crayfish and sculpin patterns. You might even see some top water action later next week.
The National Weather Service is predicting up to two inches of snow in the higher elevations of Great Smoky Mountains National Park. By Tuesday night, they also predict significant snow accumulations above 2,500 feet. It is going to be windy too.
I've been tying a bunch of Bass Buggers. There is a photo of this fly below. This is a Wooly Bugger designed for bass, smallmouth and largemouth. The bugger is tied on a Gamakatsu #4 bass stinger hook. It is weighted with 18 wraps of .020 lead free wire. The hackle comes from Whiting Farms, the best I could find. I use epoxy on the head mainly because I think it looks good.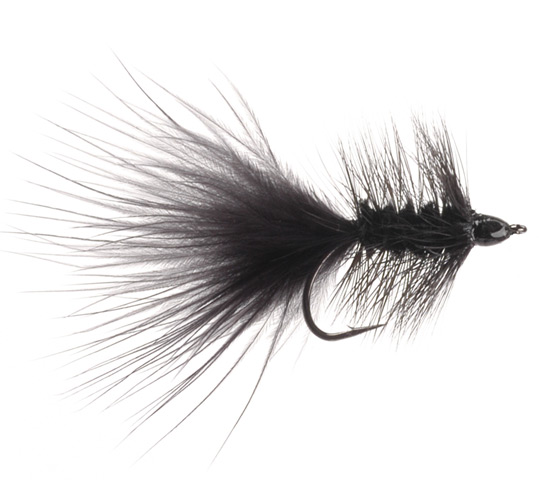 You would think that a fly company would tie these. Maybe they do but I could not find them. As an avid smallmouth bass fly fisherman, I use Wooly Buggers and this is how I want them tied. I decided to tie some for the store to sell. I've made between 8 to 10 dozen so far and I try to tie at least 6 per night right now. I placed these for sale on our online store and people are ordering them already. They cost $2.75 each.
I think one advantage this fly has for bass fishermen is the fact that the weight is on the hook shank so the fly suspends horizontal. The second advantage is the hook. A Gamakatsu B10 S stinger hook is what I use for all bass flies. I love that hook. The Tiemco stinger hook is a good one too.
I would also use this fly for large trout.
If you fish for bass you should tie some of these. You won't be sorry. If you don't tie your own flies you can buy mine by CLICKING HERE.
Get ready for Anglers Spring. It is coming next week, finally.
Have a great day and thank you for being here with us.
Byron Begley
March 25, 2013

Respond to: byron@littleriveroutfitters.com