Townsend, Tennessee - Fly Fishing in the Great Smoky Mountains National Park, East Tennessee and Western North Carolina


Welcome to the Fishing Report from the Great Smoky Mountains. It is overcast and 39 degrees in Townsend this morning. We finally got some rain. We had 1" in our gauge when I got here today.
Little River is showing the effects of the rain. Flow, which has been running below median for days is now above at 490 cubic feet per second (cfs) or 2.53 feet on the gauge. Median flow for this date is 361 cfs. The water temperature at 7:50 am is 46.5 degrees.
If you go fishing today, you are going to notice swifter water. Be careful wading. We have a beginner class going out on the rivers today. If the flow gauge is above 2.5 feet we won't take them out. We have one instructor watching up to three people. We don't want to take the chance. I checked the flow at 5:45 am this morning and it was over 2.6 feet. The water is dropping fast. By the time our students go out, the flow will be below or at 2.5 feet.
Fishing was slow yesterday probably due to the front moving in. Maybe some anglers did well. Others did not. A very notable warming trend is moving into the Tennessee Valley. By Wednesday we may see a high temperature near 80 degrees. It will be sunny and fairly warm today and in the 30's tonight. Then the BTU's will be turning up just in time for Paula and I to go fishing. I can't believe it. We are actually going to have some good weather on my day off. I work 6 on and 1 off. When I'm off, I want to go fishing.
You might do best using nymphs this morning. The water is not cold but it is cooler. We may see the temperature rise to 50 degrees today or maybe not. It's hard to say. The air will be warmer, but snow is melting up high and maybe in the mid-elevations.
Anyway, it is going to be a pretty day to be out and you should catch some trout, maybe not a lot, but some.
I noticed we had 747 visitors to this page yesterday. That is high for a Saturday. I think anglers stayed home for the most part. Today will probably be different.
We got quite a bit of snow in the mountains last night. I just looked toward the Park. A couple of peaks look white though it is pretty dark out there. Mount LeConte reported 12" of snow with drifts as high as 2 feet. Newfound Gap Road and Clingmans Dome roads are closed due to snow and ice.
When this stuff melts, we'll probably see a drop in the water temperature. I don't know what affect that will have on the streams today. I suspect they cold be colder.
The fisheries biologists and managers at Tennessee Wildlife Resources Agency are friends of mine or I know them all. The folks in our region are exceptional individuals. I have worked in the streams with most of them. We stay in touch.
It is interesting to know what bothers them. They have a lot more problems to deal with that we would never think of.

One big issue is invasive species, fish or mollusks that have invaded Tennessee rivers and lakes. I've been told the zebra mussel is here though I haven't seen one. I caught a trophy yellow perch last year in the Little Tennessee River above a dam. Somebody had to have stocked them.
The exotic that scares biologists are the Bighead and Silver Carp. You've probably seen the videos of these fish jumping into boats and whacking unsuspecting anglers in the face. Well, they have arrived in Tennessee. I don't know exactly which route they took, but they are here.
Aside from having a 10 pound fish hitting you in the face while driving your bass boat at 50 miles per hour, another point of interest and concern is, those fish eat a ton of plankton. Plankton is the food base for our baitfish and juvenile sport fish. Threadfin shad rely on plankton to survive. If the shad population crashes, so does the sportfish population.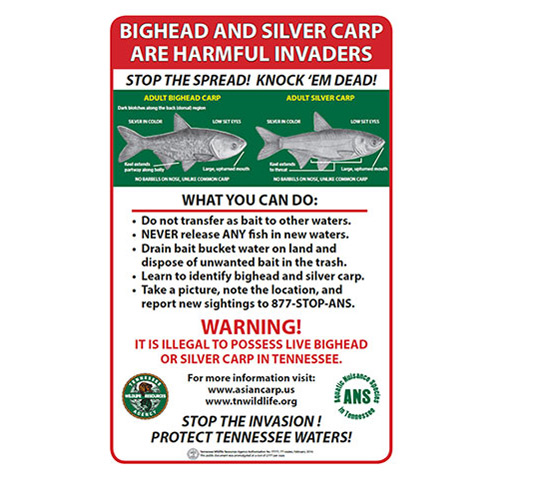 As you can see from this poster I downloaded from the TWRA website, do not gently release these carp. You would probably catch one by accidental snagging unless you have a great plankton pattern on a size #50 hook. Or, one may jump into your boat. If that happens, beat the crap out of them. Kill them and dispose of carcass properly in the trash or preferably, someone else's trash.
Silver and Bighead processing plants have been built. Buyers in the Orient have been contacted and the processors here have been contracted. These fish will be targeted by commercial fishermen. I don't know if this can rid us of these pests, but it can't hurt.
This is just one of the problems TWRA has to deal with. There are many more.
Have a great day and thank you for being here with us.
Byron Begley
March 30, 2014