Townsend, Tennessee - Great Smoky Mountains National Park
April 1, 2010

Welcome to the Fishing Report. It is a beautiful sunny day in Townsend, Tennessee. They say the high today will be 81 degrees. Traffic has been fairly heavy in town for the last two days. We are still feeling the effects of spring break which at times brings in visitors. Big trucks are hauling blacktop to Cades Cove so I hear one of those drive by every few minutes.
The Park Service finally announced that the Loop Road at the Cove will open about a month earlier than planned. The opening will be later this month. This is great news for tourism. When it opens there will be a period of a few hours on that morning when bicycles only will be allowed. Bicyclists will be the first to try out the new road. At noon it will be opened to vehicle traffic. Then on Sunday, the following day, there will be a planned footrace and again no vehicles will be allowed in until that is over.
I think I'll just park and walk around on a weekday after the grand opening. An 11 mile walk would do me some good.
Little River is looking great. It couldn't look better for this time of year. The flow is 537 cubic feet per second (cfs). Median for this date is 370 cfs. It is somewhat swift so be careful but for some people, this is perfect flow. Other anglers like to see less water than we have now. The water is warming up too. I checked a few minutes ago at the swinging bridge. The temperature is 48 degrees and it will rise today and most of the next ten days to a perfect fishing range. Today, you will find the fishing better in the afternoon if you prefer dry fly fishing. There will be Quill Gordons and Blue Quills hatching and on the water.
I was changing the oil and tuning up our boat motor last night outside the shop. A few local folks came by to talk. First, Tim Doyle stopped by. He had been guiding a client in the Park all day. He said there were bugs flying around but not many actually on the water. He said the fishing was fairly slow where they were. He did say he ran into Doug Sanders near Elkmont. Doug was having a good day using dry flies. Other anglers reported good fishing. Michael Talley and Larry Pound stopped by. Michael is getting ready for some crappie fishing and turkey hunting.
Fishing is going to get better. The nights will be warmer. The only problem I see is this full moon. I'm one of those who believe the full moon is not good for fishing. And tomorrow Paula and I are going fishing. But, I don't care if we catch a lot of fish or not. I just want to be on the lake relaxing.
Bob came by yesterday afternoon and showed me a huge crappie he caught on Fort Loudon Lake. I bet it weighed 2 pounds. He was using chartreuse jigs on a spinning rod. He planned to have a fish fry last night.
Yesterday, Mark Whitted and I drove over to the former site of Laurel Lake. Mark is the Executive Director of the Little River Watershed Association. The lake was drained around 1990 due to some compliance problems with the dam. I'm hoping to raise the money to re-build the dam and get that lake back. I think Mark likes that idea too. The lakebed and property surrounding it, are owned by our County. At the upper end of the lakebed we found this beaver dam that you can see below. This dam is almost a full half circle. What you see in the background is the dam too. It circles most of the way around this photo. It's huge. We found fish, tadpoles, woodducks, geese and even some muscle shells. We didn't see any beavers. I think someone is trapping them there. Another local guy is keeping the beaver population in check here in town on Little River too.
Well, we're going to have a beautiful weekend except for a chance for a thunderstorm on Saturday. I'll be turkey hunting then if I can get off work. Our plan is to fish on one of the lakes tomorrow, hunt turkeys on Saturday then fish again on Sunday. I'm anxious and pleased.
Have a great day and thank you for being here with us.
Byron Begley
April 1, 2010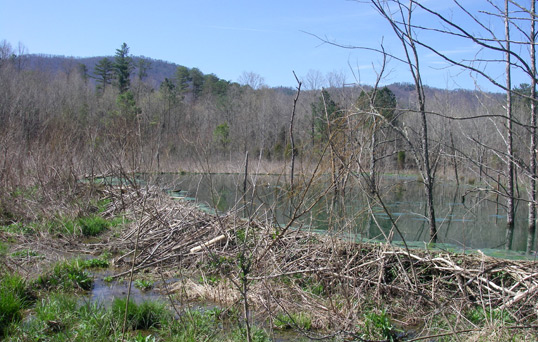 Respond to: byron@littleriveroutfitters.com