Townsend, Tennessee - Fly Fishing in the Great Smoky Mountains National Park, East Tennessee and Western North Carolina

Welcome to the Fly Fishing Report. It is sunny and 44 degrees in Townsend this morning. Gone are the Easter Holiday travelers. Our town is quiet right now.
Little River's level is dropping down, much closer to normal but it is still fairly high. There is no rain in the forecast until the weekend. Flow is currently 470 cubic feet per second (cfs). Median flow for this date is 344 cfs. The water temperature was 52.3 degrees at 7:55 am. The high water temperature yesterday was 56.5 degrees. This cold spell has brought the water temperature down. A week ago the low water temperature in Little River was 61 degrees with a high near 70.
The temperatures in the valley and Great Smoky Mountains National Park will be on the cold side this week. At night we'll have lows near freezing tomorrow and Wednesday. Then we'll see a warming trend again.
Fishing in the Smokies will be best in the afternoon. Dry flies might work but nymphs will catch trout for sure. If I were going this week it would be late. I would use Parachute Adams, Elk Hair Caddis, #16 Yellow Stimulator or a Neversink Caddis in yellow. For nymphs I would choose a Prince, Bead Head Pheasant Tail, Tellico or Copper John.
This coming weekend will be warm and the water temperatures will rise. That will encourage the trout and aquatic insects to become more active. Fishing should be really good this weekend.
Lowland rivers and lakes must have experienced a drop in water temperature too. We were at a point just a week ago when we had action on the surface using poppers and other floating flies. We may have to wait a few days for that to happen. Water temperatures in the 70's caused that to happen.
The tailwaters, mostly unaffected by the air temperature are fishing well for trout.
Overall, fishing in East Tennessee and Western North Carolina is good but it will improve by the weekend.
I tied a bunch of Knuckleheads yesterday afternoon. Now, after waiting all winter they tested extremely well. I came up with the idea last Fall for a new popper, made with flat foam and one that would float well. You can see that the design originated from a Stealth Bomber and some other flies. The head has four layers of foam and it does float as intended.
As a popper, it has a three dimensional profile due to the different body materials used including the mono eyes. Though I had cast them into the river during the Winter, I would not know how well they would work until now. They performed great last week. I caught smallmouth bass, largemouth bass, rock bass, shellcrackers and bluegill on this fly all during the same outing. Though I did not keep track of the fish I caught, I think it was between 30 and 40 in about 3 hours. Any popper might have worked just as well. I don't know because I didn't try.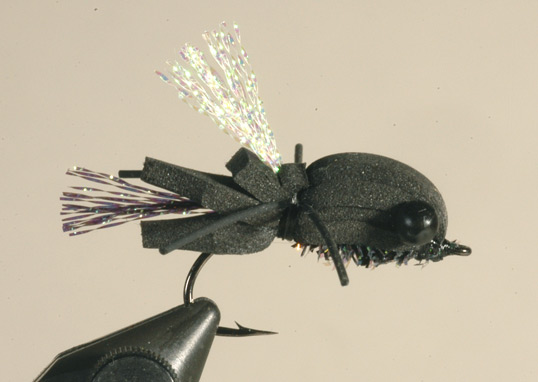 So, now they will be for sale. I brought in several dozen this morning. They are durable too. I applied glue at tie in points throughout the entire tying process. Right now we have them in black and chartreuse. I hope I can keep up with demand. I will be tying these at night when I'm home. If we put them on the website they will sell like crazy. I'll have to hire a company to make them at that point.
The Stealth Bomber is a great fly too. It has been tested by some excellent anglers for years. That fly can be stripped and it is deadly. I did not make the Knucklehead to replace the Stealth Bomber. We will be selling them too. They are here now and made by Rainy's flies.
The Knucklehead is designed to sit on the surface with a few subtle jerks to get the fish's attention. I'm looking forward to trying them for trout. This fly is tied on a #6 Gamakatsu stinger hook.
Since I made the switch to fly fishing for warmwater species two years ago I have learned a lot and that was one reason I did this. Actually I started fly fishing for warmwater species, in 1962. I got away from it about 32 years ago and it is fun to do something different and of course learn more about our sport. I went through a saltwater phase and enjoyed that too.
I ordered a new gas tank and a 12' fuel line for the boat this weekend. If you do the same, you will notice a new pressurized tank and valve like you have not seen before unless you bought one last year. These new EPA fuel systems for outboards were mandated and made to reduce the chance for fuel leakage. My older fuel lines won't work on the new tank without modifications. So, I decided it's time for a fuel line too. I'll modify one of the older ones as a backup for the new fuel line.
It appears TVA is raising the lakes. I have not been tracking this data very long so this might be an unusual tick up that is temporary. Some lakes were not allowed to fill. Norris is one of them. But others recorded higher levels since Friday.
This is going to be a beautiful week in the Smoky Mountains. Usually, the week after a holiday is slow around here. You should have the Park pretty much to yourself.
Have a great day and thank you for being here with us.
Byron Begley
April 9, 2012
Respond to: byron@littleriveroutfitters.com