Townsend, Tennessee - Fly Fishing in the Great Smoky Mountains National Park, East Tennessee and Western North Carolina

Welcome to the Fishing Report. It is sunny and 53 degrees this morning in Townsend. It is a friendly custom where we live in Dry Valley, to wave at every vehicle you meet on the road. I'm talking about Old Cades Cove Road. It's been that way since I moved here 20 years ago and probably a lot longer than that. The usual wave is using the index finger on your steering wheel. You go by someone, and up goes the index finger in each truck. When you get to Old Tuckaleechee Road, you only wave to people you know, using the same "one finger" wave. Then when I get to Highway 321 where the shop is located, you don't wave much. There are other interesting customs here. This is a friendly place.
Little River has finally reached the high end of perfect. The flow is right at 2.5 feet. Some people might think that is high but most do not. The cubic feet per second (cfs) calculation is 411 cfs. Median flow for this date is 359 cfs. The water temperature at 7:50 am is 53.5 degrees just below the confluence of the three prongs of Little River. Yesterday the temperature peaked barely shy of 57 degrees at that location.
The higher you go in the mountains, the cooler the water. The smaller shaded streams are cooler. So, right now you might find the temperature at Metcalf Bottoms to be 49 or 50 degrees.
Anyway, fishing conditions are very good in the Smoky Mountains. The fish are active and the aquatic insects are plentiful. Fishing will be better late in the afternoon until dark.
The high temperature today will be around 80 degrees. We will probably see the water temperature rise to 58 degrees or more and maybe that warm higher in the mountains. Fishing is going to be good, maybe very good. Heck, it could be excellent.
You will see lots of bugs around the streams and on the water. You may see Quill Gordon, Blue Quill, March Brown, brown stoneflies, caddis or no telling what. So, what fly would you choose? I would probably start with a #14 or #16 Parachute Adams. That fly looks like a lot of aquatic mayflies. If I encountered a hatch and thought the trout were being selective on those insects, I would switch to a fly the more closely resembles what the fish are eating.
Terrestrial bugs are everywhere, flying around our shop and our house. So, we can assume that terrestrials will be present on the streams as well. You never know, a big ole beetle might be just what a big ole brown might want to eat.
The lowland rivers are in good shape too. The current is strong downstream. I would probably use a streamer or nymph to catch smallmouth bass. The crayfish should be active in this warmer weather. Try something that looks like a crayfish.
If you are planning to be here this week you will enjoy great weather except maybe on Thursday. Right now there is an 80% chance for rain. I hope that doesn't mess things up for us fishermen.
I won't go fishing this week on my day off because I'm going to be with my buddies at our hunting camp. I need to wash a load of camo tonight. But next week, I'll be out there fishing.
Below is the male of a pair of bobcats that live on our property (we think). My neighbor, Herb, took this picture a few weeks ago from inside his house. He and his wife live a few hundred feet from our house, but since we live in a heavily wooded area, we can't see each other. One day, he shot a video of this same cat trying to grab a wild turkey for dinner. The turkey backed the bobcat down. I saw it with my own eyes!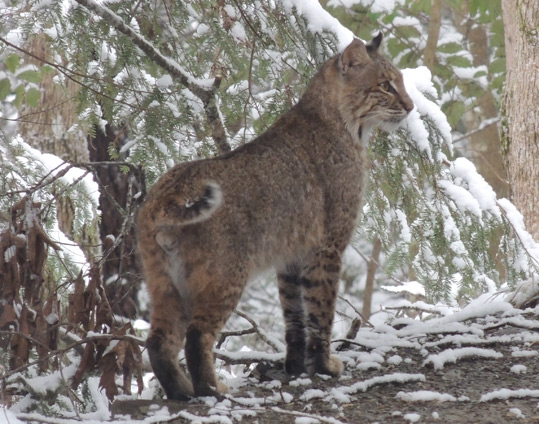 I've heard bobcats screaming at night near our house for years. This is the first picture I've seen of one in our neighborhood. We have noticed lately that there are less rabbits and squirrels around the house. I wonder why? Herb and I are hoping nobody shoots one of these cats. They seem to be bold and not too afraid of humans. We would hate to lose them. This is one pretty cat. The female is much smaller and has a shorter tail.
I tied flies last night and watched more re-runs of Duck Dynasty. A & E keeps showing the older shows. I can't believe I forgot to watch the NCAA Men's Basketball Finals. Of course I read that Louisville beat Michigan and that must have been a heck of a game. After reading re-counts on the web, I read one writer describe it as one of the best games ever. The Duck Dynasty shows were good so I don't feel too bad about missing the game.
Have a great day and thank you for being here with us.
Byron Begley
April 9, 2013
Respond to: byron@littleriveroutfitters.com