Townsend, Tennessee - Fly Fishing in the Great Smoky Mountains National Park, East Tennessee and Western North Carolina

Welcome to the Fishing Report. It is sunny and 55 degrees in Townsend this morning. What a beautiful day it is. The high temperature is supposed to be 83 degrees. Traffic was heavy. I probably saw 50 vehicles on my 3.2 mile commute to work. That's a lot.
Little River has finally receded to normal. The current gauge reading is 2.42 feet or 365 cubic feet per second (cfs). Median flow for this date is 338 cfs. The water temperature below the confluence of the three prongs of Little River is 55.9 degrees at 7:40 am. Yesterday, that number peaked at 59.5 degrees.
Fishing is good. That is what I'm hearing from experts. Fishing is not "excellent" yet. It's just good. If you know how to fly fish in the Smokies, you will catch trout unless you are fishing behind someone.
Hatches vary widely, mostly depending on where you are fishing. You may see Quill Gordons, Blue Quills, March Browns, Brown Stoneflies and no telling what else on the water. The trout are active because of the water temperature. Their metabolism is getting into high gear. They need food. And right now, food is plentiful.
Nature is mixed up this year. Critters don't use a calendar. Critters depend on temperature for the most part. Daylight hours per day affect plants and maybe animals too. Many outdoor people think the moon phase counts as a behavior modifier. I'm not too sure about the barometer. But I've found that temperature drives behavior in most animals, especially fish more than any other condition.
Right now, the temperature is perfect for trout in the Smokies at the mid and lower elevations. Fishing may be good in the higher elevations where the water is colder. I don't know.
There is rain in the forecast tomorrow and possibly Friday. I hope it isn't substantial. Conditions are finally perfect for fly fishing in the Smoky Mountains. We don't need high water.
If you didn't get our April e-newsletter yesterday, you can CLICK HERE and read the website version. You can also sign up for future newsletters at the bottom of this page. Just type in your e-mail address and hit "Go". Your e-mail address is safely stored at Constant Contact in Boston. We don't sell or give away your address. You can opt out at any time.
If you didn't see the picture of our bobcat, click on yesterday's report in the archive below. This cat and his mate most likely live on our property. That's what our neighbors say. One of our neighbors took this picture from inside his house and it is an awesome shot of a beautiful animal.
Below are pictures of one of the pair of bald eagles living near Townsend. These are screen shots from a video I shot at a long distance on a cloudy day. The quality is not great but the model is. These birds are feeding on stocked trout in Little River.

They have a nest somewhere. Look at Townsend on Google Earth. We are surrounded by a vast wilderness that is sparsely populated. Finding that nest would be next to impossible and subject to dumb luck.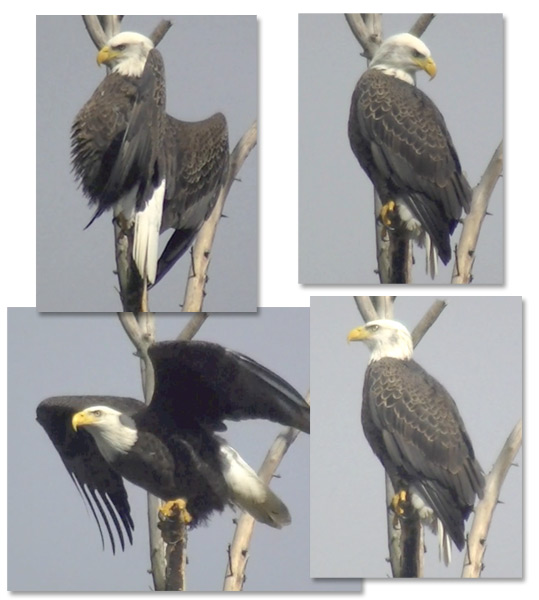 I'm going to be off for 4 days. Daniel will be writing the Fishing Report until Monday.
Have a great day and thank you for being here with us.
Byron Begley
April 10, 2013
Respond to: byron@littleriveroutfitters.com