Townsend, Tennessee - Fly Fishing in the Great Smoky Mountains National Park, East Tennessee and Western North Carolina

Welcome to the Fishing Report. It is raining and 54 degrees in Townsend this morning. I saw 6 wild turkeys standing in our neighbor's garden when I left home earlier. They were just looking around with their heads high. They were also getting wet. Then, I saw 9 people driving vehicles on the roads on my way to work.
We have 2,000 people living in Tuckaleechee Cove, the valley where Townsend is located. Most of those people live outside the city limits. Most of the turkeys live outside the city too. I wonder how many turkeys live in Tuckaleechee Cove? There are probably more turkeys than there are people. I'm glad turkeys can't vote.
There was 1.25 inches of water in our rain gauge this morning. I checked it last night at closing time. Yesterday we got .75 inches. Little River is flowing at 406 cubic feet per second (cfs). Median flow for this date is 243 cfs. The flow gauge inside the park is currently reading 2.51 feet. The water is rising.
More rain is headed our way. The National Weather Service is predicting thunderstorms and heavy rain today. They go on to say "Locally heavy rainfall may lead to some flooding of streams and low lying areas". I wouldn't go fishing in the Smokies today, not when there is a chance for flooding. Right now, the water level is high but OK for experienced waders to fish. Be careful. Watch and listen upstream. We have something here called "flash floods". A flash flood is a wall of water gushing down a mountain.
Rainfall as measured at the Knoxville Airport for the year, through yesterday is 25.48 inches. Normal rainfall for the year through yesterday is 16.52 inches. Rainfall is up 8.96 inches or 54% above normal.
Our day two Beginner Fly Fishing Class won't be on the water today. If the gauge reading is 2.5 feet or higher, we don't take beginners to the stream. I know there will be some disappointed people in a little while when we open the store. I can't help it. Like Daniel told a couple of students yesterday, "Byron hates to lose a customer".
The water temperature is 53 degrees in the low elevations of Little River. That's about where it stayed all day yesterday.
Fishing has been pretty good and excellent in some areas. A couple of anglers got lucky Friday and caught that ever elusive Green Drake hatch on Abrams Creek. They caught a lot of trout. You can run up there and you might or might not see the same thing. Trying to catch that hatch takes luck, not skill or aquatic knowledge. I've heard fishermen describe their trucks practically covered with these huge mayflies. I go to Abrams Creek the next day…nothing. I did catch that hatch once and it was incredible.
What you will most likely find are hatches of March Browns, Yellow Sally Stoneflies and Light Cahills or Sulphurs. Does anyone know the difference between a Sulphur and a Light Cahill insect? I don't.
Josh Pfeiffer caught this nice smallmouth on Tuesday last week. He was fishing with Tyler, who was in here yesterday. Tyler said they didn't catch many fish, only two I think. They were floating Little River. This one was caught on a Blockhead and weighed 4 pounds. Josh is a fly fishing guide. His company is called Frontier Anglers. He guides trout anglers too but he is a smallmouth bass fanatic. Visit his website by CLICKING HERE. You will enjoy a day of fishing with Josh. I certainly do and can't wait to do it again. I really like Josh. I get to see him at least a couple of times a week. He also teaches our day two beginner fly fishing schools.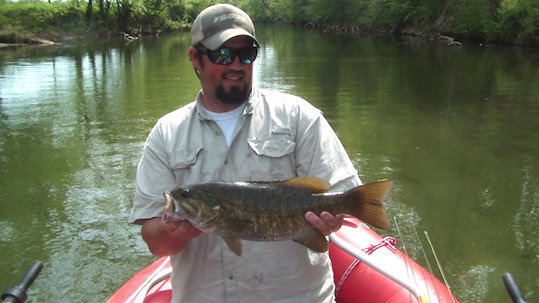 Smallmouth bass fishing was excellent for a few days two weeks ago. The water was warmer. The cool temperatures slowed the fishing down. Fishing will get better this week. Warm temperatures are returning tomorrow. It looks like the rain is going to depart by tomorrow as well.
I hope to get our boat back tomorrow. She has carb problems. Wednesday is my day off. Paula and I are planning to fish one of the lakes. I have 5 fly rods lined up, rigged and ready to go.
Have a great day and thank you for being here with us.
Byron Begley
April 28, 2013