Townsend, Tennessee - Fly Fishing in the Great Smoky Mountains National Park, East Tennessee and Western North Carolina

Welcome to the Fishing Report. It is foggy and 58 degrees in Townsend this morning. Wildlife is active. I saw two wild turkeys and a rabbit in front of our house this morning. That is a good sign. Fish are active too. As a matter of fact, people were active this morning. Heck, I woke up at 4 am. Of course I went to bed at 8:30 pm.
Little River has been slowly receding, as are other streams in the Smoky Mountains. Lowland rivers in our area are receding. The lakes are dropping too. With all that extra time I had this morning I checked most of the lakes in East and Middle Tennessee. All the lakes I checked were still higher than the operating range as stated by Tennessee Valley Authority (TVA). TVA is generating at most of the dams today or at least the ones I checked.
Little River is flowing at 490 cubic feet per second (cfs) or 2.68 feet on the gauge as of 7:50 am this morning. Median flow for this date is 218 cfs. The water temperature earlier was 55.7 just inside the Park and it peaked yesterday at 58.5 degrees. That is perfect!
Below is a diagram showing Little River's flow gauge reading for the past 60 days. A gauge reading of 4.0 is considered high by anglers. Most fishermen don't like the river to be that high. A reading of 2.0 to 2.4 is about average in the Spring. Rain events have been raising the river to the 4 foot mark often this Spring. It takes about 4 to 5 days for the level to drop to 2.4. It can drop faster. We think, without being educated hydrologists, that the drop is slower because the water table is full due to all the rain we have had this year. That may or may not be true but we're sticking to it.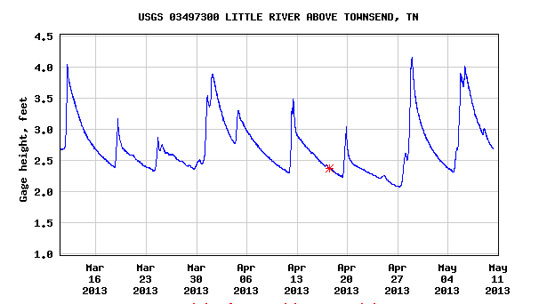 Fishing is good. There are other streams in the Park that are flowing relatively lower than Little River. Some watersheds in the Smokies have not had as much rain. On the other hand, there are probably streams that are higher. I noticed Tellico River was flowing very high earlier this week.
Smokies trout are taking Light Cahills, Neversink Caddis, Yellow Sally Stonefly patterns, Yellow Stimulators and Parachute Adams patterns as well as others. These would be my choices. I would choose a Bead Head Pheasant Tail, Tellico, Prince or Copper John nymph for subsurface fishing.
We have a 60% chance for rain today, tomorrow and tomorrow night. The Weather Channel indicates the rain will come in the form of scattered thunderstorms. The National Weather Service says rain and thunderstorms are likely. If we get hit, the water levels will go up. If we are missed, the water will continue to recede. I am hopeful for the second option.
The sun is burning through the fog right now. I am liking that!
The lakes are fishing good too. I think they are getting ready to bust wide open. Rufus called me yesterday from the boat ramp. He caught some smallmouth bass and some huge bluegill. The bluegill took his Knuckleheads. I remember Rufus buying everything to make Knuckleheads this Winter. That effort paid off for him yesterday.
I really believe, next week is going to be our best week of fishing that we have had all year. Of course, everything depends on the rain we get today and tomorrow. Next week looks to be warm and dry. It should be cool Monday. Then, warm air will move in. The chance for rain Sunday through Wednesday is 0%. 0% usually means it is not going to rain, something we are not very accustomed to lately.
I'm so excited about fly fishing next week I think I'll change the oil in our boat's motor. It doesn't need changing. I think I'll do it anyway. I love having fresh oil and a new oil filter in our little 20 hp Mercury. I would tie flies but Paula and I have enough to last until 2023 or longer. I would change over to new leaders but the 6 rods and reels we take fishing on our boat have new leaders. I would clean our fly lines but that would be a waste of time. Our lines are clean. Our boat was deep cleaned and waxed Wednesday. The motor has a newly rebuilt carburetor. What else can I do?
Preparation for fishing is almost as much fun as fishing. I love the preparation phase. I like getting ready to go. You should get ready to go, then go. It's time, if it doesn't rain.
Have a great day and thank you for being here with us.
Byron Begley
May 10, 2013