Townsend, Tennessee - Fly Fishing in the Great Smoky Mountains National Park, East Tennessee and Western North Carolina

Welcome to the Fishing Report from the Great Smoky Mountains. It is cloudy and 68 degrees in Townsend this morning. Last night, a tiny thunderstorm cell hovered over our town. I looked at it on the weather radar. We got 1/3" inches of rain, thunder, lightning and even hail. The landscape was lush and green when I drove to work.
Little River rose slightly. The water is clear right now. Flow at 8 am is 176 cubic feet per second (cfs) or 1.75 feet on the gauge. Median flow for this date is 215 cfs. The water temperature right now is 64 degrees.
Fishing is excellent and it may get even better. Rain is expected every day through Thursday night. It is going to be warm today and tomorrow, then a cold front will move in and it's going to be really nice out there. We expect lows in the 40's and highs in the 60's starting Friday.
Fly fishermen are catching trout on dry flies in the Smokies. The current hatches include Yellow Sally Stoneflies and Light Cahills. Use them. They are working. Nymphs are scoring good catches too. I would use a green or pink Weenie.
Fishing in town has been good. There seem to be plenty of stocked rainbows in Little River. A bead head nymph, any other weighted nymph including Weenies will produce. Olive Wooly Buggers always work well. The stockers may be taking dry flies too. I haven't heard.
Josh says the smallmouth bass fishing is really hot on the tailwaters. Trout fishing below the dams is excellent too. I don't know what the lakes are doing. We'll find out next week. My guess is they are fishing well. Overall, fishing in our area is excellent. It should be. It is May. May is my favorite month to fish around here.
Paula and I are back from our Florida fishing vacation and I'm up to my eyeballs in administrative tasks. Yesterday I ran payroll and paid bills. I made a few deposits. I'll finish them today. When I go on vacation, it always means I can't take days off before or after. Before the trip, I worked 10 days straight. I'll probably do that before I get another day off. It's like, I really don't get a real vacation, due to running a small business. I don't mind. I'd rather work than not.
Thinking into the future, and realizing fuel prices are likely to rise, we are giving serious thought to travel and fishing vacations. For instance, Paula and I are thinking about our retirement boat and a vehicle to pull it to Florida. I have a 2001 Suburban but I'm afraid to take it on a long vacation. When you rent a house on the coast, and you can't get there because of a breakdown on the highway, you lose. Renting a house on the coast is a final deal. You can buy travel insurance to cover the home cost in case something bad happens. That's probably a good idea.
For now, we are traveling in Paula's Subaru Outback. We bought a kayak trailer so we can at least take small boats with us. That Subaru would not tow a boat like we are thinking about buying some day. But for now, this is how we are going to travel long distances. Kayak fishing is a lot of fun and you can get very close to the fish. We use fly rods exclusively. You don't have to cast far.
On our trip last week, we tried her car and the kayaks on the road for the first time. Honestly, I could hardly tell the trailer was back there. And, listen to this, the computer on the Subaru calculated our fuel consumption on the trip down at 28.8 miles per gallon. She normally gets 31 miles per gallon on the highway. Below is a picture of the rig in front of the house we rented in Florida.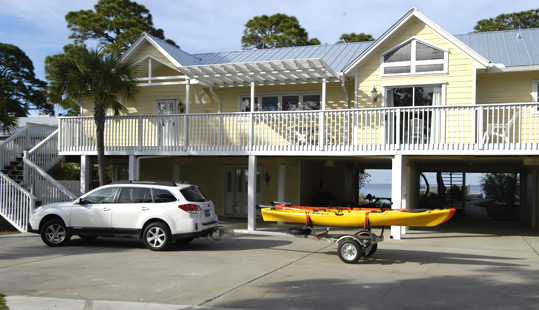 I think we can count on more fuel efficient and lighter vehicles in the years to come. I believe we should consider buying lighter boats. And, those boats should be more fuel efficient.
If Congress ever decides to tax SUV's and small trucks as gas guzzlers, we'll be driving lighter, more efficient vehicles for sure. You can buy boats that weigh several thousand pounds. Or, you can buy one that weighs 1,500 pounds with a 60 HP motor. You can tow that lighter boat with a lighter vehicle and still get decent gas mileage.
The lighter boats can be used on the lakes or on the coast in bays. You may have to pick your days with a lighter boat due to wind. I see a bright future for mid-sized SUV's and 17 foot aluminum V-hull boats. It's something to think about!
Have a great day and thank you for being here with us.
Byron Begley
May 13, 2014