Townsend, Tennessee - Fly Fishing in the Great Smoky Mountains National Park, East Tennessee and Western North Carolina

Welcome to the Fishing Report. It is overcast and 61 degrees, a perfect day to go fishing. I wish I were going today. I've got to work. It's the weekend already.
The streams in Great Smoky Mountains National Park are in excellent shape. The water flow is a little above normal and the water temperature is starting today at 58.5 degrees below the "Y". We should be out there right now.
Little River is flowing at 244 cubic feet per second (cfs) or 2.11 on the flow gauge. Median flow for this date is 207 cfs.
Fly fishing for trout in the Smokies and Southern Appalachians is awesome. Some anglers are saying the best fishing is late and they are probably right. But, you can catch trout all day right now, especially when the sky is cloudy like it is.
Customers were asking us where to go fishing yesterday as they always do. Right now, it doesn't matter where you go. I would prefer the East Prong of the Little River above Elkmont, the Middle Prong or the West Prong. I prefer these streams because they are near here and easy to get to. You will probably do just as well fishing any of the streams in the Smokies.
Fly choices would be a Light Cahill or Yellow Neversink Caddis. Any other Yellow Sally stonefly will work well. An Elk Hair Caddis in olive, tan or yellow will catch trout. The old reliable Yellow Stimulator would be an excellent choice. For a backup, I would have some Parachute Adams patterns in sizes #14, #16 and #18. A Bead Head Pheasant Tail is a good choice for a nymph. I know it's early for the sourwood worm but I would still have some Green Weenies. I suspect they will produce well but I don't know for sure. Today, a reader asked that I display pictures of the flies we recommend. Here is my first attempt at it. OK, now here is my second attempt.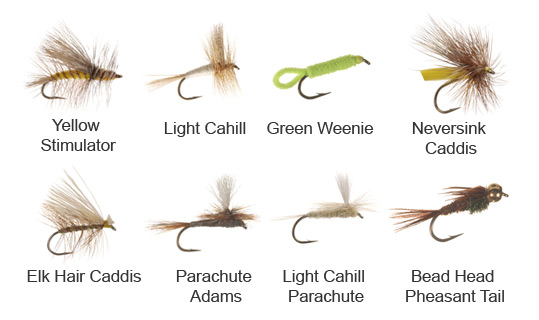 The lakes and ponds are fishing well except for the Little Tennessee River lakes. That water is cold. We practically got skunked Wednesday. The lakes on the Tennessee River are warmer. I guess Melton Hill is OK but I have not heard. Douglas and Cherokee should be fishing well still, probably better.
Lowland river fishing for smallmouth bass is excellent. Conditions are perfect. The bass are active.
Fishing around here is just plain good!
We are busy at the shop. Anglers are coming to town and ordering online. May is our best month of the year.
High water and cool temperatures hurt our business at times during the Spring. It's not that fishing was only slow here, fly fishermen in the bordering States and further South were not fishing. We saw our fly tying department get depleted during that time, much faster than normal. We finally got it re-stocked. When fishermen stay home many of them tie flies.
There is a good chance for scattered thunderstorms starting tonight. I don't know what that will do to the streams.
The National Weather Service says, "The best chances for stronger storms are on Saturday…Sunday and Wednesday…But for now…It appears there is little threat for organized severe storms during this period." We'll just have to see what happens. I'm kind of encouraged.
I saw a blurb in the Daily Times about someone breaking into the cash boxes or maybe trying to, at the car wash. Crime in Townsend? It kind of worried me when I read it. It was comforting to see the boat parked in the lot at the shop this morning. There are four locks and chains that are so strong they can't be cut with bolt cutters holding that boat to the pavement. The hook eyes are hardened steel and buried in the asphalt with concrete. I security light will kick on if somebody gets near the boat at night. The police chief lives behind the store.
Crime in our town and the surrounding areas is pretty much non-existent. Unless you consider speeding a crime, we almost have no crime. Our police officer to population ratio is about 1 in 100. We have 4 police officers and about 400 residents in the City limits. We do have thousands of visitors at times. That changes the ratio when you include them.
People who visit Townsend are usually law abiding and nice folks. They are outdoor lovers, hikers, fishermen, wildflower lovers, wildlife enthusiasts and photographers. People come here to ride their horses. People come here to eat well. People don't come to Townsend to raise hell and wreak havoc. This is not a good place to do that. That kind of activity could also get you in trouble should you decide to partake.
We had a stranger walking around where we live a few years ago. My neighbor called me from Knoxville. His wife had encountered this guy near our houses and called him. I quickly armed myself and went out to find this person. What I found was apparently someone who was confused or on something. He didn't make sense to me. I was suspicious.
I reminded him that he is in a dangerous place. We were out in the woods, not in town. We know what wandering tourists look like and talk like. This was not a wandering tourist. His story did not add up. Frank showed up and frisked the stranger then sent him packing to Maryville. I drove to Maryville later that day and saw him walking along the highway away from Townsend.
We all work as a team to show visitors a good time. That's our job and livelihood. It is seldom that anyone gets out of line here. This is a great place to visit and live. This is a great place to bring kids. This is a safe place. We have an excellent police department here. Tuckaleechee Cove and Townsend is about as safe as it gets. We want to keep it that way for your enjoyment and safety and ours.
Have a great day and thank you for being here with us.
Byron Begley
May 17, 2013