Townsend, Tennessee - Fly Fishing in the Great Smoky Mountains National Park, East Tennessee and Western North Carolina

Welcome to the Fishing Report. We have light rain falling and a temperature of 63 degrees this morning at 7:45 am. This is a fishing day. A large box turtle was walking across our private road when I drove out of our driveway. I waited for the turtle to cross the road. I have stopped several times in my life, on roads, to remove a turtle. I guess you could say I like turtles. Sometimes those turtles were large snapping turtles. Always pick those critters up by the tail and watch out for their back claws.
Little River is perfect today in every way. The flow this morning is 234 cubic feet per second (cfs) or 2.08 feet on the gauge. Median flow for this date is 229 cfs. The water temperature below the confluence of the three prongs of Little River is 59.5 degrees.
Fly Fishing in the Smokies is "Excellent". I have not said that all year. But it is. Anglers are catching trout like crazy right now. All you need is a good dry fly and make a nice presentation, then get a good drift. You are going to catch fish.
I talked to a couple of guys from Kentucky yesterday. They are regulars here. They camped at #23 on Fish Camp Prong. They caught all the fish they cared to catch. One fellow told me he caught 9 trout out of one pool. That happens when the fishing is excellent.
What makes fishing "excellent" in the Smokies? Good water flow and good water temperature make fishing excellent. We've got both at the same time.
I hope heavy rain does not spoil this for us. The forecast calls for scattered thunderstorms all weekend.
Below are some of the flies we are recommending. I created this box of flies yesterday because a reader sent me an e-mail and made that suggestion. I thought it was a great idea. He is a beginner and he wants to see what I'm talking about when I mention fly patterns.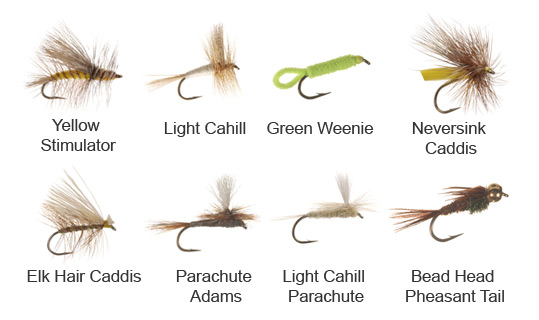 I'm not sure about the Green Weenie. That fly represents a sourwood worm, which are probably not present yet in the Smokies. However, I have caught plenty of trout on this fly before and after the sourwood worm season. This fly is a good attractor and an excellent pattern to use as a dropper. The pink version works great too.
The lake fishing is getting better. I would not call it excellent or even good in some cases. Other lakes are fishing very well. Temperature is the difference. The cold lakes are not warm enough yet or at least the one we fished Wednesday.
The lowland rivers are fishing well for smallmouth bass. I know the tailwaters are fishing well for smallmouth bass and trout.
Senator Lamar Alexander is always taking up for us fishermen. Lamar likes to fly fish. He's a good guy and he has shopped here occasionally over the past 15 years. He tackled two very important issues concerning anglers in Tennessee. One was the cutback on funding for the Dale Hollow, Erwin and Chattahoochee hatcheries. They were fully funded by the National Fish and Wildlife Service as a major partner. That agency cut the funding. The Corps of Engineers and TVA were asked to fund the hatcheries. There was some hesitation to do that by TVA. There was talk about closing the hatcheries.
The other issue involved the Corps of Engineers new mandate to stop boat fishermen from getting close to the dams on the Cumberland River. They intend to move the boundary lines downstream. According to the Tennessee Wildlife Resources Agency, this in effect eliminated several miles of excellent fishing water. I think they told me the move eliminated 27 miles of water in Tennessee.
Yesterday, Senator Alexander watched as Tennessee Valley Authority signed a commitment to fund their share of the hatcheries for 3 years at a cost of $2.7 million. The trout hatcheries will remain open.
Thanks to Senator Alexander, the Senate passed two bills blocking the Corps from eliminating the areas below the dams to anglers in boats. Basically the bills put off the decision for two years.
You can read the story in THE TENNESSEAN BY CLICKING HERE.
Senator Alexander called this a good week for fishermen. It is a good week for fishermen.
Have a great day and thank you for being here with us.
Byron Begley
May 18, 2013