Townsend, Tennessee - Great Smoky Mountains National Park
Welcome to the Fishing Report. It is a cloudy morning here in Townsend. According to the Weather Channel, the clouds will break up this afternoon and highs will be in the lower 80's. There is a 30% chance of rain and thunderstorms for this afternoon and evening. The projected high for tomorrow is 88 degrees.

The water temperature this morning in Little River was 56 degrees. The flow dropped slightly to 167 cfs (or 1.87 ft). The average flow for today is 214 cfs. Water levels are wading friendly and fishable right now.
Yesterday after work, I met up with my buddy Will Swann to go fishing in the park. It was a great evening to be in the Smokies. We fished Little River for roughly two hours and each landed several fish. There was excellant insect activity on the water the entire evening. We saw lots of large Sulphurs, a good amount of Yellow Sally's and several Green Drakes. Fish were definitely rising to them. I haven't fished in the park for nearly as long as some of the anglers I know, but I can tell you these were hatches you don't see everyday here. The thing I love about the Smokies is that you truly never know what your going to see on a day to day basis.

Today, I would fish a dry with a nymph dropper all day. For the dry fly: light yellow/orange Sulphur patterns in sizes 12-14, Yellow Sally patterns in sizes 14-16, yellow or gray Parachute Adams in sizes 12-16. Also, there's a good possibility you might see some Cahills and several types of Caddis out. For the nymph dropper: BH Pheasant Tail Nymph in sizes 14-16, BH Tellico Nymph in sizes 14-16, BH Hare's Ear Nymph in sizes 14-16 , and BH Prince Nymph in sizes 14-16.
Byron and Paula are off to the lake for the week. I hope they don't think or worry once about work and have a great vacation. We'll hold the fort down for you Byron.
Attatched below is a picture of a nice sulphur taken yesterday evening. It's tough to get a shot of the insects in mid flight on the water with a small point and shoot camera. I found this guy streamside resting on a log.
Have a great day and thanks for being here with us.
Ethan McGroom
May 20, 2011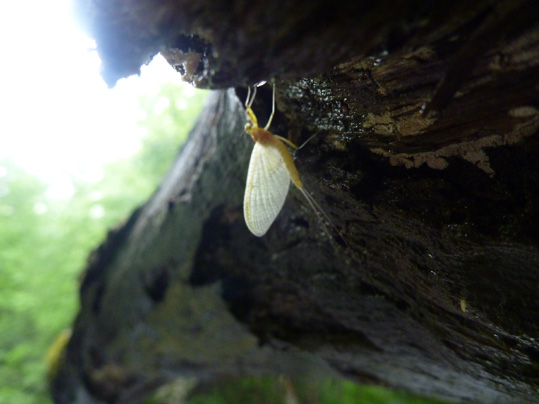 Respond to: Byron@LittleRiverOutfitters.com


FLY FISHING CLASSES
Our fly fishing classes will be offered from March to October 2011. To sign up just call the shop at 877-448-3474. You can read more on our website in the Schools Section. The fly fishing class schedule follows:

Saturday May 21 – Beginner Day One
Sunday May 22 – Beginner Onstream Day Two
Saturday June 11 – Beginner Day One
Saturday June 25 – Beginner Day One
Sunday June 26 – Beginner Onstream Day Two
Saturday July 9 – Beginner Day One
Saturday July 23 – Beginner Day One
Sunday July 24 – Beginner Onstream Day Two
Saturday September 10 – Beginner Day One
Saturday September 24 – Beginner Day One
Sunday September 25 – Beginner Onstream Day Two
Saturday October 8 – Beginner Day One
Saturday October 22 – Beginner Day One
Sunday October 23 – Beginner Onstream Day Two
Respond to: byron@littleriveroutfitters.com