Townsend, Tennessee - Fly Fishing in the Great Smoky Mountains National Park, East Tennessee and Western North Carolina


If you don't see today's fishing report, please refresh your browser. Since we update this page every day, you may have an older version in your computer's cache.


Welcome to the Fishing Report. It is foggy and 69 degrees in Townsend this morning. The high temperature yesterday was 85 degrees. Normal is 79 degrees. It is supposed to be warmer today. Cooler weather is coming later in the week.
Little River is flowing at 237 cubic feet per second (cfs) or 2.09 feet on the flow gauge. Median flow for this date is 207 cfs. The water temperature at 7:40 am is 61.2 degrees.
Fly fishing in the Smokies is awesome. Brook, brown and rainbow trout are all active at every elevation. What we have are perfect conditions. Dry flies are working very well. Our picks today are similar as prior days but I added a couple that you may not know about. Yellow Sally stoneflies are abundant on the streams so pick a pattern for them for sure. A #16 Yellow Stimulator or #16 Yellow Neversink Caddis will work well. I added one that may be new to you but it is a super yellow stonefly imitation. It is the Yellow Parachute Adams. I know, it's a mayfly. The trout don't know that. Light Cahills and Caddis are on the water so pick a Light Cahill pattern. You certainly should have some of those. Any small Elk Hair Caddis will work. I would choose olive.
Another fly that many anglers probably have not tried here but they should, is the Mr. Rapidan. That is a killer brook trout fly. Maybe it's the yellow wings, I don't know. Maybe it works so well because you can see it. That I do know. For a nymph I would choose a Bead Head Pheasant Tail.
You can click on the flies and read more about the pattern or buy them online.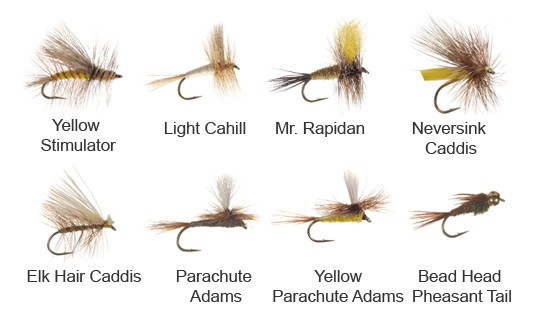 Fishing is also great just about everywhere you look. The lowland rivers are a little high but mostly clear now. Conditions are great for mallmouth bass. Try Little River, Little Pigeon or Abrams Creek.
The tailwaters are fishing well too if you can get a good generation schedule. Sulphers are hatching on the Clinch. You will find Caddis on the Holston. Bill said he caught a 12" rainbow on the Holston last week that he couldn't wrap his hand around. That trout was fat.
I am hoping the lakes are fishing well because I'll be on one of them tomorrow, I hope. I work 6 days a week and Wednesday is my day off. We have a 50% chance for thunderstorms tomorrow. I hate being on a lake during a thunderstorm.
Paula and I will be casting wooly buggers and Knuckleheads for smallmouth bass. We may fish for shellcrackers too. Or, we may get blown off the lake. We'll see what happens.
Finally, we are getting some great fishing weather. We have plenty of water too. Those who fly fish have had a tough year. It has been cold and wet at the wrong times. We've had high water almost every weekend. Generation schedules have been unfriendly to us. Just about everyone I talk to says they have fished less often than normal this year. I hope that is not the case now.
Rain and cold has not been good for tourism. Visitors tend to stay away when it is cold and raining. Next weekend is the Memorial Day holiday. Right now, the weather forecast looks great. High temperatures should be in the 70's with lows in the high 40's to 60 degrees. Nice! There is a small chance for rain each day.
Blackberry Farm is looking to hire fly fishing guides. This is a great opportunity for you if you are an experienced fly fisher and want to teach and guide. You would be working for my buddy Alex Quick. He is a great guy. I would work for Alex in a heartbeat. If you are interested or want more information, contact Blackberry Farm Staffing Coordinator Sarah Hebbeler. Her phone number is 865-273-2088, extension 5088. She can be reached by e-mail by CLICKING HERE. All you have to do is inquire to get the ball rolling. Nothing ventured, nothing gained.
Well, all I can say now is, get out there and fish. It's time. Fishing is good.
Have a great day and thank you for being here with us.
Byron Begley
May 21, 2013