Townsend, Tennessee - Fly Fishing in the Great Smoky Mountains National Park, East Tennessee and Western North Carolina


Welcome to the Fly Fishing Report. It is sunny and 73 degrees in Townsend. And that is at 8:10 am. It's hot here! I saw a few cars on my way to work and even followed a pickup all the way to town. That is rare.
It is Memorial Day, the day we honor our fallen soldiers who made the ultimate sacrifice for our freedom. God bless those worriers. God bless the United States of America. Thank you from the bottom of my heart.
I got a e-mail from a U.S. Air Force 1st Lieutenant about two weeks ago. He thanked me for writing this report every morning. He was writing me from South Korea. I really like hearing from our Military personnel from all over the world. And believe me I get them from all over the world, including war zones.
I wrote back and told him the story about "Bruiser". Bruiser got his nickname because of his wrestling ability on the U.S. Air Force Academy team.
Today I am thinking about my friends Frank and Pat Bryant. They own Chota Outdoor Gear in Knoxville. A little over a year ago, their son, "Bruiser" Frank Bryant Jr. was gunned down along with 8 other service men and women in Afghanistan by a Afghan pilot who was supposed to be on our side. Frank Jr. was a Lt. Colonel, F16 pilot and a instructor. He was a graduate of the Air Force Academy. He was 38 years old. Frank Jr. left behind a wife and 1-year old child. I met his wife's father at Troutfest this year.
So today, I honor Lt. Colonel Frank "Bruiser" Bryant. Just Google him, read the stories and honor this young man. That's what we do on Memorial Day.
I got an e-mail yesterday from Mike in Birmingham, Alabama. Here is what he said: "Today I celebrate 4 years of reading the Fishing Report every day. I plan on continuing."
Wow! I am flattered. Who ever thought this would turn into this. Thank you Mike. And thank you all for your encouraging e-mail.
Fishing is good. The water is getting low. Flow in Little River is 153 cubic feet per second (cfs). Median flow for this date is 211 cfs. The water temperature at 8:20 was 65 degrees. The high temperature in Little River yesterday was 68.7 degrees.
The heat will subside tomorrow. It is going to cool off. Morning lows will be in the low 60's. High temperatures will be in the low 70's to low 80's. The high temperature yesterday was 92 degrees but it didn't seem that hot. I guess the humidity was low. We don't have much low humidity here.
Use yellow flies. Use dry flies. Fish early and late especially today. There are a lot of people visiting the Great Smoky Mountains.
After the cool down we will be getting rain this week. That is pretty much a given. The chance for rain is very high through Friday. We could use some water in the streams. I'm thinking about river fishing for smallmouth bass. I've found the lake fishing to be very slow for two weeks. I'm ready for a change.
After work today I'm going to wash the boat. Then, this week, after the tourists are gone, I'm going to stick a couple of Knuckleheads in my pack and hit the River after work. We live 5 minutes from some excellent smallmouth fishing. Sometimes I fish at the lower end of town. Sometimes I drive further downstream to Walland. I may fish for an hour or maybe two hours. Preparation is simple. Since I keep 5 fly rods strung up and ready to go, I can make a decision and be on the water in a few minutes. My wading boots and Hippies are in the closet in the fishing room at home, waiting to go.
Well, Knuckleheads work for shellcrackers. Here's a picture of Jack and one he caught when we fished together Thursday. Shellcrackers are beautiful fish. If you find one on the beds and toss a popper at them they can be ferocious. Jack released this one.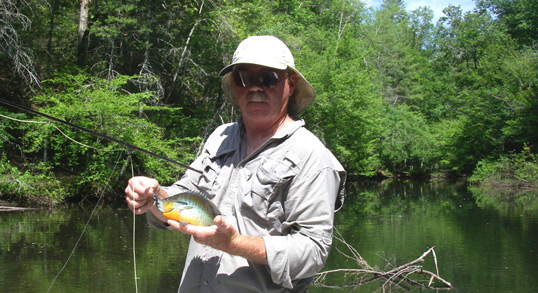 Have a great Memorial Day and thank you for being here with us. We are open of course.
Army Staff Sgt Byron Begley (long ago)
May 28, 2012
Respond to: byron@littleriveroutfitters.com