Townsend, Tennessee - Fly Fishing in the Great Smoky Mountains National Park, East Tennessee and Western North Carolina

If you don't see today's fishing report, please refresh your browser. Since we update this page every day, you may have an older version in your computer's cache.
Welcome to the Fishing Report. It is foggy and 60 degrees in Townsend this morning. Man, it feels nice out there. I'm all excited. I will be taking the boat home tonight so Paula and I can go fishing on the lake tomorrow. We are going to try a new section of Tellico Lake, where the Little Tennessee River and Tellico River merge. I love fishing new water.
Little River has dropped so fast from the 4" deluge we had Sunday, and I am dumbfounded. How did that happen? Look at the graph below. To the right is the peak of the rain event Sunday and you can see the water level dropped faster than any time during the last 120 days. See how close the rise and fall lines are? Why? Maybe it's because the rain came so fast and ran off fast. Maybe the ground was saturated so it ran off faster. After all, rainfall this year is 58% above normal. I spent my life on rivers and lakes but this one has me puzzled. None of us here expected this.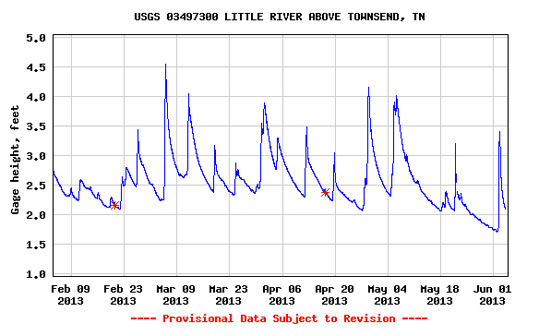 Little River is flowing at a perfect 240 cubic feet per second (cfs). Median flow for this date is 177 cfs. The water temperature at 7:50 is 61.8 degrees.
Fishing in the Smokies is good. It is probably better than that. Rainbow, brown and brook trout are taking dry flies well. I would use a Yellow Stimulator or Neversink Caddis. I might tie on a Bead Head Pheasant Tail or Green Weenie as a dropper. That is about all I would go prepared to use in the way of flies. Those patterns will work.
A man came in yesterday and showed me a picture of a 25" brown trout he caught in Little River on Sunday. He was there at the right time. The water was coming up and there was a little color to it. He also said he hooked a larger brown which broke him off. One of my buddies caught a 30" brown trout in Little River last year.
Hey, TVA is predicting no generation on the Clinch River below Norris Dam between 7:00 am and 6:00 pm today. There you go! Here is an opportunity. TVA will be generating at Cherokee Dam and Douglas Dam all day. Please check with the TVA website for changes before you go.
Look at the USGS flow gauge on the Mississippi River at St. Louis today. Flow right now is 771,000 cfs. That is 3,212 times the amount of water flowing in Little River this morning.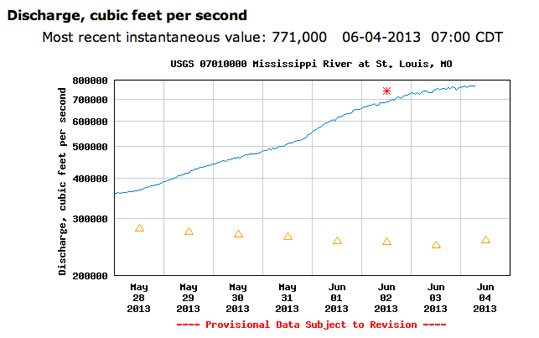 People have drowned nearby due to this remarkable flood. It was very sad to read about that this morning.

You will notice small red stars or * on these charts. That means the gauges were tested and calibrated on that day. Terry, who is in charge of our gauge in Townsend does it from the bridge crossing the river to Tremont Campground and Resort.
Equipment is lowered into the water to check the depth and pressure of the water. A fairly simple calculation is made to determine the cubic feet per second flowing by at that point. On the Little River chart above he has done that test twice during the past 120 days. On the Mississippi River at St. Louis it was done this week. Flow data is so important to flood control, hydrology and biological research, these gauges are scattered all over the United States. There are two on Little River, one in Townsend and other in Maryville.
Testing the flow on a river like the Mississippi at flood stage is very dangerous. Terry told me they do the big rivers from a bridge with the equipment lowered into the river using steel cables attached to a truck. I don't know if it has happened, but he said a tree could float down the river, attach itself to the cable and pull the truck into the river.
If you are a Fisheries Team Volunteer in the Great Smoky Mountains, you have probably done this test on a small scale. Those who have participated in the Acid Deposition study over the past 17 years certainly have. The flow meter is a very expensive piece of equipment. The Fisheries department in Great Smoky Mountains National Park has several. What we do is stretch a line across a small stream and take depth measurement in small increments along with flow pressure readings to determine the cfs.
There are actually two flow gauges at the USGS site on Little River below the "Y". One is a visual gauge. You can just look at it and read the river height. Using a chart you can convert the height to cfs. There is another probe out in the river. It measures water pressure and sends signals to the little building owned by USGS over on the bank near the road to the "Y". From there those signals are converted to river gauge height and cfs. A transmitter on top of the building sends the signals to a satellite. A gps reading identifies the location from the satellite of the signal, and sends that information to Nashville. There, the data is recorded on the website we look at every day. Once, when the data went down, it was caused by a tree branch with new leaves that blocked the signal to the satellite. Terry just cut the branch and service was restored.
Pretty interesting isn't it? USGS stands for United States Geological Survey.
Have a great day and thank you for being here with us.
Byron Begley
June 4, 2013