Townsend, Tennessee - Great Smoky Mountains National Park
Welcome to the fishing Report. I am here early. It is already very warm outside. The temperature is 70 degrees. We are expecting a high of 91 today. The heat wave continues but we'll see cooler nights in the mid 60's. Townsend appeared to be active this morning. The stores and restaurants had several cars parked near their buildings. I saw several vehicles on the streets.
Little River is running at half it's normal flow for this date. Currently the flow is 70 cubic feet per second. Median flow for the date is 158 cfs. The water temperature at the swinging bridge was 70 degrees.
Fishing has been good believe it or not. I talked to several people yesterday who said their experience has been very good. Abrams Creek has been fishing well. I don't hear much about that stream but yesterday I listened to several stories about "fishing as good as it gets." Abrams Creek is fed by many springs near the Falls trailhead.
Folks who camped at Elkmont also reported good fishing. And, those who ventured up to the brook trout streams in the higher elevations said the same.
The water is low though. The trout are in the riffles and faster water. Dry flies seem to be working best, especially yellow dry flies. One lady told me she caught several trout out of one area without moving on a Yellow Parachute Adams. Yellow Stimulators and Yellow Neversink Caddis are productive patterns.
Use light tippet, stay hidden, get a good drift and you will catch trout. Mornings and evenings are best.
We are selling out of cicada patterns. I ordered several hundred dollars worth when I found out the 13 year emergence was going to occur this year. That paid off. I am ordering more today. We have about 6 different patterns. I told a buddy of mine about the cicada action on Tellico Lake near Tellico Village. He drove to the ramp I suggested and launched. He and his buddy had an excellent day catching fish on top using cicadas. The fish they were after were carp. These guys love to catch carp on a dry fly. They got their wish. Smallmouth are feeding on cicadas too but not in the area of Tellico Lake where these guys went.
Headlines on the front page of the newspaper today read, "Laurel Lake Restoration Considered." You should read this one. This will be an interesting and hopefully successful project. We are getting support from County, State and U.S. Federal government officials. We are getting huge support from local residents too. You can read the article by CLICKING HERE. You will read that I am chairman of the committee. I'm going to work on this one at night and cut back on my fly tying.
Here is another link you must see. This video was developed by the Park Service and describes the tornado that decimated a portion of Great Smoky Mountains National Park. This video is well done. You will see that the closest lake to our house has been closed due to a power line tower that toppled over into the lake. CLICK HERE TO SEE THE VIDEO. YOU WILL BE IMPRESSED AND AMAZED.
Below is an old photo of Laurel Lake taken from an airplane probably dating back to the 1970's. Officials say the lake area was 80 acres at full pool.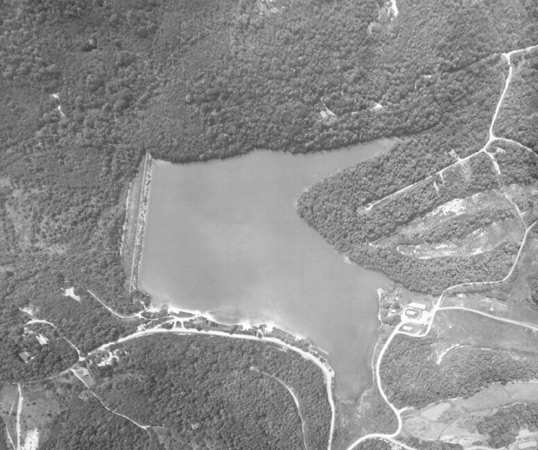 Have a great day and thank you for being here with us.
Byron Begley
June 6, 2011
Respond to: Byron@LittleRiverOutfitters.com


FLY FISHING CLASSES
Our fly fishing classes will be offered from March to October 2011. To sign up just call the shop at 877-448-3474. You can read more on our website in the Schools Section. The fly fishing class schedule follows:

Saturday May 21 – Beginner Day One
Sunday May 22 – Beginner Onstream Day Two
Saturday June 11 – Beginner Day One
Saturday June 25 – Beginner Day One
Sunday June 26 – Beginner Onstream Day Two
Saturday July 9 – Beginner Day One
Saturday July 23 – Beginner Day One
Sunday July 24 – Beginner Onstream Day Two
Saturday September 10 – Beginner Day One
Saturday September 24 – Beginner Day One
Sunday September 25 – Beginner Onstream Day Two
Saturday October 8 – Beginner Day One
Saturday October 22 – Beginner Day One
Sunday October 23 – Beginner Onstream Day Two
Respond to: byron@littleriveroutfitters.com