Townsend, Tennessee - Fly Fishing in the Great Smoky Mountains National Park, East Tennessee and Western North Carolina

Welcome to the Fishing Report. It is overcast and 66 degrees in Townsend this morning. Traffic was fairly light earlier. Ray, who lives near us and does our plumbing passed me on the main road through town. He slowed down and waved. He's a good guy and excellent plumber. I drove down to the river and there were at least 50 canada geese walking around in front of Miss Lily's Restaurant. I haven't seen that many in a while.
Little River looks awesome. I expected worse. A strong storm moved through our area yesterday afternoon. We had 1.3 inches in our rain gauge at the shop. The river isn't up much and the water is clear. The Little Pigeon River is up. The storm was worse in Pigeon Forge and Gatlinburg.
Little River is flowing at 331 cubic feet per second (cfs), or 2.34 feet on the gauge. Median flow for this date is 151 cfs. The current water level is higher than normal but not really all that high. Some people like fishing when the water is at this level. Other anglers like it lower. The water temperature was 66 degrees at 7:35 am.

Fishing in the Smoky Mountains is very, very good. Trout are taking dry flies and nymphs. I don't think it matters much what pattern you use. This is prime fishing time. I would use a Yellow Neversink Caddis or Yellow Stimulator both in size #16.
Thunderstorms are expected today and tomorrow. The chances are 80% and 60% respectively. The weather looks great for the weekend. I'm hoping for some excellent fly fishing in the Great Smoky Mountains this weekend.
According to the TVA website, there will be no generation at Norris Dam between 7:00 am and 6:00 pm today. Check before you go. That could change. They do indicate that there will be ongoing generation all day at Cherokee and Douglas Dams.
I don't know about the condition of Little River in the lowlands. It could be muddy. Smallmouth bass fishing should be very good downstream if the water is clear or just slightly stained. You might take a chance and see. If it is off color, move up here. I didn't see anyone fishing the stocked water in Townsend this morning, which is rare.
Paula and I decided not to go fishing yesterday on the lake. We were going to explore the lower section of Tellico. With the storms coming and not knowing exactly when they would arrive, we decided to punt. I don't like being on the lake during storms, especially in unfamiliar waters. I tied Knuckleheads and washed the boat yesterday.
I am working on a new tutorial for our website. It will show you the correct way to tie a Stealth Bomber using the new and improved method. I know it is going to be correct because the originator of the Stealth Bomber, Kent Edmonds is writing it for us. Also, the photography depicting the steps to tie this fly were shot here but the fly was tied by Kent. I hope to get the page uploaded today so Kent can see it and write the content. For the time being, you will just be able to see the pictures.
The Stealth Bomber is an excellent bass fly for smallmouth, largemouth and shoal bass. We also catch plenty of large bluegill on it. See the photo below.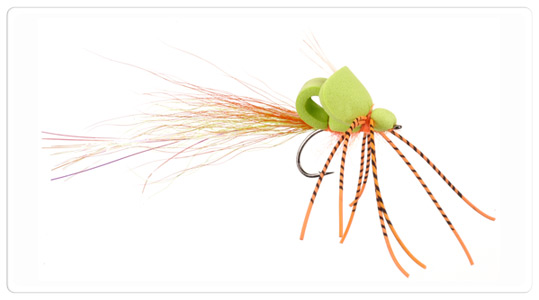 This was tied by Kent in the Firetiger color. To form the body easily you do need a foam cutter made specifically for the fly. Some people have made templates to cut the body using scissors or an Exacto Knife. That works well too.
The Stealth Bomber is many different flies in one. It floats like a popper. You can let it sit on the water and twitch it. It dives like a diver. Give it a pull and under the fly goes dragging a bubble trail behind it. It makes a great shallow water streamer. Strip the fly and it makes all kinds of erratic movements. Also, those legs must drive fish crazy.
We sell the Stealth Bomber in black, white and chartreuse. They are tied for us by Rainy's Flies. You can buy them online by CLICKING HERE.
I'm planning to work on our online terrestrial fly department this week. We are nearing Summer, or I guess we are there. Terrestrials, like ants, beetles and inchworms catch a lot of trout in the Smokies. During the hot months, they become an important food source for trout. A black foam beetle can catch a trout anywhere, at the right time. Something else to remember is, big trout love beetles, especially big beetles. We need to be prepared for that.
Have a great day and thank you for being here with us.
Byron Begley
June 6, 2013