Townsend, Tennessee - Fly Fishing in the Great Smoky Mountains National Park, East Tennessee and Western North Carolina


Welcome to the Fly Fishing Report. It is sunny and a very nice 60 degrees this morning. This weather has been awesome. Traffic was very light on my drive to work. If I see 10 vehicles, traffic is light. If I see 50, traffic is heavy. Nothing is going on in town that is newsworthy. I was getting the boat ready to fish yesterday in the shop parking lot and Ronnie, our Police Chief pulled in. We chatted mostly about fishing, a topic we both share with enthusiasm. He is a walleye fisherman. He said the fishing for walleyes has been slow this year on the Little Tennessee River. They are not catching big fish.
Last night when I was un-rigging the boat, Michael Talley pulled in. He is a good friend and a member of the City Council. We talked about fishing too. There just isn't much going on around except for fishing. I kind of like it that way.
Little River is flowing slightly lower than normal and will until early next week when rain is expected again. The river has been rising and falling as usual. This year, the levels have been above normal most of the time. Flow is currently 131 cubic feet per second. Median flow for this date is 159 cfs. The water temperature at 7:40 am was 60.7 degrees.
Fishing is excellent in the Park. While Michael and I were talking last night a customer pulled in. He said his 10 year old daughter caught 12 trout. I think this was her first time to go fly fishing. They were fishing near the Chimneys. He was very pleased.
We are recommending Yellow Sally patterns of course. I would also include some terrestrials in the list of flies to use. Beetles and Green Weenies will work. If this cooler weather and better than average rainfall keeps up, we are going to move into Summer with some great trout fishing going on in the Smokies.
Mike Bryant and I fished most of the day yesterday on the Little Tennesse River. We were fly fishing for smallmouth bass. We stopped at the first ramp and launched. The parking lot was full of boats and trailers. I told him, and it turned out to be right, that most of the boats we saw were owned by anglers who were trolling for walleye.
Fishing was slow as it often is on that river. We did go up into a creek and caught a few bluegill and shellcrackers but nothing to brag about. At about 2:00 we moved back out on the main river and started casting poppers and Knuckleheads on the bank or right next to it. He was using a chartreuse popper. A nice smallmouth rose up and took his fly. I used the trolling motor to get us out into deeper water. We got the fish in. The photo is below.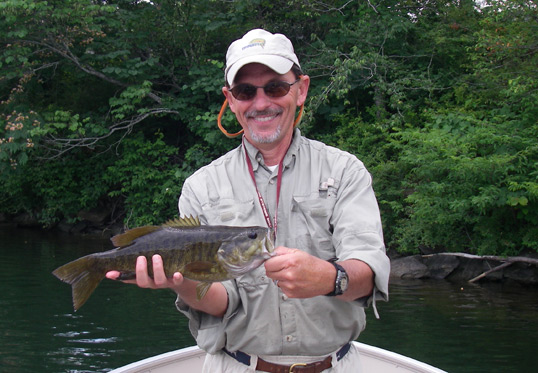 I cast a black Knucklehead and it landed about 2 feet from the rocky bank. A smallmouth rose up and tried to eat my fly. I jerked it out of his mouth. Instinctively, I cast it right back into the same spot. I could see he was swimming away from my fly. That fished turned around and came back. He ate it again. This time I got a hook into him and landed the fish. It was a little smaller than Mike's bass. I know he missed another bass and I may have too.
Mike is a good caster and fisherman. This was the first time we fished together. Though we had a slow day we had a great time. The sun was covered by clouds part of the day and there was a light wind blowing from the West. It was one of those perfect days.
My shoulder is sore from casting all day, mostly with a 7 weight. I had a 4, 5 and 6 weight in the boat but picked the 7 most of the time. I'm going to try shortening my leaders to 7 ½ foot 8 pound test and try fishing with a 5 and 6 for a while as a test. I use a 6 weight often but the 7 works best with the bigger bass bugs.
I think the time has come to go smallmouth fishing late in the day. The water is warmer now. Until this point, fishing was best between 11:00 am and 2:00 pm. Early mornings will be good too. My problems is, I have to write this report before I go fishing. So, I'll be out there in the afternoons.
Have a great day and thank you for being here with us.
Byron Begley
June 8, 2012
Respond to: byron@littleriveroutfitters.com