Townsend, Tennessee - Great Smoky Mountains National Park
Welcome to the Fishing Report. It is 8:00 am and the temperature is already 71 degrees. At this time of morning the traffic is light, even on weekends. There were walkers and runners on the bike trail though. They are getting their business over with before it gets hot. Thankfully, it is going to be cooler than it has been. We'll see highs in the mid 80's most of the week. Then it is supposed to warm up by next Sunday to 91 degrees. Nights are going to dip into the 60's and even the low 60's starting tomorrow.
Little River continues to flow at half the rate that is normal for this time of year. Right now the flow is 79 cubic feet per second. Median flow for this date is 160 cfs. The water temperature at the swinging bridge was 70 degrees at 7:45 am this morning.
Fishing is getting slower as the water remains lower. There is a chance for thunderstorms in the afternoons almost every day over the next ten days. If they occur and the temperatures do in fact drop, fishing in the Park will improve. Fishing isn't bad but you have to adapt to low water conditions. Use lighter tippet, fish in the riffles, go early and late and wear clothing that blends in with the forest. Dry flies will work best. I'm hearing that from everyone I talk to. Yellow Sally stonefly imitations are what I would use for a dry. That could be a Yellow Stimulator or Neversink Caddis. Any other Yellow Sally patterns will work too. It is Green Weenie time. They can save the day for you.
The tailwaters are fishing very well. They include the Clinch, South Holston and Watauga. I don't have any recent information about the Holston River below Cherokee Dam.
Frank Brown, my buddy since we started the first grade together some 54 years ago came down from Kentucky Thursday night. We were on the water at 7:00 am Friday morning. We were fishing on Tellico Lake on the Little Tennessee River below Chilhowee Dam. We hoped to catch smallmouth bass and carp on cicada patterns. Some of my friends have been doing well there since the cicadas showed up.
Eight hours on the lake in the hot sun and we only saw one cicada on the water. That bug struggled for a few minutes as we watched. Not one fish moved up to eat it. The cicada action is over in that part of the lake. We did not catch one smallmouth or see a carp all day.
The water was warm where we launched so we moved up closer to the dam. There the water was 62 degrees compared to 72 about a mile downstream. We were casting to the banks hoping the smallmouth bass were in the cooler water. We started catching fish on wooly buggers and Puglisi Threadfine Shad patterns. They were all rainbow trout. We measured one at 15 inches. I caught one larger than that. All together we caught about 10 fish. It was a long day at a little over one fish per hour average. But, Frank and I had our usual good time. He spent another night and went home yesterday.
I've got the fly tying department back up to normal stock again. The walls were depleted during Troutfest weekend. Now that everything is here and out I'll start over tomorrow. My plan is to replenish again. Fly tying materials are selling very well. I guess it's the heat. We have some new materials in stock. There are more crawfish orange colored things hanging on the wall. Most are rubber and silicone legs and rabbit strips. I brought in several new bunny strips this week. Umpqua messed up our June hook order. I'm going to do that one over. They were out of several hooks and they forgot to enter a page full of items including Metz Necks.
At 2:00 pm today we are holding our first Troutfest meeting for 2012. We are meeting at the Laurel Valley Country Club. In addition to our current committee of 22 people, we have added three new members bringing the total to 25. We will probably add more because I'm hearing a lot of new ideas and it takes someone to be in charge of new ideas.
Last night I worked on a map of Laurel Lake using the State of Tennessee GIS Map website. I pasted the two parcels owned by the County Together. That map shows the property lines of each parcel. The parcel that contains the drained lake bed is 79.63 acres. The parcel located below the dam is 38.5 acres. I am chairing a new committee with the goal of restoring the lake which was drained 20 years ago. I have picked a small group to write a concept plan. Two of the guys are engineers, one with a background in lake construction. That initial plan will be presented to the committee for review and changed as per their request. Then that plan will be taken by our U.S. Senator, State Senator and State Representative to the people who fund and approve projects such as this one. We live a few hundred yards from what I hope to be a new Park with a great fishing lake. The photo below shows both parcels and the old lake bed which covered most of the parcel on the left during it's day. The photo below that taken from an airplane shows the full lake circa 1980's.
Have a great day and thank you for being here with us.
Byron Begley
June 12, 2011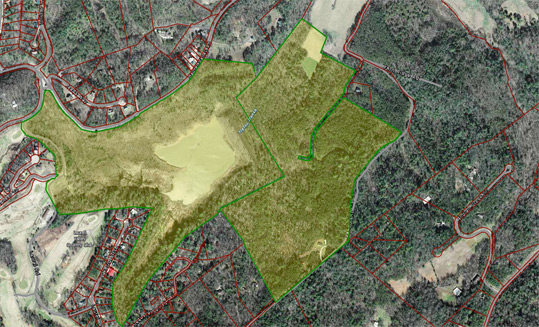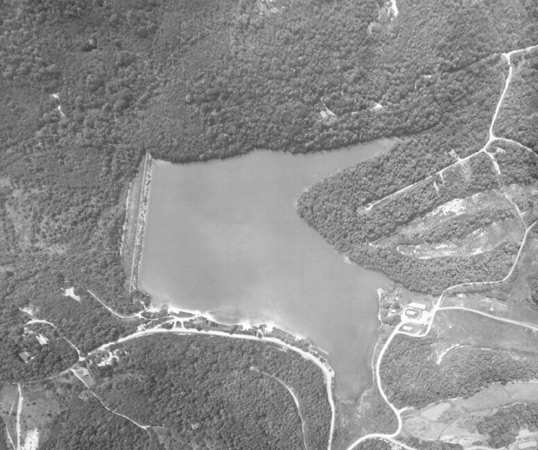 Respond to: Byron@LittleRiverOutfitters.com


FLY FISHING CLASSES
Our fly fishing classes will be offered from March to October 2011. To sign up just call the shop at 877-448-3474. You can read more on our website in the Schools Section. The fly fishing class schedule follows:

Saturday May 21 – Beginner Day One
Sunday May 22 – Beginner Onstream Day Two
Saturday June 11 – Beginner Day One
Saturday June 25 – Beginner Day One
Sunday June 26 – Beginner Onstream Day Two
Saturday July 9 – Beginner Day One
Saturday July 23 – Beginner Day One
Sunday July 24 – Beginner Onstream Day Two
Saturday September 10 – Beginner Day One
Saturday September 24 – Beginner Day One
Sunday September 25 – Beginner Onstream Day Two
Saturday October 8 – Beginner Day One
Saturday October 22 – Beginner Day One
Sunday October 23 – Beginner Onstream Day Two
Respond to: byron@littleriveroutfitters.com