Townsend, Tennessee - Fly Fishing in the Great Smoky Mountains National Park, East Tennessee and Western North Carolina

Welcome to the Fishing Report. It is overcast this morning and 71 degrees. The clouds and penetrating sunlight would make an awesome picture right now. It is a beautiful morning. My little point and shoot didn't do the scene justice. I just stuck it out my office window and took this photo.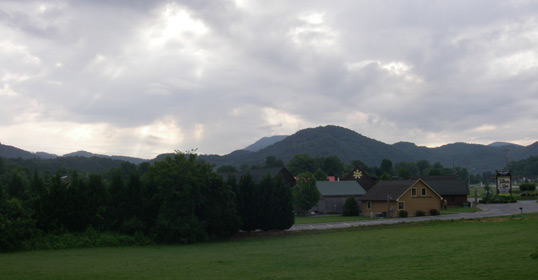 Little River continues to drop. Flow right now is 98 cubic feet per second (cfs). Median flow for this date is 161 cfs. The water temperature at the "Y" was 67.5 degrees at 7:50 am.
If it were not for the people coming in here and telling me how good the fishing is, I would think the fishing is slowing down. It's not. Fishing in the Smokies is not as good as it was a month ago. Back then the "Fishing Gauge" was pointing to "Excellent". Anglers are catching trout on dry flies and nymphs. Burt said he caught several yesterday on a Bead Head Pheasant Tail. That is always a good fly. I prefer dry flies for everyday fishing so I would use a yellow fly, something that resembles a small stonefly. I don't think it matters that much what fly you use as long as the pattern is geographically and seasonally reasonable. But, trout fishing in the Smokies remains "Good".
People are also catching smallmouth bass in the lowland rivers. I heard that twice yesterday. Use poppers, Knuckleheads, Blockheads or Kent's Stealth Bomber.
I don't know about the lakes. I'll find out Thursday on my day off. My plan is to fish the Little Tennessee River in the Tellico Lake arm. My guess is I'll find smallmouth bass on the banks in that cooler water. I know I'll be fishing Knuckleheads with a Rubber Legged Dragon as a dropper for bull bluegill. I bet I have at least 100 Dragons tied in a good assortment of colors. Bead chain eyes give these flies some weight. Bluegills love them. My favorite color is rust.
I'm in the eye attachment stage in the popper making process at home. I snapped the picture below this morning. Sorry about the photo quality. I didn't have a SLR at home. I sent Burt an e-mail last night describing in more detail, how to attach the eyes. This used to be the hardest thing to do when making these poppers. I use solid plastic eyes with a stem that is about ½" long. Then I cut the stem to less than 1/8" long so they will fit into a 5/16th inch foam cylinder. It's hard to get that stem into the hole.
So here's the trick. First, push a toothpick through the body. Leave the tooth pick in the body for a few minutes. I usually have 4 or 5 bodies laying around with tooth picks sticking through. Then, pull out the tooth pick and insert the eye with the full length of the stem still attached. Let them rest for a few minutes.
What happens is, the holes in the foam form to the size of the stems. Then, cut most of the stem off and stick what is left into the socket. When you are ready to glue, pull the eye out, apply a little Goop in the socket then push the eye stem back in. It is a simple process if you do it this way. It is a frustrating experience if you don't.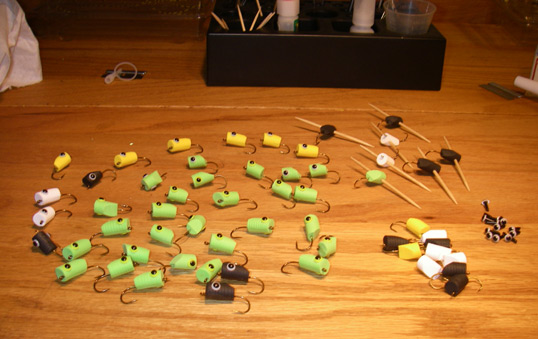 This Fishing Report is loaded with pictures. Here is another one. Yesterday, I picked up the new "Brook Trout Restoration" t-shirts, all 152 of them. They were being embroidered in Alcoa. I made several trips from the truck to the classroom upstairs and started the process of inspecting, folding and tagging. Then I designed this little sign that is now attached to the display. This sign tells the story about the Restoration T. They are for sale now. If you are one of the people on the waiting list and you are reading this, call the store and we'll ship them to you. We will also contact you. Paula, Daniel and I all have our own waiting list of people to contact.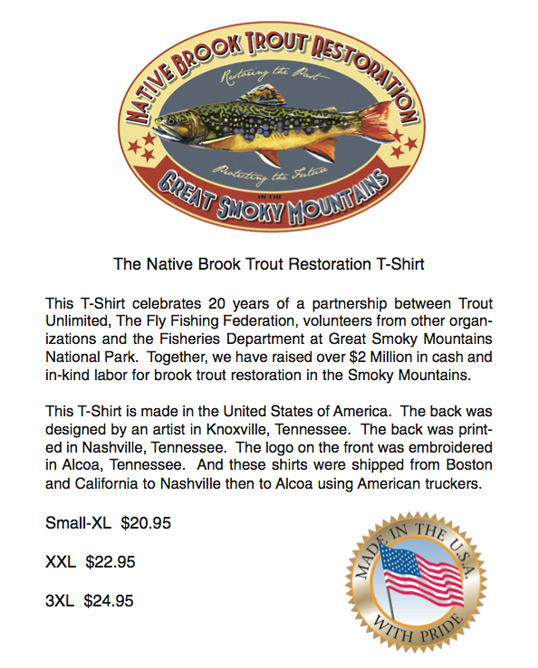 Have a great day and thank you for being here with us.
Byron Begley
June 16, 2012
Respond to: byron@littleriveroutfitters.com