Townsend, Tennessee - Fly Fishing in the Great Smoky Mountains National Park, East Tennessee and Western North Carolina

If you don't see today's fishing report please refresh you browser. Since this report is updated every day, an older version could be in your computer's cache.
Welcome to the Fishing Report. It is foggy and 69 degrees in Townsend this morning at 7:55 am. That's kind of warm. It will be cooler tonight and tomorrow night, then it is going to warm up.
I saw three wild turkeys, two rabbits and a crow in our field where Paula's garden is located. I think they were trying to decide who would jump in and eat what. Her garden has a fence but some kind of critter is getting in there. Vegetables are mysteriously disappearing.
Little River is in great shape for a change. Flow is currently 361 cubic feet per second (cfs) or 2.41 feet on the gauge. Median flow for this date is 151 cfs. The water temperature is 61.7 degrees. As you can see, normal flow for this time of year is much lower than it is right now. Usually, we are hoping for rain and higher flows this late in June.
Fishing is very good in the Smoky Mountains. I'm hearing some fantastic stories. The kids who attended the Trout Unlimited Trout Camp for a week at the Great Smoky Mountains Institute were all in here yesterday. Trout Camp is over. One of the kids caught a 15" brown. Some caught rainbows. Others caught brook trout. They all went to Tom's pond and caught bluegill and bass. They learned about aquatic entomology. They learned to tie flies. They were excited. Each child received a $25 gift card to be used here. Most of them bought flies.
Trout are taking dries and nymphs. Take your pick. Fish with what you like. These fish are hungry and feeling good about their ecosystem that is chocked full of clean, clear water. Trout dream about conditions like this, I guess. I would if I were a trout.
TVA is going to do quite a bit of generating at our local dams today. I am hearing that dam releases are not exactly as planned on the Clinch. I had some people tell me yesterday they have been surprised by discharges that were not scheduled in advance. I always hated that.
When I lived in Nashville and fished the Caney Fork about once a week, that happened to me often. Back then we called TVA and talked to someone on the phone to get the generation schedule. Later, when technology developed we listened to a recording. I had to swim out of the river once when the water came up unexpectedly. Thankfully, that was back in the days when we wore neoprene waders. They were like a wetsuit with clunky shoes. You could swim in them if you had too. I did the side stroke and held my rod in the non-swimming hand.
Before neoprene waders, my buddies and I had rubberized canvas waders made by a company called Ranger. They were a heavy and expensive status symbol. If you wore Rangers, you were a notable fly fisherman, one with experience and skill, or at least we looked that way. Some were and I was not. I did look like I knew what I was doing in my Rangers.
Hey, look at these tractors. I took these pictures early yesterday morning on my way to work. They were parked at the Visitors Center. I don't know who sponsored this. We do have an antique tractor club in our County. Maybe this was their event. As you can see, there were some awesome looking tractors. It was foggy and light was weak when I took these pictures. The Great Smoky Mountains would normally appear in the background. The view of the mountains was obscured by fog.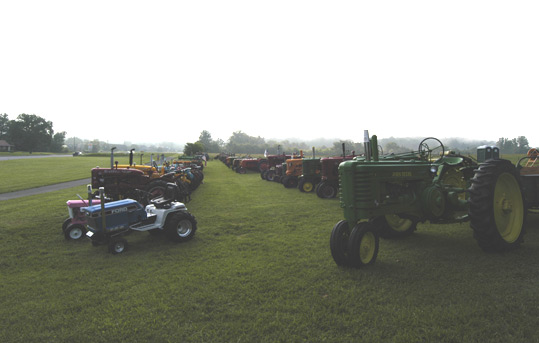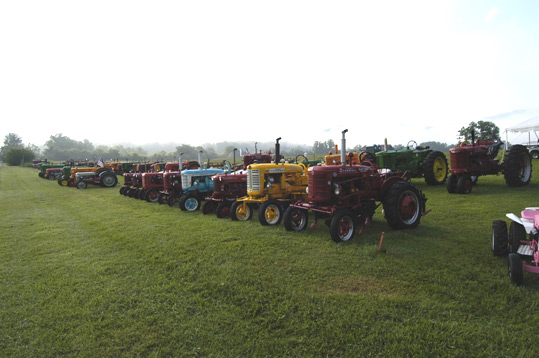 When I was a kid, my tractor was a Ford 8N with a bush hog mower attached. My job on the farm during the Summer was mowing. I mowed about 200 acres of grazing pasture for horses and cattle. When I finally finished, it was time to start again. Silas, or Si as we called him, got to drive the big diesel tractor. Si was in charge of the important tasks like plowing, disking, harrowing, cultivating, baling hay and setting tobacco. Those were the days.
I'm all giddy about the fishing this week. I think this is going to be a great time to be on the water wherever you go and the options are endless in East Tennessee.
Have a great day and thank you for being here with us.
Byron Begley
June 23, 2013