Townsend, Tennessee - Fly Fishing in the Great Smoky Mountains National Park, East Tennessee and Western North Carolina

Welcome to the Fishing Report. It is foggy and 69 degrees in Townsend this morning. Traffic was fairly light on my morning commute. That means I probably saw 15 to 20 vehicles. This is the week before a holiday. We always see less visitors during those weeks.
Little River is flowing strong but almost clear in town. Flow is currently 645 cubic feet per second (cfs) or 2.96 feet on the USGS flow gauge located just inside Great Smoky Mountains National Park. Median flow for this date is 113 cfs. The water temperature is 64 degrees.
When will Little River return to a good fishable level? I know this is important to some of you who are planning a fishing trip to the Smokies. That is an impossible question to answer. We consider 2.5 feet on the gauge to be on the high side of good. Right now the gauge reading is 2.96 feet. Below is a graph depicting Little River's flow in feet over the past 20 days. On June 19th, the flow was similar to what we had yesterday at over 3.5 feet. The flow reached 2.5 feet sometime on June 23rd. It took about 4 days to recede to that level. On June 14th the flow was very high, at 5 feet on the gauge. The water level on the 17th was at about 2.5 feet. The water level dropped much faster.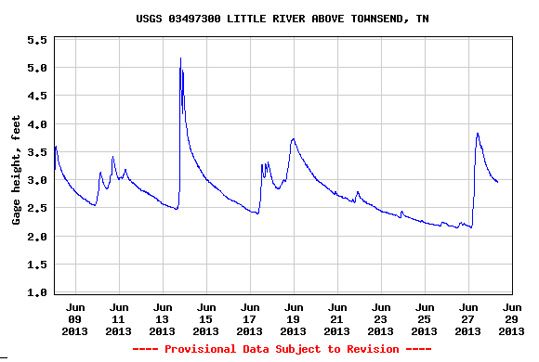 Another variable is future rainfall. We have a 60% chance today. If it rains hard in the Little River watershed, the river will rise again.
Other streams in the Great Smoky Mountains or Southern Appalachians were not affected much by the rain we got this week. One is Cataloochee, which has a USGS gauge. There was a spike yesterday but the level returned to where it began in 24 hours. Tellico River in the Cherokee National Forest barely rose yesterday. It looks great down there. Other tributaries to that river should be fishing fine. There should be other streams in our area that are at good fishing levels.
If you are planning a fishing trip here this weekend, be prepared to drive and search for lower water. We should have more information for you tomorrow. Little River is certainly fishable. Wading in some areas is almost impossible right now. The smaller streams will be more angler friendly. You may need to fish close to the bank without wading deep depending on where you are.

If you are fishing with a guide, they have most likely scouted the Park and have found streams with lower water.
So far, in six months, rainfall amounts recorded at the Knoxville Airport are reported to be 40.66 inches. The Weather.com website indicates our total average rainfall for a year is 55.44 inches. May is historically our wettest month. But, July is a close second.
So, if these numbers are correct, we have already had 73% of our annual rainfall in 6 months.
TVA plans to generate at Norris and Cherokee dams most of the day today. The water levels in both impoundments are at the high end of the Flood Guide which is used to prepare for flood events. Fishing in area tailwaters for trout has been excellent if you can time your trip when there is limited or no flow. I talked to a TWRA fisheries biologist yesterday who concentrates his efforts on Norris Lake and the Clinch River below the dam. He is finding some big trout in the Clinch. We know they are there. I have seen one 20 pound brown that was caught in the Clinch River a few years ago.
Lowland river fishing for smallmouth bass will be limited because of high and turbid water for a few days.
Some of the lakes may be fishing well. Paula and I had a slow day Wednesday. I did catch a 13" yellow perch on a wooly bugger. We had the fish as a side dish for dinner last night. Yellow perch tastes as good as people say. It was excellent, probably better than any freshwater fish I have eaten. Looking back, we should have anchored the boat and tried to catch more. The yellow perch is not native to Tennessee. I would never keep a smallmouth bass. They are native to Tennessee. I don't keep trout either. Actually I don't harvest fish except for a few bluegill and now, yellow perch.
I talked to two different fisheries biologists by chance yesterday and described my crawfish trapping idea. I love to eat crawfish. One biologist was Steve Moore at Great Smoky Mountains National Park. He called me about something else but I mentioned the crawfish trapping to him. He reminded me it was illegal to do that in the Park. I had not considered trapping them in the Park. We've got plenty outside the Park. I also mentioned it to Paul from TWRA. He seemed really interested. I'm having a lot of fun learning about this. I found a recipe last night for crawfish cakes. All you do is substitute crawfish for crab.
Have a great day and thank you for being here with us.
Byron Begley
June 28, 2013