Townsend, Tennessee - Great Smoky Mountains National Park
Welcome to the Fishing Report. It is going to be hot and dry today but things are looking better in the future. We have a 50% chance for rain tomorrow and Tuesday. It is going to be a little cooler too but not as cool as normal. Townsend seems a little quiet this week. The motorcycles are back since the Dragon opened back up yesterday. I saw a bunch of people on bicycles this morning. These were the serious types wearing the tight shorts and colorful jerseys.
Fishing can be good in the Smokies. Some anglers are catching trout. You've got to get up high in the mountains or fairly high in shaded smaller streams. I talked to a couple of local guys yesterday who did very well by hiking in above Elkmont. They were on the stream at daybreak. The water is cooler then and the swimmers and rock skippers have not bothered the trout for a few hours. It feels good to be on the stream early too. The trout are hiding in the riffles where there is also more dissolved oxygen.
Bass fishing on the lakes has been fair. I also talked to a guy who had just fished the Hiwassee for trout and he did well. That kind of surprised me. Maybe the Hiwassee is making a comeback. What a beautiful river.
I'm tying three dozen black Stealth Bombers. One reason is, I'm getting low. One reason I getting low is, I've been giving them away to people who ask about smallmouth bass fishing. That is a great fly for smallmouth. I tie them on a #6 Gamakatsu stinger hook. To Gamakatsu, a #6 is a small hook compared to other brands. This hook is actually small enough for a large bluegill but large enough for a big bass. I'm tying some for Jack too. He's been using one I gave him a month ago. They are durable. I use a drop of Zap-A-Gap after every step. Jack said he has caught about 250 fish on the fly I gave him. I bet it's more like 300 fish. Jack tends to be conservative when he makes a statement.
Today is my birthday. I'm 59 years young. I don't know when I last visited a cemetery. I think it was in New Orleans during the 70's. But I stopped by the Myers Cemetery this morning. I dropped five bucks in the donation box and walked around looking at the tombstones. The main reason I stopped is to see the new sign. I also found graves of our ancestors who lived and died in this cove. Some were born as early as 1776 and I bet there are some that date back further than that.
During Troutfest some of the people who attended used a strip of land on the cemetery grounds to cast fly rods. A photo appeared in our local newspaper. It looked like people were standing on the graves trying out fly rods. I don't think that was the case. I didn't see anyone do that. I saw people casting on a strip of land close to the graves. Anyway, there were a couple of people who were upset and I felt really bad about that. I suggested we have a sign made to keep people out of the cemetery in the future during Troutfest and other festivals.
Herb Handly contacted Mrs. Byrd who is in charge of the volunteer group who maintain the Myers Cemetery. He also offered some money from the Visitors Bureau to help pay for the sign. Mrs Byrd who is a Myers descendant thought this was a great idea. So, we had a $100 donation from Troutfest and another $100 from the Visitors Bureau. I think Mrs Byrd may have chipped in another $100. The sign was made and I know from experience, we got a good deal on the sign. It is also really good looking. Everyone is proud, including me. I don't know the names of the men standing in front of the sign. I know them as neighbors. I know them as nice guys who care. But look at them, they are proud too.
There was one small problem. Our city instituted a 90-day moratorium on any new free-standing signs at a recent Planning Commission meeting. This was done to give us more time to finish our new sign ordinances. The moratorium was passed by City Council. Guess who made the motion to put the moratorium into effect? Me! Dang! And this sign fell under the category of a "new free-standing sign". That got worked out thank goodness. Our building inspector "did the right thing".
So, the next time you are close to the Visitors Center, stop, drop some money in the donation box and walk back in time. The Myers Cemetery is a great place to visit. I enjoyed my morning stroll there and I'll do it again.
This turned out to be a good thing.
Have a great day and thank you for being here with us.
Byron Begley
July 11, 2010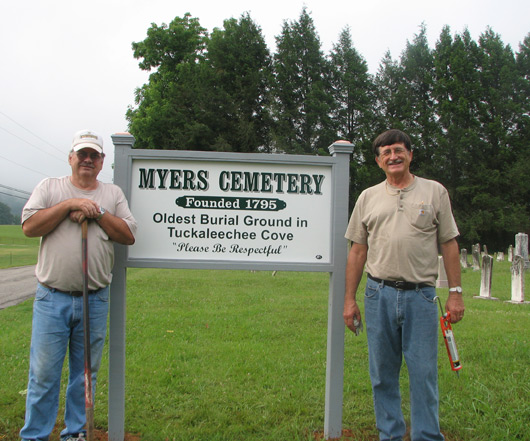 Respond to: byron@littleriveroutfitters.com