Townsend, Tennessee - Fly Fishing in the Great Smoky Mountains National Park, East Tennessee and Western North Carolina

Welcome to the Fishing Report. The sun is shining right now for the first time in a long time in Townsend. The temperature is 69 degrees and the humidity is 97%. It feels warmer than 69 degrees. Traffic was fairly heavy this morning. One reason is, I didn't drive to work until 8:30 am. That is very late for me. I decided to take it easy this morning.
Frank was parked at his usual Sunday spot, one of the banks. There, he can check the speed of people who are going out of town and not be noticed. Speeding in Townsend is not a good idea on the days when Frank is working.
He pulled over a young guy who worked here one time. I think he was doing about 20 miles or more per hour over the speed limit. He told Frank he was coming to the shop to pick up his paycheck. Frank went back to his car and filled out the paperwork. The charge would be reckless driving which is much more serious than speeding. You can lose your license for reckless driving.
Frank walked back to the car and told the young man, he would need his girlfriend or mommy to drive him to work from now on. Frank handed him the sheet of paper. It was a warning. The two of them became friends and started meeting for breakfast.
Frank is a great guy with an unbelievable sense of humor. He is a retired State Trooper. Everyone in Townsend likes Frank. I never drive over the speed limit here. I'm always way under the speed limit. I told Frank one time, "I bet I'm the slowest driver in town". Frank told me there was another man who drives slower. We waved at each other this morning as I drove through his radar trap. I was doing 40 miles per hour. The speed limit is 45.
Little River is flowing at 128 cubic feet per second (cfs). Median flow for this date is 129 cfs. The water temperature is 68.8 degrees right now. Look at the graph below. It clearly indicates how the high and low water temperatures have dropped recently. The graph provided by USGS begins on July 9th. It's hard to read the numbers with the graph reduced down to the size I can insert it below, but you get the picture. The water is cooler.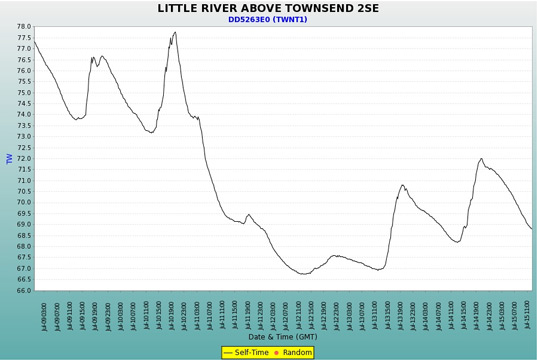 The water levels in the Park are in good shape too. Fishing has been great for trou almost anywhere you fish. It has rained some, every day for several days. There has been cloud cover every day. You just couldn't ask for any better "July" trout fishing in the Smoky Mountains than we have right now.
The larger lowland rivers may be muddy. Tom told me yesterday that lower Little River is stained at Perry's Mill. It is clear in town. We still have a chance for rain every day for the next few. Little River and the lower Little Pigeon may clear soon or they may not. When they do, smallmouth bass fishing is going to be great.
I am building a new popper making department in the store. I worked on it yesterday. It is a place for "one stop shopping". Everything you need to make poppers is there. Some other options are scattered throughout the store. Popper making is getting very popular.
That department and the t-shirt department are both getting a lot of my attention right now. I exchanged e-mails with our artist yesterday. She is working on yet another t-shirt design. Over the next few weeks we will receive 600 t-shirts. One shipment should arrive next week or the week after. Half of them will be long sleeve. All will be American made. I have a design for 200 square feet of the store. One partition will be raised to the ceiling. The samples will be displayed using Velcro above the slat-wall. The shirts for sale will be folded on shelves. I am adding more slat-wall and it will be painted instead of stained. I like improving departments. I've been working on one or two of them for about a year on a regular basis.
So, right now, it's t-shirts and poppers.
Have a great day and thank you for being here with us.
Byron Begley
July 15, 2012
Respond to: byron@littleriveroutfitters.com