Townsend, Tennessee - Great Smoky Mountains National Park
Welcome to the Fishing Report. It is cool and overcast this morning in Townsend. The temperature is 68 degrees. Traffic was light early. I'm sure it will pick up soon. I saw one angler getting ready to fish at the swinging bridge. Little River looks perfect today. The water temperature is 69 degrees.
Flow in the river is good. Right now it is at 192 cubic feet per second. Median flow for this date is 151 cfs. It looks like we have a 50% chance for thunderstorms today so we might see the river level rise.
Fishing in the Park is good. It should get better today and tomorrow. The cool temperatures will help. We'll have lows in the 60's through Monday. The higher water is improving the fishing too. The only negative could be the full moon. Us people think fish feed at night during the full moon. However, that does not apply when there is cloud cover. We have been having cloud cover at night and during the day.
Dry flies are working. I would use Yellow Sally Stonefly or terrestrial patterns. Beetles and ants are catching the wild trout in the Smokies. For a subsurface fly I would pick a Green Weenie. I would stay off the larger river near roads. You will encounter tubers and swimmers there. Hike a mile into the woods to find solitude and un-interrupted fly fishing.
The tailwaters are fishing well for trout and smallmouth bass. I've been seeing some photos of huge smallies lately. We looked at a fat 21" fish on Josh's camera yesterday. Lakes seem to be slow for smallmouth fly fishing. I'm going fishing Wednesday with Herb, one of my buddies. We may not be doing some serious fly fishing. I'm going to give him a tour of one of the lakes. The heat will probably send us back to the ramp early in the day.
I am chairman of a group who intends to re-build Laurel Lake. This 50 – 70 acre impoundment was breached 20 years ago due to the lack of funds to update the dam. It is located a few hundred yards from our house. As part of our strategic plan, we are developing a concept plan. Photos that were taken by Dean Stone in the 60's and 70's will be part of that concept plan. I am going to share some of them with you over the next few days. The photo below was taken from an airplane.
Dean has been the editor of the Daily Times for decades. He probably has thousands of pictures of Blount County, one of the most beautiful places on earth. One third of our County is in Great Smoky Mountains National Park. Laurel Lake is located very close to the Park as you can see in the photo below.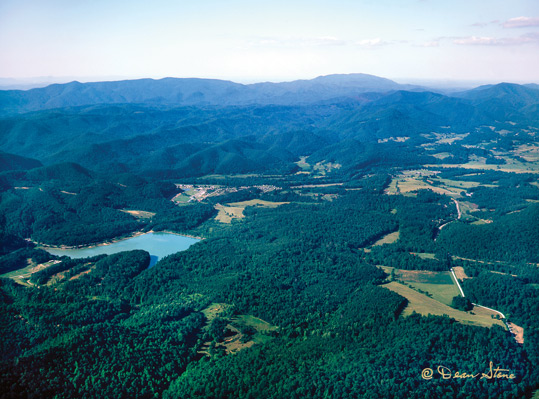 Dean is letting us use his photos to help us bring Laurel Lake back.
Have a great day and thank you for being here with us.
Byron Begley
July 16, 2011
Respond to: Byron@LittleRiverOutfitters.com


FLY FISHING CLASSES
Our fly fishing classes will be offered from March to October 2011. To sign up just call the shop at 877-448-3474. You can read more on our website in the Schools Section. The fly fishing class schedule follows:


Saturday July 23 – Beginner Day One
Sunday July 24 – Beginner Onstream Day Two
Saturday September 10 – Beginner Day One
Saturday September 24 – Beginner Day One
Sunday September 25 – Beginner Onstream Day Two
Saturday October 8 – Beginner Day One
Saturday October 22 – Beginner Day One
Sunday October 23 – Beginner Onstream Day Two
Respond to: byron@littleriveroutfitters.com