Townsend, Tennessee - Fly Fishing in the Great Smoky Mountains National Park, East Tennessee and Western North Carolina

Welcome to the Fishing Report. It is sunny and 72 degrees in Townsend this morning. I drove by some of the motels in town on my way to work. Every motel seemed to have plenty of cars in their parking lots. That is a sign that tourism is good. I'm happy to see that. People are visiting the mountains now that the long rain spell is over.
Little River is flowing at 311 cubic feet per second (cfs). Median flow for this date is 153 cfs. The water temperature at 7:45 am is 64.5 degrees. The river looks great right now.
Fishing is very good in the Smokies. We are enjoying double normal flows and lower water temperatures. The water table is full. Rainfall this year is 68% above normal. We should have Spring-like flows for a while. There is a 20% to 40% chance for thunderstorms over the next few days. They will most likely be scattered and occur in the afternoons. Today will be hot, 91 degrees and there is no chance for rain.
Trout are taking dry flies well in the Smokies. Our recommendations are, Parachute Adams, Yellow Stimulator, Yellow Neversink Caddis and a foam beetle imitations. Nymphs are working well too. You can't beat a Bead Head Pheasant Tail or Green Weenie right now.
The lake levels are dropping in our area and that is a very good sign of things to come. TVA is generating with vigor to get the lakes down. You could fish the Clinch and Holston Rivers in a boat but wading today would not be possible unless the generation schedules change. I looked at them early this morning. Once these lake levels drop, wading anglers will enjoy more fishing opportunities in the tailwaters. Hopefully that will be very soon. I know some folks who will be fishing the Hiwassee today. I'm looking forward to hearing about that.
The lowland rivers are in great shape. Anglers are floating and wading Little River's lower stretches and catching smallmouth bass. The same is probably true for the Little Pigeon. I have not seen that river lately but I think fishing there would be good.
Paula and I will be fly fishing on a lake tomorrow, probably Tellico Lake. We have not been fishing in two weeks. We have had bad weather on my days off. I organized flies in our boat boxes last night. Below is a photo of my box.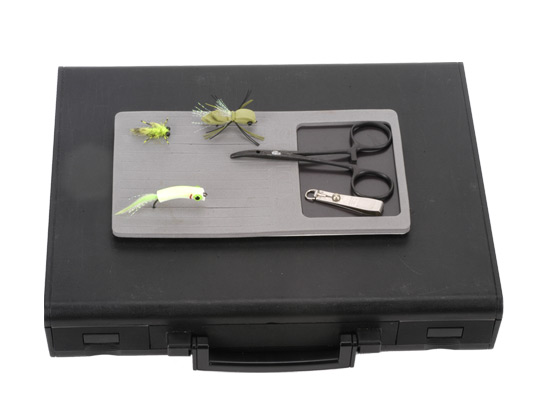 We have a large Fishpond Boat Bag that holds everything we could ever need in the way of tackle but these boxes are nice because everything is handy and we have one at each end of our boat. The boxes are approximately 15" x 10" and have flat foam in the lid and bottom to hold flies.
The Simms 9" x 5" Foam Boat Patch is attached to the lids on the outside. This patch has slit foam to insert the hooks of flies that we remove from our leaders when we change out. I don't like putting wet flies back into a box. This patch features a magnetic "fly catcher" for smaller flies. The fly catcher also holds my nippers tight and the magnet is strong enough to keep my forceps from sliding around. The Simms Foam Boat Patch can also be mounted to either vertical or horizontal surfaces on your boat, canoe or kayak. They sell for $24.95. You can see more on our online store by CLICKING HERE.
We use strong magnets at the shop to hold our name tags onto our shirts. I'm planning to mount one of those on each box to hold the forceps. They are strong enough to hang on to them even while you are carrying the box by the handle. I need to figure out a way to secure some reading glasses to the box lid. After all of that is done, we'll have the perfect boat boxes. We keep everything else in the Fishpond bag in the middle of the boat.
It is time to enjoy great fishing in the Smokies streams, lakes and lowland rivers. Soon, the tailwaters here will be hosting lots of anglers. July is going to be a great fishing month, much better than normal.
Have a great day and thank you for being here with us.
Byron Begley
July 16, 2013