Townsend, Tennessee - Great Smoky Mountains National Park
Welcome to the Fishing Report. I left the house at 7:15 this morning. It was foggy, very foggy. I followed two huge and expensive rigs that hold probably 6 horses each for the 1.5 mile drive to town. They were moving slow. I don't blame them. It doesn't make sense to me, that people spend over $100,000 for something to transport a horse. Of course that statement comes from someone who pulls a boat that cost $6,500 new behind a truck with 125,000 miles on it. Believe me, I have just as much fun as they do. Probably more.
Little River looks great and the water is cooler too. The water temperature at the swinging bridge was 68 degrees this morning. That number has not been under 70 degrees for a while. Flow is 156 cubic feet per second. Median flow for this date is 126 cfs. Having above average flow and 68 degree water starting a day in mid-July is a good thing.
Fishing yesterday was good. The conditions were perfect. It was overcast most of the time and we had some cool conditions in the valley and cooler in the mountains. That should hold true for today as well. Next week looks good too. Tomorrow will be mostly sunny but the rest of the week should be cloudy. It is going to get hot again but not the scorching temperatures we have lived with for a few weeks. Nigh time lows will be in the 60's to 70 degrees over the next few days. The chance for rain increases a little as the week chugs along.
We are still recommending dry flies and Green Weenies. Dr. Brad Cook taught a Aquatic Entomology Class here and in the Park yesterday. I think we had 10 students. Brad said he fished on Friday and just plain killed them on a Green Weenie. Beetles and ant patterns will work well. Yellow Sally stonefly imitations will catch trout too. Brad also mentioned as many people have, the large size of the wild rainbows in the Park. It has to be due to the drought we had here a couple of years ago. Much of the rainbow population got wiped out in the lower elevations. As a result, there is more food for less fish. Nobody noticed the population was down except the fisheries biologists. They use electroshockers to remove fish from the same locations each year. They count, measure and weight each trout. Sometimes they will capture hundreds in a 200 meter section. They found the numbers were down significantly and the size of the trout were larger. Makes sense to me.
I could barely get out of bed this morning. Yesterday I worked on a huge fly tying order. To put it into perspective, I am 60 years old. That job requires about 5 hours of deep knee bends, bending over and I have to do it every other week. When the materials come in, I'll do the same thing putting the stuff out. That also requires many trips up and down the stairs. If you wonder why I'm always wearing blue jeans even in the summer, one reason is I spend a lot of time on my hands and knees. I will clean two bathrooms this morning before the store opens. To do that the right way requires hands and knees work. When I can't do my job anymore, I'll simply hire someone who can if I can afford to pay that much money.
Below are some photos taken by Dean Stone. The one shot from the airplane was on yesterday's fishing report. The one below that today is a winter shot. The location is Laurel Lake near our house just outside town. I'm working with a group to restore the lake. It was drained 20 years ago. The lake bed and adjoining property is owned by the County. We will be going public with a concept plan this Fall. Then, we're going to need to raise money. Tomorrow I will share another photo with you and the interesting story behind it. Dean is letting us use these photographs to help get this job done. If you want to be involved in this project, send me an e-mail.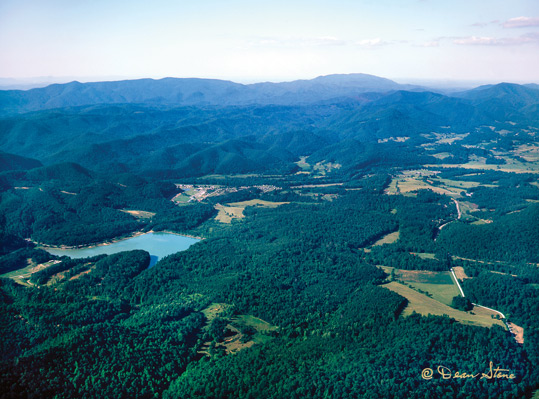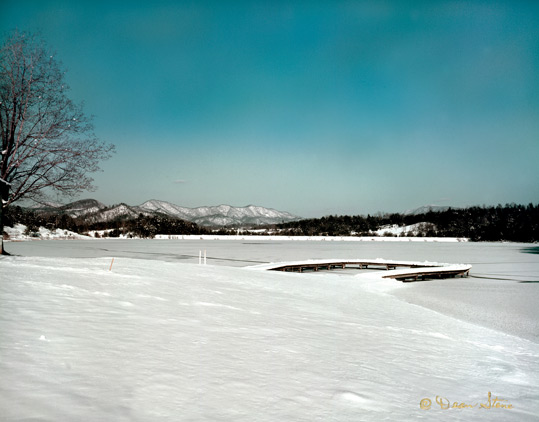 Have a great day and thank you for being here with us.
Byron Begley
July 17, 2011
Respond to: Byron@LittleRiverOutfitters.com


FLY FISHING CLASSES
Our fly fishing classes will be offered from March to October 2011. To sign up just call the shop at 877-448-3474. You can read more on our website in the Schools Section. The fly fishing class schedule follows:


Saturday July 23 – Beginner Day One
Sunday July 24 – Beginner Onstream Day Two
Saturday September 10 – Beginner Day One
Saturday September 24 – Beginner Day One
Sunday September 25 – Beginner Onstream Day Two
Saturday October 8 – Beginner Day One
Saturday October 22 – Beginner Day One
Sunday October 23 – Beginner Onstream Day Two
Respond to: byron@littleriveroutfitters.com