Townsend, Tennessee - Fly Fishing in the Great Smoky Mountains National Park, East Tennessee and Western North Carolina

Welcome to the Fishing Report. It is sunny and 72 degrees in Townsend this morning. Traffic was fairly heavy on my way to work. I saw a lot of cars and trucks loaded with bicycles going to Cades Cove. The Cove Loop Road is closed to vehicles on Saturday mornings until 10:00 am. This give pedestrians and people riding bicycles a chance to have the loop to themselves.
Frank was hiding behind the bank sign checking speeders. I stopped to talk to him. Frank is a great guy, very friendly and extremely funny. But, he will give you a speeding ticket if you are going really fast. He told me he gave a nice lady a ticket today or yesterday. When he handed it to her she said, "Can't you give me a warning"? He said "Yes ma'am, don't do it again"! He said about five funny things during our brief conversation. I laughed all the way to the shop.
Little River is flowing well and above normal at 8:05 am. Flow is 125 cubic feet per second (cfs). Median flow for this date is 107 cfs. The water temperature was 70.75 degrees earlier.
We had some scattered thunderstorms that dropped a lot of rain all around us, but it missed the Little River Watershed. We didn't get a drop here at the shop. The airport reported 1.64 inches. High humidity and warmer than normal temperatures are creating these scattered but strong storms. I check the lake levels in our area every morning and report them in the lower left box on this page. Some of the lakes are rising due to the rainfall we've been getting lately.
Look at the chart below. This USGS flow monitor shows how much Little River's level has fluctuated over the past 14 days. The blue line is the flow calculated in cubic feet per second. The pyramids indicate median flow for each date.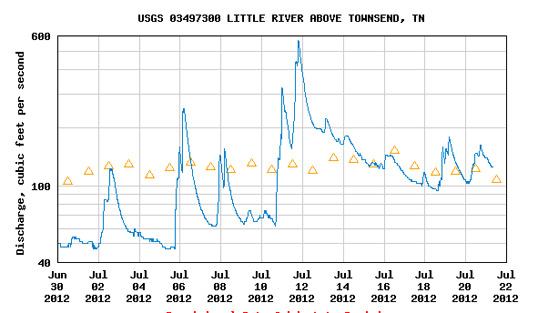 Temperatures are averaging higher than normal this Summer again. Normal high for July is 86 degrees. That is about what it will be today. But, the average low in July is 63 degrees. We have not seen that number in a while.
Fishing is good in the Smokies despite the heat. Good water levels are helping. Trout are taking dry flies and nymphs. I would use a terrestrial, probably a beetle for a dry today and I can't tell you exactly why. Maybe it's just a feeling. Beetles should be very high on your list right now. A Green Weenie is another choice for something that works well under the surface.
Early and late will be best on sunny days. The streams and the air are cooler in the higher elevations. The backcountry offers more solitude. Thunderstorms are more likely to develop in the afternoons.
I saw Josh yesterday. He was going fishing on the lower Little River for smallmouth bass. I heard the water was a little off color down there which is good. Today the water color could be clearer or more turbid depending on where you are and where those thunderstorms were last night.
Cindy, our artist sent me a new t-shirt design yesterday. I love it. This is not a fly fishing theme t-shirt. Customers will buy this one because they want to have a Townsend t-shirt. The image on the back is a mountain scene. Cindy designed it completely by computer using 12 colors and gradient techniques. Our t-shirt printers in Nashville have a 12 color automated press. The shirts move from one color station to the other, the screen drops down on the shirt and an automated squeegee applies the ink. That's the only way I can describe this machine. I've seen it run. It is impressive and expensive. I think it cost over $100,000.
Computer design takes the guesswork out of printing and preparing screens. The color for each pass is identified by the artist, using the Pantone Matching System. By designing the image on a computer, what you see on a calibrated monitor or proof, is what you get on the shirt with one exception. The shirt medium is a different texture and color from a white monitor or coated white sheet of proof paper.
Anyway, this Townsend T as it will be called should be available by October. I have three other t-shirt runs ahead of this one. Our Brook Trout Restoration shirt that we introduced a month ago is being printed again Tuesday. The print run is 150 shirts. The new and updated Smokies Streams T will be next. We should print in two weeks.
After the printing is complete and the shirts are shipped to us, the embroidery people get them next. That process usually takes a week or two. You can probably tell, I am working on our t-shirt department.
Have a great day and a super weekend. Thank you for being here with us.
Byron Begley
July 21, 2012

Respond to: byron@littleriveroutfitters.com