Townsend, Tennessee - Fly Fishing in the Great Smoky Mountains National Park, East Tennessee and Western North Carolina

Welcome to the Fishing Report. It is partly cloudy and 76 degrees in Townsend this morning. I thought today was Thursday. It is Friday, Paula's birthday. I didn't get a day off this week so maybe that explains why I'm mixed up. Thursday is usually my day off.
I drove to work a little after sunrise and caught a glimpse of the mountains, clouds and the sun trying to light the valley. Sunrise comes late in Townsend. The mountains block the rising sun. I stopped at the visitors center and took this picture. Pretty morning indeed. It was 7:40 am when I took this photo. Actual sunrise was at 6:40 am today.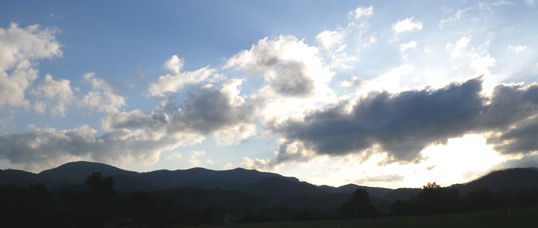 Little River is getting slightly lower each day. Right now the flow is 75 cubic feet per second (cfs). Median flow for this date is 123 cfs. The water temperature is 73.5 degrees at the "Y". I hope we get the predicted rain. We could use it. Heat will prevail for the next few days and no rain is predicted this weekend. We have a 50% chance for rain today. The temperature is supposed to drop into the 60's at night starting tomorrow night.
Fishing is fair in the Smokies. You will do best in the higher elevations. I would choose the East Prong of the Little River above Elkmont. It has been fishing well. The higher elevation streams might be better. Fish early and late. Cloud cover could darken the skies this afternoon. That will be good for the anglers. When those scattered thunderstorms move through here, the fishing could slow down or really pick up at that time this afternoon. A rise in flow and a little color in the water from rain would help too. We are still recommending Yellow Sally Stonefly patterns, beetles and Green Weenies.
I read this morning that the drought grew to include more of the United States than in any one week since the Drought Monitor was started 12 years ago. Extreme and exceptional categories grew by 13.5% to 20.5%, the highest level since 2003.
That explains why our business is slow. We are not in the drought area here. East Tennessee and North Carolina have been spared so far. But, many of our customers live in those regions where the drought is extreme or exceptional. They are not fishing or ordering tackle from us. I'm not fishing either. It's too darned hot.
UPS delivered 150 new Brook Trout Restoration T-shirts yesterday. They were shipped from our screen printer in Nashville. I'm taking them to the embroidery people today in Maryville. I hope to have them in the shop and ready to sell in a week. I grossly underestimated the apparent popularity of this shirt with the first order a few weeks ago. Some of the t-shirts in this shipment have long sleeves.
Yesterday I ordered another 150 t-shirts of a new design updated from an old design. We call it the Smokies Streams T. The image printed on the back lists some of the more popular larger streams and there is an 8 color fly also printed on the back. It is a Copper John. Once that order is screen printed I will order yet another new design. I am trying to keep different designs out of the screen printing building so there won't be a mix-up.
The shirts are made in the US and shipped from California to Nashville. The whole process takes about a month from the order date to having them in the shop to sell. That length of time sure causes a lot of logistical headaches for me. And I cant just order 50 shirts. To keep the price down I need to order at least 144.
It is almost August, the month when all the new fly fishing gear will be shown to the dealers. This year the Dealer Show is in Reno. Next week, Mark Brown the sales manager from Chota and I are going to shoot a very short video of some of their new gear. They will use the video at the Reno show. I also do their photography and we shot the new photographs about a month ago using factory samples. Of course I can't tell you what Chota is bringing to the world but you are going to be very impressed. Paula, Bill, Daniel and I have seen everything. We don't talk about it.
I better start packing up those t-shirts. 150 t-shirts weigh a lot more than you would think. I want to get that done before it gets really hot.
Have a great day and thank you for being here with us.
Byron Begley
July 27, 2012
Respond to: byron@littleriveroutfitters.com