Townsend, Tennessee - Fly Fishing in the Great Smoky Mountains National Park, East Tennessee and Western North Carolina

Welcome to the Fishing Report from the Great Smoky Mountains. It is overcast and 70 degrees in Townsend this morning. It's quiet in town at the moment. I saw a lot of traffic yesterday when I looked out. Tourism seems to be alive and well in our town this year, especially in July.
Little River is flowing low again at 75 cubic feet per second (cfs) or 1.43 feet on the flow gauge. Median flow for this date is 125 cfs. The water temperature at 8:00 am is 69.9 degrees.
Tonight, we have a 60% chance for severe thunderstorms. Following that, a strong cold front will arrive. This week, we expect low temperatures in the mid 50's. That is going to make for some very comfortable conditions. Hopefully, we will get some rain tonight and again, bring our streams back to normal.
If you go today, stay low, blend in and use light tippets. It should be cloudy most of the day but it's going to be hot. For your comfort and to get away from the crowds, slip into the backcountry streams. The easy access larger rivers, like Little River, will be chocked full of people trying to cool off.
I would use dry flies today. And, I would fish shaded streams, where trout are more likely to rise to a dry. I'm hearing many tales from anglers, recounting how many refusals they are having. That happens more often when the water is low.
A black foam beetle would be my choice. Second, would be a Yellow Sally Stonefly imitation. Third would be my long time friend, the Elk Hair Caddis.
Don't expect great fishing today. If you have a good low water experience, you should do well, as you know.
I tell people to stay low when the water levels dictate that. Some anglers practically crawl to where they want to cast. You might see good fishermen, dressed in camo, fishing from their knees. Not me. I'm too old for that kind of activity. Now, I might hide behind a rock or tree. But, I will be standing upright or maybe bent over a little. I'm at a point in my life when catching a fish is a bonus. I'm more about where I am and who I'm with.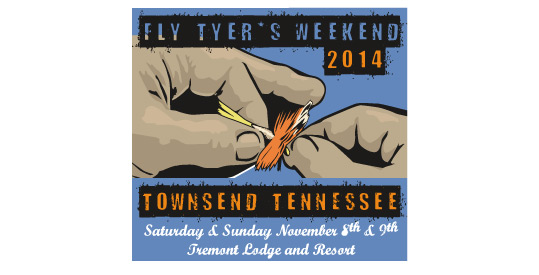 Above is some new promotional material we are coming up with for Fly Tyer's Weekend. It will be held on Saturday November 8th and Sunday November 9th at the Tremont Lodge and Resort in Townsend.
This will be a free event. The meeting centers at the lodge will be packed with fly tyers, demonstrating their skills. Fishing related non-profit organizations will have displays and their members will be holding fundraisers, such as raffles and silent auctions. They will be there to inform you about their cause.
The lodge is emerging from foreclosure and being restored into a beautiful property, 16 acres right in town. Tremont Lodge is the only place in town, large enough for an event like this, one that could be held indoors. Their website is not up but you can get a preview by visiting their Facebook Page HERE.
I am contacting fly tyers to participate. We've got several lined up. Others have yet to respond. Many other have not been contacted. I'm trying to do this when I get time.
We will have at least one web page dedicated to informing you about this upcoming event. I'm working closely with the owner of the lodge. He is a fly fisherman, a very avid one at that. He lives in Maryland. We are partnering on this event. Our plan is to make it annual.
TOURISM IN BLOUNT COUNTY
It seems lately, from business owners in Townsend who I've talked to, this has been a very good Summer. Our July business is unbelievable. It's the best we've seen in a while. I'm hearing that from just about everyone in the fly fishing business in our region, including western North Carolina. July is awesome. The year started out very slow for us but it has gained momentum.
Tomorrow morning, I am attending a workshop in Maryville. It is a tourism workshop that is being held by the Blount Partnership, which includes the Tourism Authority and the Chamber of Commerce.
I am really looking forward to this meeting. There will be a professional facilitator and input from me and others, gathered by a research firm, will be presented for discussion. I was interviewed for an hour last week by that firm.
Most of us believe, our future should be consistent with our moniker, "The Peaceful Side of the Smokies". Most of us don't want to be a large tourist destination, one that loses that small town rural charm that we have here. After all, most of us live here.
On the other hand, we do want to see sustained prosperity in our future. That can be a double edged sword. Growth can get out of hand. We've seen that before. We don't want to live in a place like that.
Protecting our peace and quiet is dear to us. And we know, that is why many of you visit here. So, how do we move forward? That's the big question, the question that our government and organizations like the Chamber and Tourism Authority will be remindful of, now and in the future.
Have a great day and thank you for being here with us.
Byron Begley
July 27, 2014